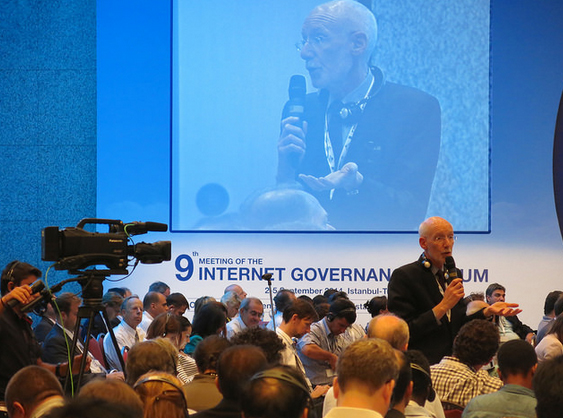 Turkey and Azerbaijan share many cultural ties. Now there is something new to add to the Azerbaijani-Turkish friendship. Both countries have now been hosts to the annual multi-stakeholder Internet Governance Forum
He is increasingly against the Internet every day said Turkey's newly elected President Recep Tayyip Erdogan on October 3rd only a month after the country hosted an annual gathering of multi-stakeholders to discuss Internet policies under UN organized Internet Governance Forum (IGF). A few days after the forum, President Erdogan approved legislation that gave full rights to the country's Directorate of Telecommunications and Communications (TIB in Turkish) to shut down websites with content "deemed of risk to national security and public order".
On October 2nd, to the dismay of the country's leadership, Turkey's Constitutional Court overruled the right granted to TIB to arbitrarily close websites without a court order. Now it is up to the ruling Justice and Development Party to comply.
Unlike Turkey, where the constitutional court is still powerful, in Azerbaijan there are no independent judicial bodies left to overrule decisions and amendments made to the legislation. All courts including prosecutors are tide to the ruling government. But unlike Turkey, Azerbaijan doesn't have a leader who openly criticizes the Internet and shuts down access to Twitter and YouTube. Instead, Internet is declared free. The difference is in the tactics. Erdogan follows laws as they still hold ground while in Azerbaijan, where legitimacy is extinct the perpetrators are disciplined directly. As one blogger from Azerbaijan rightly noted, free Internet in Azerbaijan is only a relative concept. "Internet is technically free, there's no blocking, etc., but in reality there are many political and social obstacles that prevent that freedom from fulfillment", wrote Ali Novruzov in his post shortly after the country was the host to the IGF in 2012.
So imagine the surprise when at the closing session of its 5th annual gathering in Nairobi, the UN Secretariat announced Azerbaijan as the next host country for the IGF 2012. The decision raised a lot of eyebrows. How a forum of such an international scope and importance be held in a country with dismal human rights record, bloggers and journalists in jail and internet being of the last remaining platforms for sharing any kind of views and opinions.
The answer is simple. Azerbaijani government was on the hunting spree for international public relations campaign and what not a better way of getting a name out there but by hosting a global conference like the IGF. 2012, was a good PR year for the country in general. Earlier in May, the country opened its doors to the many fans of the kitsch pop song contest, the Eurovision. That was one swing to Europe. Hosting IGF meant much wider outreach.
And host it did the annual multi-stakeholder meeting. This was the extent of how far the government was willing to go. Provide the venue, dazzle the guests with a glamorous gala dinner, and send some officials for the opening ceremony. Little effort went into saving face and promising to fix the dismal rights record.
Fast forward two years and IGF found itself in Turkey, another questionable host. This was a country where Twitter and YouTube were blocked along with DNS servers (YouTube was blocked several times in the past years) and where 29 Twitter users are currently standing trial for their online activism. But none of the panels focused on this matter, not openly at least. This was certainly the IGFs where the agenda lacked one of the most important topics of this meeting – the Internet freedom. And because country-specific panels (with an exception of the previous host country panel discussion) and workshops are not allowed, there was very little space for an open discussion. Perhaps this was largely due to the overarching theme of the two IGFs. IGF 2012 focused on the "Internet Governance for Sustainable Human, Economic, and Social Development" whereas this year it was about "Connecting Continents for Enhanced Multistakeholder Internet Governance". Who knows?
Outside of the conference venue, Google Big Tent - being the non-IGF panel and without binding obligations to the UN – painted a different picture of Turkey. Similar to the Big Tent event in Baku where guests were given an idea of the on-going crackdown online and offline, this time a panel discussion devoted to Internet crackdown in Turkey highlighted some of the on-going issues in the host country.
But there are still some venues of freedom left standing in Turkey. In parallel some activists and academicians organized their own forum calling it the Internet Ungovernance Forum . Organized and held at Bilgi University, it created space for some alternative discussions on Internet governance. The possibility of such an event happen in Azerbaijan is dim. Not one university would offer the space let alone its resources.
What matters is whether in Azerbaijan or Turkey or many other dubious hosts to come, IGF unquestionably serves as a platform for various stakeholders come together and debate on issues that affect our daily lives. IGF does not have a policy making mandate. However, some things must change. Holding the governments accountable for the crimes they commit against their citizens and netizens is a place to start. We have been talking for many years now, but without any tangible results.
We can no longer act as the three wise monkeys and just talk for the sake of talking when so many people around the world are unjustly punished for the crimes of others. IGF might not be a policy making body, but perhaps it is time to create follow- up accountability mechanisms that would hold governments like that of Azerbaijan and Turkey liable. Someone has to.
I commenti, nel limite del possibile, vengono vagliati dal nostro staff prima di essere resi pubblici. Il tempo necessario per questa operazione può essere variabile. Vai alla nostra policy
blog comments powered by