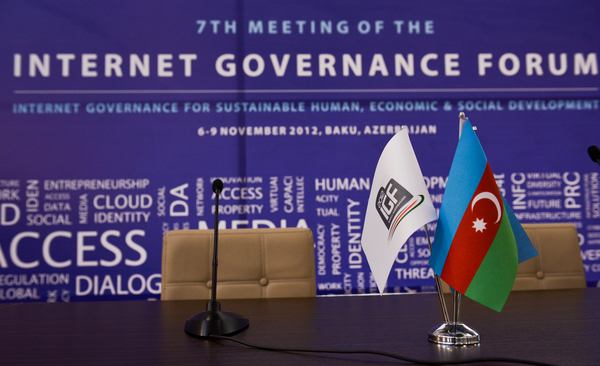 Last month the UN Internet Governance Forum (IGF) was held in Baku. Amidst doubts on the choice of the host country, the distribution of reports on freedom of expression at the venue was blocked and the computers of assistants to vice-president of the EU commission Neelie Kroes were hacked
The main theme of the 7th annual UN Internet Governance Forum (IGF), held in Baku last month, was "Internet Governance for Sustainable Human, Economic and Social Development." You would think this was a well-meaning theme, but "internet governance" does not sound as good when event is held in a country like Azerbaijan. Freedom House lists Azerbaijan as "partly free" in terms of online freedom and "not free" in terms of press freedom and democracy. The fact that Reporters Without Borders calls the current President of Azerbaijan, Ilham Aliyev, a "predator of the freedom to inform," and ranks the country 162 out of 179 countries in its freedom of expression index is also very telling about the nature of this year's IGF host country.
Given the rankings, it is not that surprising that the choice of Azerbaijan as the host of this year's IGF raised some eyebrows at home and abroad . Nevertheless, between November 6th and 9th, over 1,500 delegates from around the world, representing government, civil society, tech community, scholars, technology specialists, analysts and journalists came to Baku to talk about issues ranging from the right of access to Internet, diversity, surveillance/security, free press, data protection, internet governance for development and more.
At the meeting
The event was held at the Baku Expo Center, a building originally intended to house an Ikea store, but later turned into a massive convention venue. At the same time Baku was hosting the IGF, it was also hosting the Bakutel Trade Fair for Telecoms and ICT event where, unlike IGF, visitors and guests had a very good Internet connection. And while the Azerbaijani government used the opportunity of hosting IGF in its capital to talk about vast developments made within the IT sector, high bandwidth networks and what not, soon it became clear for many of the guests during the conference that its commitment to open and free internet went only so far.
A number of local journalists and civil society representatives had difficulties at the registration, which was allegedly managed by pro-government youth movement activists. Attending the event as an independent blogger and speaker at one of the workshops, I too faced difficulties during registration. Even though I registered in advance online, it was only after a UN representative intervened that my registration miraculously re-appeared on the screens and I was allowed to get in. Still, my complaint falls short of other participants, who were even asked if they planned to hold a protest.
Overall, the organizers were very sensitive to any material that could have harmed the reputation of the host country. As described in a press release of Expression Online , a consortium of several local freedom of expression organizations, the IGF secretariat tried to prevent the distribution of two reports on freedom of expression online and, more in general, on human rights in Azerbaijan. After being first conceded, then denied, a booth at the forum, Expression Online was told to seek permission from the Azerbaijani Ministry of Communications and Information Technologies. "If your government does not find the content insulting we will provide you with the booth and allow distribution of those two reports," the IGF secretariat coordinator allegedly told Expression Online representatives.
A forum for discussion
IGF has, in any case, been an opportunity for representatives from various institutions to get together and discuss. As data protection and privacy specialist of the Council of Europe Sophie Kwansy said in an interview with Human Rights Europe, following the forum, "IGF is the only place where you have everybody meeting - governments, civil society, youth - all discussing these [access, diversity and internet governance for development] issues". Indeed, this was a unique opportunity for many stakeholders to come together and talk, or at least for those who managed to attend the event.
Mixed messages from the EU
What is more interesting however is the recent division in assessment of the country by the European institutions. In a recent statement , Roland Kobia, the head of the EU Delegation to Azerbaijan, commenting on the upcoming presidential elections in 2013, said the current president stands a good chance for re-election, especially given the "good job" he has done. Strange, given the strong emphasis European Institutions place on freedom of speech during the IGF. Prior to her arrival to Azerbaijan, Neelie Kroes, the Vice- President of the European Commission, wrote on her her blog: "Azerbaijan is a country with serious issues of media freedom - where journalists regularly face arrest or imprisonment, and the suppression of very basic human rights."
Just a few days later, while in Baku, the computers of Neelie Kroes's spokesperson and a top advisor were hacked during their attendance at IGF.
Ms. Kroes was also critical in her opening remarks in which she condemned restrictions on the media, called "any repressive restrictions on media freedom of whatever kind unacceptable," and advised the Azerbaijani government to follow the standards it had committed to as a member of the Council of Europe. Ajoint statement of the EU Delegation to the 7th IGF in Baku expressed "concern about numerous testimonies during IGF workshops on violations of basic human rights in Azerbaijan […] We see the exercise of free speech effectively criminalized. We see violent attacks on journalists […] We also invite the political leaders of Azerbaijan to ensure respect and protection of human rights and fundamental rights, particularly freedom of speech, the rule of law, freedom of assembly as well as political diversity and media pluralism."
Perhaps if Mr. Kobia were to elaborate on what he meant by a"good job", there would be less confusion, as otherwise it looks like the official representatives clearly have a misunderstanding.
A month later
It's been a month since IGF wrapped things up in Azerbaijan, emptied the expo center, and moved on. But Azerbaijan remains static or the situation with freedom does. International attention is fading away, just as it did after the Eurovision, and for now it is likely life will continue at its usual pace. And even if Kroers' words still resonate in the minds of many and in numerous posts and articles written by press and internet freedom advocates in Azerbaijan, so far, it looks they will remain just words and statements. It is very unlikely Azerbaijani authorities will take up on the call of the EU delegation to protect and respect the fundamental rights of its people. Even though IGF served as a platform to openly raise criticisms and address human rights and other issues in Azerbaijan, the proponents of democracy have yet to see the outcomes of such international gatherings as IGF.
I commenti, nel limite del possibile, vengono vagliati dal nostro staff prima di essere resi pubblici. Il tempo necessario per questa operazione può essere variabile. Vai alla nostra policy