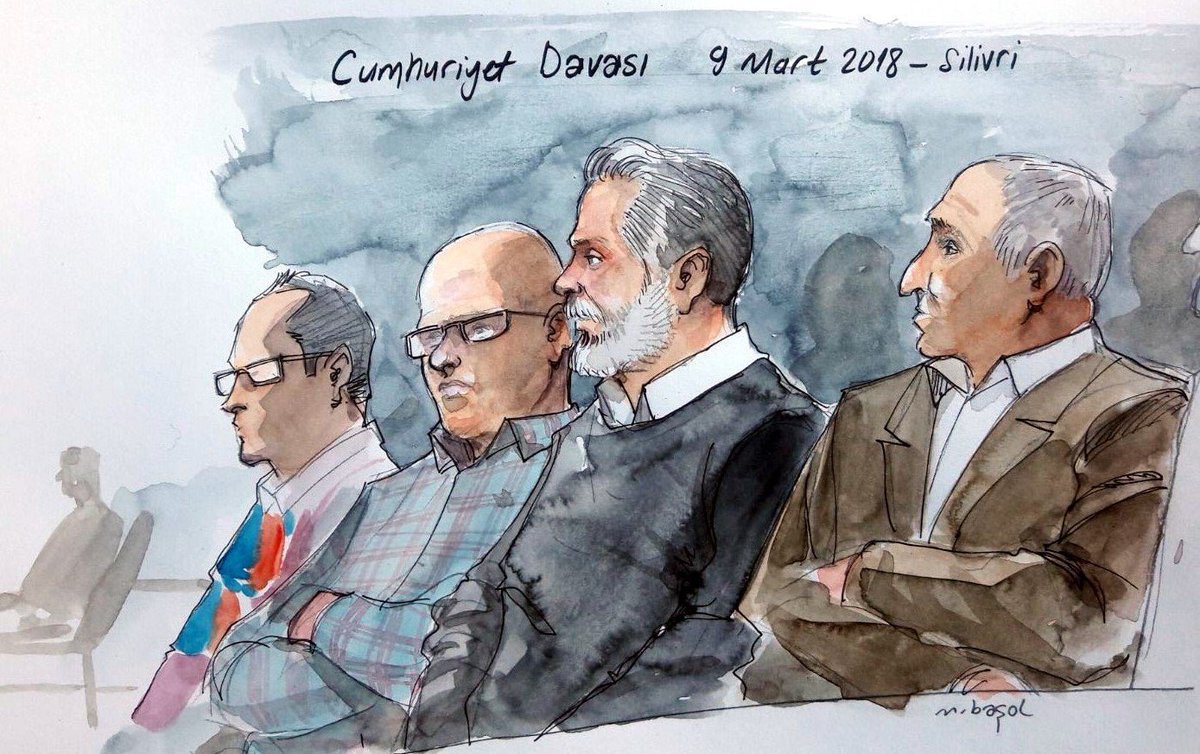 Two more Cumhuriyet journalists have been released, while Akın Atalay, managing director of the major Turkish daily, remains in prison
Last March 9th, journalists Ahmet Şık and Murat Sabuncu were released after about 18 months of pre-trial detention. Respectively leading investigative reporter and chief editor, the two are among the 18 defendants - journalists, lawyers, executives, and employees - of the Cumhuriyet trial. The case, mostly regarded as a trial against freedom of expression and the press, has attracted the attention of the media and several international observers from the very start.
12 out of 13 persons held in detention were gradually released between the first hearing - held in July 2017, 9 months after the first detentions - and the sixth, held last Friday. Managing director Akın Atalay is the only one still in prison. Atalay, who was abroad when he learned about the detention order, had gone back to Turkey of his own will to be arrested.
The first words of Ahmet Şık and Murat Sabuncu out of the Silivri prison were for Atalay. "I want to stress that I'm not happy at all. And I don't want you to be happy either until Akın Atalay remains the last prisoner of this plot. I'd rather wish you were angry, as anger will be what keeps us standing", stated Şık, who had already been arrested 6 years ago after writing a book on the presence of the organisation of Fethullah Gülen in law enforcement. The same organisation was blamed by Ankara for the attempted coup of July 2016.
"We are not the only ones who were imprisoned for exercising freedom of thought. Journalists, lawyers, MPs, and human rights defenders remain in prison. Turkey's problems do not end with our release", was the first comment by Murat Sabuncu. By stating that "their job is to keep doing journalism without fear", the editor reminded that they were released "thanks to the struggle and solidarity of lawyers and colleagues", and expressed the hope to get back Atalay soon.
The defendants in the Cumhuriyet trial are accused of supporting armed terrorist organisations (PKK - Kurdistan Workers' Party and Fethullah Gülen's FETÖ; People's revolutionary liberation party - DHKP-C ) without being members. The attorney presented as evidence several articles written by the defendants, asking for up to 46 years of prison. The next hearing is scheduled for March 16th.
This publication has been produced within the project European Centre for Press and Media Freedom, co-funded by the European Commission. The contents of this publication are the sole responsibility of Osservatorio Balcani e Caucaso and its partners and can in no way be taken to reflect the views of the European Union. The project's page
I commenti, nel limite del possibile, vengono vagliati dal nostro staff prima di essere resi pubblici. Il tempo necessario per questa operazione può essere variabile. Vai alla nostra policy
blog comments powered by