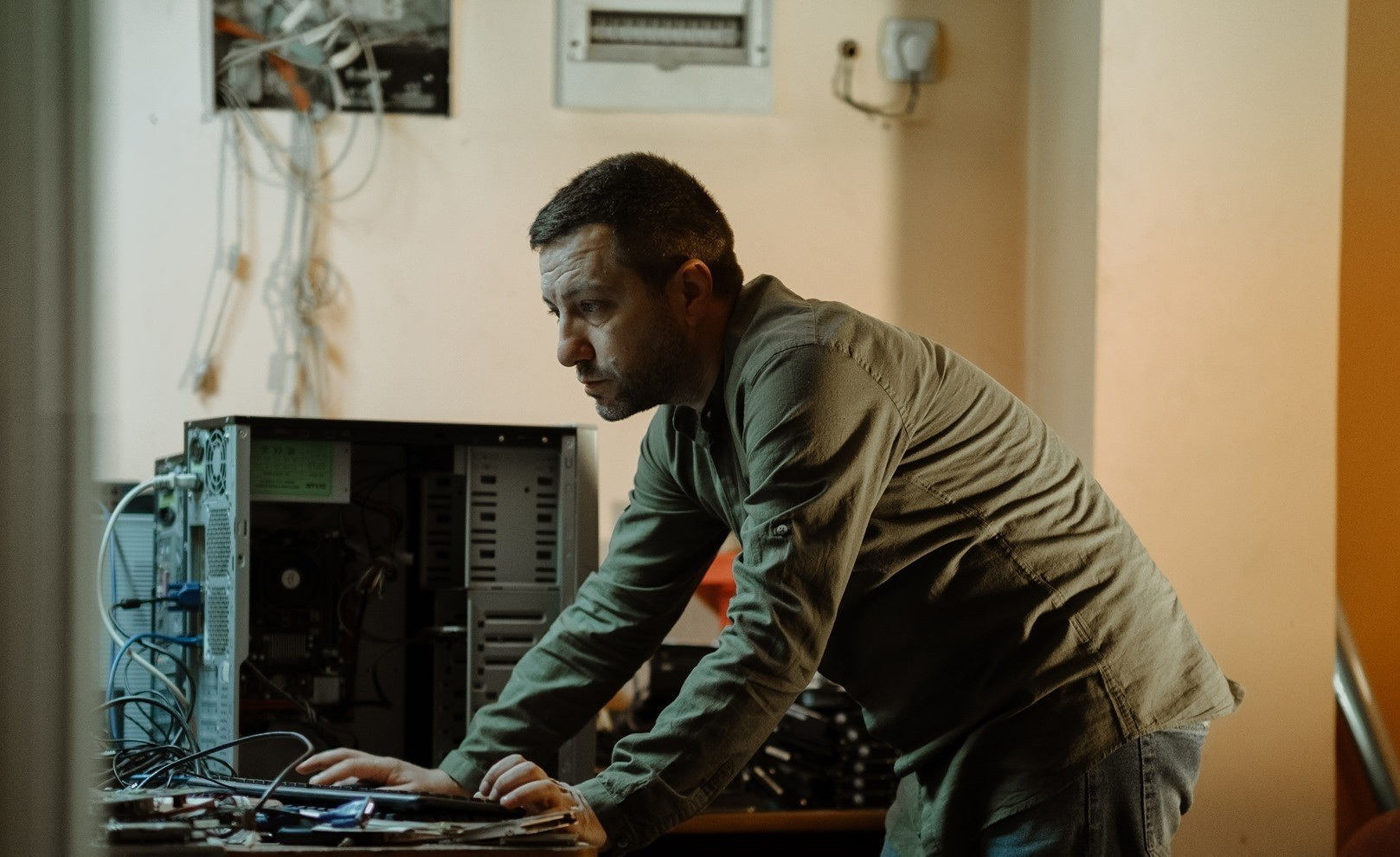 With the pandemic and online lessons, it turned out that many families in North Macedonia do not own and cannot afford a computer, but someone had already noticed and started to do something about it
This year, the Delegation of the European Union in North Macedonia, on the occasion of the European Day 2021, awarded its special solidarity prize to Borce Stamenov, 42, from the city of Kavadarci, who managed to repair and donate over 1000 computers in five years, helping pupils and students whose families could not afford a new computer.
The "Donate a computer " initiative, which Borce is carrying out together with two collaborators, has been particularly important in this pandemic period that has forced many students to take lessons exclusively online.
Borce had the idea in 2016. He worked, as he still does, for a company that makes accounting software. Customers would often buy new equipment and leave their old computers there. Borce thought they could be repaired and donated to children and students whose families could not afford them.
"A woman from Kavadarci, a single mother of three, asked us for a used computer because she couldn't afford a new one. The happiness I saw at their home when I went to help them turn on the computer was the spark to start donating", says Borce.
From then on, every month, he and his staff managed to repair and donate a dozen computers. Then came the pandemic and it turned out that there are so many children and families who need a computer to attend online classes and cannot afford it.
"Usually, lately, people ask me for a computer because of online teaching. They can't afford one. And it's not just online teaching, but now children need a computer for traditional school as well. You have to have a computer to be literate in some way", stresses Borce.
Computers are also donated to other vulnerable groups such as low-income families, unemployed parents, children with special needs as well as children's homes, organisations for victims of domestic violence, and the like.
Before making a donation, some proof is required to determine who needs it most, such as a certificate of unemployment in the family, or documents proving that you are single parents, or have children with special needs. In all cases, people are extremely happy when they receive a computer, and you get the feeling of significantly changing their life.
"We donated a computer to a Bitola family. It came back to me after six months. One of the relatives had bought a new computer for that family. Returning it, they wrote to me: "Go ahead, make someone else happy as you made us".
According to data from the Macedonian Ministry of Education, when the first lockdown was introduced only 70% of students actually attended online classes, the remaining 30% did not have the possibility. The ministry claims that, during the school year, the percentage of students who attended online lessons rose to 90%. The online lessons were attended by students starting from the fourth grade of primary schools up to high school and university students. In 2020 a national web platform for online lessons was announced, but it never took shape and therefore pupils, students, and teachers made use of free platforms such as Microsoft Teams. In addition, the media in recent months have repeatedly reported that schools receive donations in the form of tablets and computers to allow students to attend lessons remotely.
Initiatives such as Borce Stamenov's therefore help to include all children in the educational process. Although apparently the number of 1000 computers seems small, for North Macedonia, which has less than two million inhabitants, it can start to make a difference.
When the number of 1000 donated computers was exceeded, Stamenov celebrated on the Facebook profile of the "Donate a computer" initiative with a "financial description" of the project: "In these 5 years we have received about 1,500 used computers. About a hundred of them were unusable or old. The remaining 1,400 were checked several times to verify their functioning. We used parts of them to complete others. And so we arrived at the number of 1003 computers donated... 1003 used computers multiplied by the average price sale of a used computer (case, monitor, keyboard, mouse, connection cables), which is around 6000 dinari, we get a sum of 6,018,000 dinars. If we turn everything into our politicians' preferred currency, Euros, we are at around 100,000 Euros. But we, unlike our politicians, spent 0 dinars and brought happiness and respect to the whole of the country".
There are now many companies that have come forward to donate computers through the initiative of Borce Stamenov. The non-profit association "Donate a computer" was recently founded, which has received numerous awards and prizes from all over the country for its humanitarian work, and has also received public support from President Stevo Pendarovski.
Now, whether there will be a lot of work for the next school year also depends a lot on how North Macedonia will fare with the pandemic. For the time being, the Ministry of Education has decided to start all lessons face-to-face and to switch to distance learning only if the epidemiological situation requires it. Still the ministry, after the experience of the last year and a half, has decided to undertake a process of digitisation of Macedonian education.
I commenti, nel limite del possibile, vengono vagliati dal nostro staff prima di essere resi pubblici. Il tempo necessario per questa operazione può essere variabile. Vai alla nostra policy
blog comments powered by