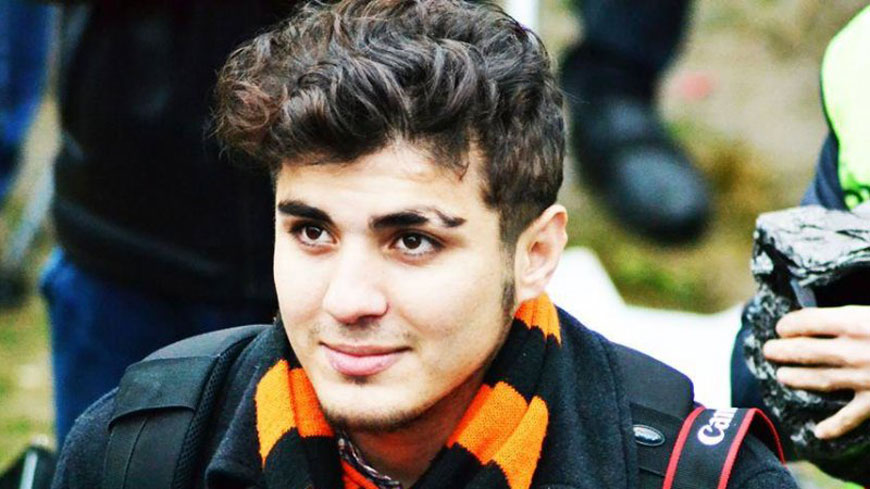 A blogger's plea for justice shakes the world, but not official Baku
According to Visualising Impact's infographic about gradual physiological effects of the hunger strike, by day 3, hunger pangs and stomach pains disappear. By day 14, the body starts to break down muscle tissue for survival. Then comes lightheadedness, physical fatigue, loss of hearing, and eventually death. An Azerbaijani blogger, Mehman Huseynov has been on a hunger strike since December 26. On the twelfth day Huseynov started experiencing severe stomach cramps. As a result, he started drinking water and consuming milk and yoghurt, but continues to refuse intake of hard foods.
The hunger strike, comes amid new charges against Huseynov, on the grounds of "resisting a representative of the authorities, with the use of violence dangerous to (the representative's) health and life". If found guilty, Huseynov is facing additional 7 seven years in jail. Huseynov's release was scheduled for March. In a recent meeting with his lawyer, Huseynov said he will continue the hunger strike until March, when he was scheduled to be released. "This is the only means of struggle against injustice", Huseynov told his lawyer Shahla Humbatova.
The 26 year old, media activist and corruption blogger, Huseynov has galvanized the support among many civil society activists in Azerbaijan following his decision to go on a hunger strike. Tofig Yagublu speaking to Azadliq Radio on January 9, said that under the banner "Freedom to Mehman Huseynov and all political prisoners" several members of the opposition joined the hunger strike and continuing the strike at the headquarters of Musavat Party in Baku. At the moment there are six opposition members who continue the hunger strike together with Tofig Yagublu.
In another act of support, the Musavat Party announced a decision to hold a support rally. However, the party was refused the permission by the Baku City Administrative office on January 9. According to the leader of the opposition party, Arif Hacili, the party will contest this decision in court while in the meantime, decide on how to proceed next with the planning of the rally.
In early January, a group of activists held an unsanctioned rally in the capital Baku which resulted in arrests of five people, who were sentenced to administrative detention ranging from twenty to twenty five days and monetary fines on charges of violating the administrative offenses code article 513.2 – violating the law on staging public protests. On January 11, five members of the Popular Front Salyan region branch were detained following an attempt to hold a protest rally in support of Mehman. Two of the detained, Alizamin Salayev and Tariyel Malikzade were sentenced to 25 and 20 days in administrative detention respectively. Others have held support rallies in Berlin and Nurnberg.
Prior to his arrest in March 2017, Huseynov, collected stories about the challenges Azerbaijanis faced in the country, visavis the lavish life styles of the country's top ruling brass, the corruption and the inequality. He is the editor in chief of Sancaq TV (the pin), a socio-political magazine, active on Facebook, YouTube and Instagram. His recent campaign , "Hunt for Corrupt Officials", documented corruption in the high echelons of Azerbaijan's ruling establishment.
The official response
The official response was to refute any claims Huseynov was on strike at first, but as international criticism mounted, it was time to give some answers. Not for the prison authorities, who for days, refused to accept Huseynov's strike. Azerbaijan's Commission for Human Rights did confirm the strike, but issued a false statement after visiting Huseynov in prison, saying Huseynov's health was in recovery and that he has returned to taking food and liquids. Similarly, the prison authorities issued two false statements on separate occasions. First there was a document Huseynov allegedly signed, announcing he has ended the strike, and most recently , on January 11, a letter, allegedly written by Huseynov and shared on some online news sites where Huseynov claims, he is recovering from the hunger strike and that he believes the investigations against him will be just. In the letter, Huseynov also refutes "false claims" about his health status.
Speaking to the local media the day Huseynov's statement was released, his lawyer, Shahla Humbatova said she was as surprised as the rest of his supporters for Huseynov never even mentioned a statement during their meeting, just the day before on January 10. "He told me he is only drinking milk, and eating yoghurt and it is only because of the stomach cramps he started experiencing on December 30, while on the fourth day of his hunger strike. He is determined to continue the strike until his original release date", lawyer Humbatova told local media.
Statements made by several government officials however, indicate their commitment sticking to their own facts and truth.
Leyla Abdullayeva, a spokeswoman for the Foreign Ministry dismissed calls by the French government and instead urged them to sort their own mess, referring to the "yellow vests" protests and thousands of people who have been detained since the start of the protests. "Azerbaijan hopes that the charges against the demonstrators detained in France will be dropped and they will soon be released", said the spokeswoman on January 10.
MP Hikmat Babaoglu, discredited the campaign merely as a "fuss" launched by "anti-Azerbaijan networks" whose purpose is to "discredit its international authority". MP alluded to Mehman being just a tool in this game, therefore, no pressure will have any impact on the government of Azerbaijan assured Babaoglu.
Deputy Executive Secretary of the New Azerbaijan Party, MP Siyavush Novruzov told Trend on January 7, that Azerbaijani blogger Mehman Huseynov has in fact never been involved in journalism. Similar to Babaoglu, Novruzov said the anti-national groups and their foreign patrons use this case as an opportunity to launch another anti-Azerbaijan campaign. "We know who is behind this campaign," he told Trend. "The goal of the campaign is to exert pressure on Azerbaijan". But the parliament member, forgot to clearly mention the so-called masterminds behind this "anti-Azerbaijan" campaign, leaving the readers of the interview to their own imagination.
"Such people as Azerbaijani blogger Mehman Huseynov are glorified by those who are annoyed with Azerbaijan's independent policy", said Azerbaijani MP Sahib Aliyev in an interview on January 9. Aliyev also said, that not only does he not consider Huseynov a journalist, but that he doubts Huseynov's intelligence. "In any society and in the West, public opinion is usually created by the individuals with strong character and high intelligence, who have rich life experience and merits to their homeland and people. However, well-known circles are trying to glorify and make the individuals with low intelligence, who are not responsible for what they have said, as the leaders of public opinion".
Behind the anti-Azerbaijan campaign
Among some of the so called anti-Azerbaijan groups as government officials have described them are the Council of Europe , the international human rights watchdogs as Human Rights Watch , Amnesty International , IFEX , Reporters Without Borders , PEN America , and US Senator Marco Rubio . All have called for immediate and unconditional release of Mehman Huseynov as well as removal of all the new charges leveled against the blogger.
Some say, it was this video that possibly landed Huseynov in jail. After Ilham Aliyev, appointed the First Lady Mehriban Aliyeva as the First Vice President, Huseynov, tasked himself with a mission to find out what people thought asking residents of Baku the following question: "imagine you were a director or a president of a company, would you consider appointing your wife as the first secretary?" He was arrested the next day, on March 3, 2017.
The chances of justice being served that Huseynov sought either through his work as a citizen journalist, or rights advocate, and now from prison through a hunger strike, are slim.
But every now and then, there are news to seek hope. On January 10, the European Court of Human Rights ruled in favor of Azerbaijan's top investigative reporter, former political prisoner, Khadija Ismayilova's 2014 appeal that the Azerbaijani authorities were either directly responsible for a secret camera planted in the apartment she was staying, or did not fulfill their duty to protect Ismayilova's right to privacy and freedom of expression by fully and thoroughly investigating the case. The court ruled that such acts were an "affront to Ismayilova's human dignity" and that Azerbaijan must pay Ismayilova 15,000EUR in damages and 1,750EUR in legal fees. Commenting to Euronews on the ruling, Ismayilova stressed that "Work is not complete without the perpetrators being brought to justice".
For many journalists, rights advocates and activists in Azerbaijan it is high time for justice to be served. Can a blogger's plea for justice through a hunger strike help remains an open-ended question.
The timeline of Huseynov's arrest
On January 9, 2017, Huseynov was detained and held incommunicado over night. The next day he was falsely accused of disobeying the lawful order and sentenced to pay a fine of 200AZN [about 100 euros] in a closed-door hearing. Mehman Huseynov spoke about the inhumane treatment he was subject to during the detention, which resulted in the Chief of Baku police filing a lawsuit against Huseynov accusing him of giving false information about his detention. Following the accusation, Huseynov was arrested in the courtroom on March 3, 2017 and sentenced to two years in jail on charges of defamation.
I commenti, nel limite del possibile, vengono vagliati dal nostro staff prima di essere resi pubblici. Il tempo necessario per questa operazione può essere variabile. Vai alla nostra policy
blog comments powered by