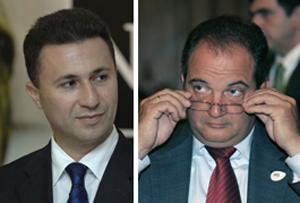 On March 6 NATO is expected to issue an invitation to the three countries of the Adriatic Group. Whereas Albania and Croatia are safely on their way in, Macedonia has a big problem: Greece said that it would veto Macedonia's entry unless the long-standing name dispute resolved first
On March 6 NATO is expected to issue an invitation to the three countries of the Adriatic Group, Albania, Croatia, and Macedonia, to join the Alliance. A big NATO summit in April in Bucharest would then confirm their entry.
Whereas Albania and Croatia are safely on their way in, Macedonia has a big problem. Greece said that it would veto Macedonia's entry unless the long-standing name dispute resolved first. If at some point in the past there could have been a doubt whether Greece would dare use a veto (to be a first in NATO's history), by this point all doubt is gone. Greece repeated its position endless times, and it is determined to back words by action.
The last weeks saw frantic diplomatic activity, largely prompted by the United States, which wants Macedonia into NATO as part of its grander plan for the Balkans. US Secretary of State, Ms. Condoleezza Rice had talks with the foreign ministers of both Greece and Macedonia; UN envoy, Mr. Matthew Nimitz, again at inclination by the US, produced one more in a long list of proposals for a mutually acceptable name; the proposal was discussed on Friday, February 29 in New York by the countries' negotiators.
Both Macedonia's and Greece's governments consolidated their positions internally, and got the support by opposition parties. Neither country shows any sign of relenting.
On Wednesday, February 27, a protest in the center of Skopje under the banner of preservation of Macedonian national identity, turned bad when a group of thugs decided they wanted to take a hit at the Greek Embassy (technically a liaison office; the countries do not have an exchange of ambassadors). Luckily, the police were prepared in anticipation of the event and stopped the mob at a safe distance. It ended with several demolished police vehicles; a few smashed heads, and hooligans detained; and a squabble the next day in parliament between the government and the opposition over who "orchestrated" the incident.
Greece in turn prepares its own protests. Two big ones are announced for 5 March, the evening before the NATO ministerial meeting which is to issue the invitation.
Mr. Nimitz's last, secret proposal - it was not made available to the public in either countries- operated with adjectives such as "democratic", "sovereign", "new", "constitutional" and so forth, to be added to "Republic of Macedonia". It however contained several additional provisions which restricted the future use of words such as "Macedonian" (i.e. Macedonian language, Macedonian culture, Macedonian identity, or at a more humorous note, possibly "Macedonian salad" which could also affect Italians) which made Macedonian experts characterize the proposal as less favorable than previous ones.
Although the press was kept out of this last week's round of discussions (Macedonian public got details on the proposal from the Greek press which proved more resourceful in obtaining the text of the document),some media hinted that the Macedonian government sent its negotiator to New York with very little latitude to move from the country's traditional position on the issue.
The issue was by and large dormant and only occasionally stirred excitement over the last 12 years. It seemed for a while that stashing it under the carpet was one way of "resolving" it. Today it is back, as bitter as ever.
With both countries losing ground under their feet, nationalist tension runs high.
Macedonia risks loosing entry into NATO, although it is clear and repeated by everyone, that it has met all the conditions and done all the work. The country de facto, acts like NATO already, say Macedonian officials; it meets obligations from membership, sends troops abroad, makes its resources available to NATO.
Greece risks serious international isolation. It has already earned itself the bitter anger of the US, for hindering its efforts in the Balkans. Its unremitting stance on the name dispute - which to countries unfamiliar with the Balkans obsession with history sounds childish - does not make it popular in the EU either. On 27 February the European Parliament adopted a resolution calling upon Greece not to block Macedonia's international integration.
Greek press reported the US had asked the Hellenic Republic three things in order not to fall from favor any further: not to hinder Macedonia's joining of NATO; to recognize Kosovo, which Greece as a traditional Serb ally does not want to do; and to send more troops into Afghanistan.
Rumors spread in the last period that Greece could even accept to recognize Kosovo if the West would support it in its standoff with Macedonia.
As of end of last week, the US seemed pessimist about the chance to find a solution to the name dispute before 6 March. The State Department said Greece and Macedonia seemed a long way from a solution.
Media speculated around Friday, that US Secretary Rice could summon the prime ministers of both countries to Washington, in a last attempt to pressure Macedonia and Greece into a compromise. Some news reports in Macedonia already called such a prospect a "mini Dayton".
The press also hinted at the possibility of NATO issuing only one group invitation for all three countries, and in that way installing a technical - procedural barrier before Greece's veto. Something akin to group train ticket. Sounds unlikely though that such a trick can prevent the train conductor from taking the unwanted passenger off the train, however.
As things stand right now, hope should be sought in the ability of the US to coerce Macedonia and Greece into a last minute deal. This deal does not need to mean a final solution to the name issue. It is Greece that insists the issue be solved before NATO. For everybody else concerned, Skopje included, Macedonia can also enter NATO the same way it entered the UN, and plethora of other international organizations - as "former" and still "Yugoslav" Republic of Macedonia.
This fact, together with the fact that Greece bound itself with the temporary agreement from 1995, which lifted its embargo on its northern neighbor, not to obstruct Macedonia's integration into international organizations, humbly suggest that the heat again is coming from the south, from Athens.