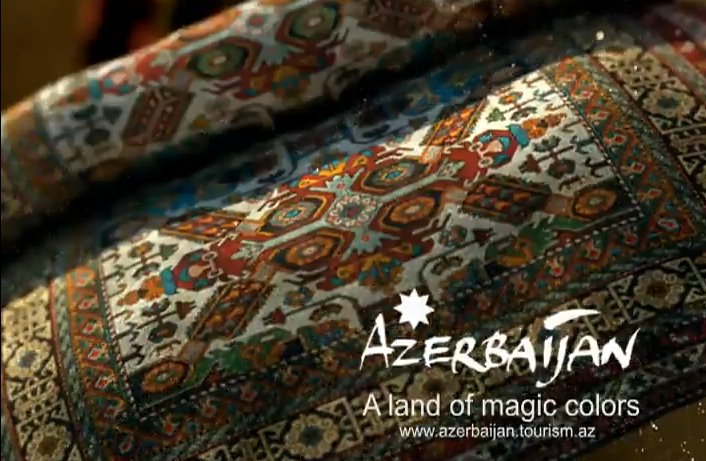 Azerbaijan's authorities have intensified their efforts to improve the country's image abroad, hiring PR companies and lobbyists around Europe to burnish its image. Lavish business meetings and events ostensibly dedicated to culture are meant to boost the country's image abroad and make people forget about democratic shortcomings and human rights violations at home
An article recently published by the German magazine Spiegel features a photo of the President of Azerbaijan, Ilham Aliyev, and his fashion-icon wife, Mehriban Aliyeva. The caption sums up briefly a new vector of Azerbaijan's foreign policy that is becoming more and more noticeable: "the country is currently seeking to burnish its image abroad and has been spending a lot of money to do so, hiring PR experts and lobbyists in Germany and other European countries."
Glossy magazines, video ads, and "cultural" events, organized in the capitals of European cities and elsewhere, are all about boosting Azerbaijan's image, focusing on its openness to investors, its rich culture, beautiful carpets, stunning landscape, and delicious cuisine. In addition to these, invitations to conferences hosted in Baku, covering all costs including business class travel and stay at boutique hotels, leave critics of the regime concerned by the waste of public money.
Back in Azerbaijan, image control is just as important as it is abroad. Vast re-construction, over-construction, and new construction efforts are carried out across Baku, the capital of this energy-rich country. Surely, the stratospheric glitz is an important part of it all. Fashion boutiques, hotels and a social scene that has flourished in the last few years are friendly reminders to visitors that Baku is no longer its old Soviet self and that its dingy past is indeed in the past.
The President of Azerbaijan speaks only pompously about progress in the country after the county gained its independence. In his video interview with Frost over the World, he doesn't hide his proud grin when saying "You can see changes everywhere, it is maybe easier to say where we don't have changes". His vanity doesn't fade even when he is asked about recent reports on human rights violations and clampdowns on freedom of expression. "In most cases we ignore them," responds Mr. President, adding how unfair international organizations are in their criticisms. He says they have double standards when it comes to Azerbaijan in comparison to, say, its neighbour Armenia.
Lobbying for Azerbaijan in Europe
There area many Azerbaijan 's promoters abroad. Among these Hans-Erich Bilges, an avid proponent of Azerbaijan in Germany. Currently heading the Berlin-based Consultum Communications public relations agency, Bilges' "job" is to "help Azerbaijan pursue a more Western course". He is one of the key figures making sure that exhibitions - like the one hosted in Berlin on the cultural riches of Azerbaijan - proceed accordingly. Launched as simply an exhibition of carpets, this event was one of the many gatherings organized in Europe to boost Azerbaijan's image abroad.
Similarly, in Britain, busy bees have lobbied to boost British business with Azerbaijan. Among these were Prince Andrew, the Duke of York, whose opinion of Azerbaijan and the investment opportunities it has to offer are full of promises. Last March, he lobbied an MP to help boost British business with Azerbaijan and called it a "Cinderella country" with "tremendous opportunities." Since 2005, the Duke has visited Azerbaijan several times as the UK's special representative for international trade and investment (a position he later left following allegations that he had shady connections) as well as in a private capacity. Prince Andrew has been harshly criticised for his record of close ties with people like late Colonel Gaddafi, Sakher el-Materi (son-in-law of the toppled Tunisian President) and many other leaders whose countries have gotten international attention for perpetrating human rights violations, clamping down on peaceful protesters, and more. According to this article in The Guardian, Buckingham Palace denied any wrongdoing by the Duke of York, as well as allegations that Prince Andrew had received generous annual sums from the Azerbaijani authorities. And yet, he continued to meet some of the world's controversial leaders, including the President of Azerbaijan.
Fariz Ismailzade from the Azerbaijan Diplomatic Academy explains such initiatives as "thirst for […] modern tools of diplomacy". In his article featured in Jamestown Foundation and titled "Azerbaijan boosts its public diplomacy efforts" Ismailzade writes of the overall growth in the pubic diplomacy efforts "to promote its [Azerbaijan's] culture and history abroad". He also notes an additional boost to Azerbaijan's confidence that came after winning last year's Eurovision song contest. The duo Ell and Nikki earned the first place prize for Azerbaijan, winning their country the right to host next contest, which is scheduled for May 2012.
Someone who did play a role in Azerbaijan's Eurovision victory is none other than the first lady herself. Mehriban Aliyeva, who is well known in the region as the first lady with taste for fashion and a stern look, was behind the organization of, as well as generous support for, the winning song, "Running Scared". She is praised not only at home but also abroad. In November of last year, a bust of Mehriban Aliyeva was erected in Niagara-on-the-Lake, Canada during another cultural event dedicated to Azerbaijan's mugham form of folk music. Engraved beneath the bust are the words: "Mehriban Aliyeva - divine muse - patron of Azerbaijani mugham". According to UNESCO's Eminent Personalities page, Mrs. Aliyeva "was designated UNESCO Goodwill Ambassador for Oral and Musical Traditions" in 2004. In 2010, she was also awarded the Official rank of the Legion of Honor by the French President Mr. Nicholas Sarkozy for Mrs. Aliyeva's "outstanding service and loyalty to France". Not surprisingly, Mrs. Aliyeva is in charge of the Eurovision 2012 organizing committee.
For someone sitting at the royal premises, like Prince Andrew, or for individuals like Bilges as he carefully "patrols" the handmade carpets in Berlin, the truth about the real Azerbaijan, the one that is not flourishing and hiding behind carpeted façades, is too distant to see. Beyond the "love affairs" behind closed doors, explicitly focussed on business (or, ostensibly, on culture), the fact that human rights violations are quietly ignored gives cause for concern, especially given the fact that many more such initiatives are expected in the foreseeable future.
I commenti, nel limite del possibile, vengono vagliati dal nostro staff prima di essere resi pubblici. Il tempo necessario per questa operazione può essere variabile. Vai alla nostra policy