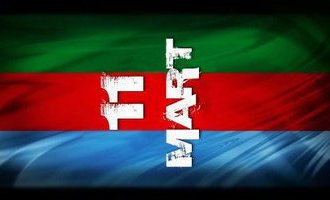 March 11 is the day anti-government activists in Azerbaijan have set as a day of protest in a campaign that has been publicized online. The protests are planned despite the Azerbaijani government new anti-corruption campaign, launched in January in what seems to be Baku's most visible reaction to the revolutions sweeping the Arab world
On 27 January, a group of state officials hurried to a meeting. It was an anti- corruption commission meeting in the capital of the oil-rich nation of Azerbaijan. Headed by Ramiz Mehdiyev, a man said to be Ilham Aliyev's closest and influential aid, it was the first time the commission had convened since its establishment in 2009. The meeting resulted in a number of sweeping measures to tackle Azerbaijan's most pressing problem: corruption. These measures have been the Azerbaijani government's most visible reaction to the revolutions and unrest rippling across the Arab world.
Though the official line has so far dismissed any relation between anti-corruption measures and recent uprisings in the Arab world, many local experts claim there is a link. It looks like they might have a point. It didn't take long for the Azerbaijani authorities to realize that, following the fall of Ben Ali's regime in Tunisia, the revolution in Egypt, and unrest elsewhere across the Middle East, it was time to take an introspective look at the country's own kleptocracy. Though generally dismissive of the problem, local authorities had long been well aware of endemic corruption in all spheres of public and private life; in schools, universities, health care, business, and elsewhere.
Shortly after the meeting of the anti-corruption commission, the 43-year-old President of Azerbaijan, Ilham Aliyev, in a step towards long-awaited reforms, ordered a new decree prohibiting local traffic police from collecting fines from drivers in cash. In addition, the new decree allocates 25 percent of collected fines to the salaries of local traffic police officers. In the meantime, according to an article published on Eurasianet.org, state employees were advised "to avoid irritating the population and to work effectively and build public trust".
If, previously, any international reports on corruption had been dismissed, overlooked, or overly criticized by the local authorities, they were now being openly discussed on state TV channels and specific areas of corruption were even being identified. All of a sudden, ministries openly accepted the existence of corruption and were giving promises to tackle the issue. According to various reports that appeared in local media, some state institutions had dismissed a number of employees.
But what looked like a massive and swift crackdown was mostly affecting low-level personnel while leaving heads of departments, not to mention state committees and ministries, untouched. Ali Novruzov, a blogger from Azerbaijan, called bluff in a post that revealed that the list of people dismissed from the Ministry of Education contained those of people who were deceased or retired. According to Gubad Ibadoglu, head of the Economic Research Center in Baku, anti-corruption measures should be extended to include measures that promote greater transparency in the finances of public officials, starting with implementing a 2006 law that requires all government officials to declare their personal income and property.
Drawing Parallels
Just like Egypt, Tunisia, and Libya, Azerbaijan too, is an example of decades-long control of power by a single person or a "clan". Checks and balances in government institutions or their branches are not functioning. Democratic means of power change are limited. Civil society has little sphere of influence and the media is shackled. While Azerbaijan is officially committed to freedom of speech as a member of the Council of Europe, authorities did not sanction any political rally in 2010 in the run-up to the country's parliamentary elections. Criminal defamation accusations are widely used against journalists and civil society activists.
Drawing on these parallels, Azerbaijan's opposition, too, decided to step up and raise their demands. Two days after the anti-corruption meeting, over 100 activists - non- partisan activists, opposition members, and civil society representatives - gathered together to call on the Azerbaijani authorities to annul recent parliamentary elections or be prepared for similar protests to those in Egypt and Tunisia.
Similar to youth movements in Egypt and Tunisia, here in Azerbaijan youth groups have also been discussing their own initiatives. In one such initiative, a young member of Azerbaijan Popular Front, Jabbar Savalanly, called on his Facebook friends to join him in what he called in his Facebook status update a "Day of Rage". He was arrested a month later on drug possession charges. While the Ministry of Internal Affairs dismissed claims that the arrest was politically motivated, Savalanly's friends and supporters believe otherwise. A Facebook page and a blog were created to follow the case and post updates on any developments.
Another online campaign, initiated just recently, is called "March 11". The event is currently on Facebook and is an online campaign dedicated to the cause of democracy in Azerbaijan.
Others believe Egypt-like protests won't take place in Azerbaijan. In his interview with a local newspaper, chair of pro-government Ana Veten party, Fazail Agamaliyev, said, "[…] Azerbaijan is not Egypt. Today a number of reforms - economic, social, political and legal - are taking place. Azerbaijan continues on its path towards Western values in a systematic way. There is dynamism in the lifestyle of the Azerbaijani people […] Azerbaijan should not be compared to Egypt or other Arab countries for that matter because there are no reasons for an Egypt-like uprising to happen in our country".
Similarly, a Deputy Chair of the ruling YAP (Yeni Azerbaijan Partiyasi/New Azerbaijan Party) said in an interview with an online news outlet, "Azerbaijan is a democratic country and [these] events don't have any effect on our country" adding that any further claims by "other circles" to be otherwise are baseless.
Taking into account that Azerbaijanis could largely follow news coverage of the unrest sweeping the Arab world through independent media outlets and social media, with state media largely averting from broadcasting any news of protests, the claims of local officials and the contradictory updates from various Facebook and Twitter users are not surprising. For now, Azerbaijan is yet to see what comes out of these initiatives, both on government and opposition levels. It is hard to predict any big uprisings, though no doubt, smaller-scale protests will be happening across the country and in front of Azerbaijani embassies and consulates around the world.
I commenti, nel limite del possibile, vengono vagliati dal nostro staff prima di essere resi pubblici. Il tempo necessario per questa operazione può essere variabile. Vai alla nostra policy