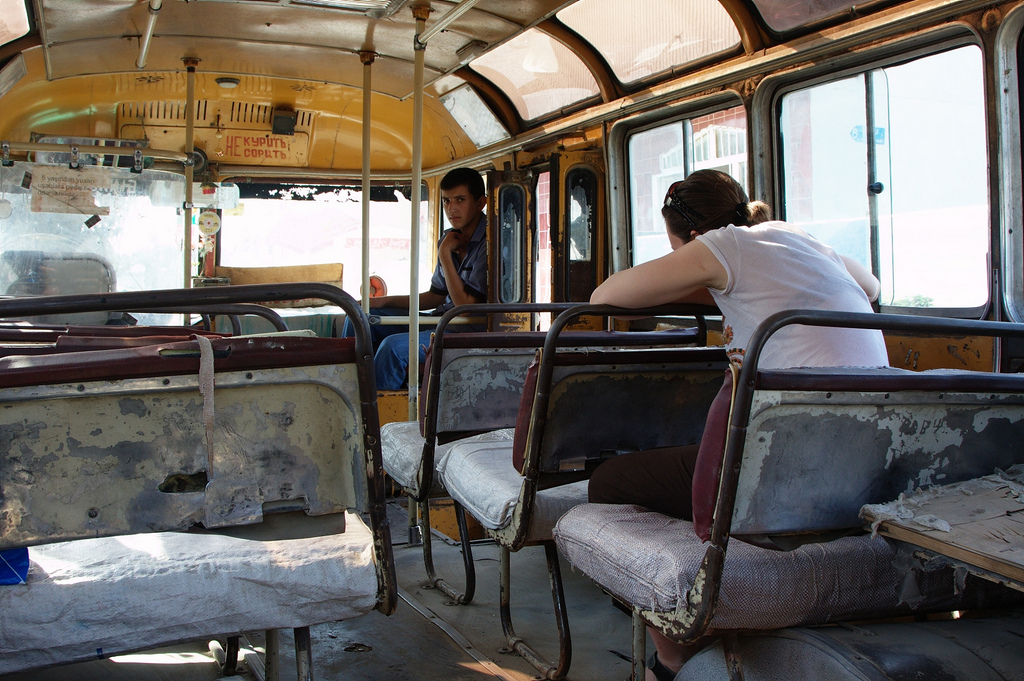 People turned to the streets in the Northern town of Ismayilli, while different protests took place in Baku. Arrests, including of opposition figures, have been the answer of the authorities
As I write this article, I am in Warsaw, attending the Personal Democracy Forum 2013 . I am here because the guest speaker from Azerbaijan, Emin Milli, was arrested and given 15 days in administrative detention on January 26th in Baku. Later tonight, I will be attending a protest in front of the Azerbaijani Embassy. By the time you read this article, it will all be over. Emin and others who received similar verdicts, however, will still be in detention. The new year has marked a challenging start in Azerbaijan, with protests spreading from the capital to the north and possibly, sooner or later, across the country.
A healthy conscript with a heart failure
Azerbaijani authorities boast of its military spending, its high tech military equipment and its growing strength every day. In a recent statement, President Aliyev announced yet another increase in defense budget, growing from already annual USD 3 billion to additional USD 3.7 billion. The President, however, has failed so far to prove that the military has the know-how to run this machinery, or that it is taking good care of its personnel. According to Doktrina , a research center investigating military service and the defense sector in Azerbaijan, there were 67 non-combat deaths of Azerbaijani soldiers in 2012 alone. Jeyhun Gubadov was among these. His body was brought home to his parents with a medical diagnosis of heart failure. What this medical report failed to record were the visible heavy body injuries covering the conscript's body. It wasn't a heart failure. In fact, if it wasn't for the publicizing of the suspicious circumstances of Gubadov's death, two soldiers of Gubadov's unit would not have been arrested, a general reprimanded, a colonel demoted to major and a deputy commander sacked.
In response to Gubadov's death, a peaceful protest was held in Baku on January 12th addressing the issue of the increased number of deaths of army conscripts due to hazing and bullying within the military. Organized through Facebook, around 4,000 gathered in the Fountain Square (15,000 supported the cause online) together with families of other dead soldiers. Police didn't consider the nature of the protests as important, and used violence to disperse the crowd. Around 120 protestors were detained. Some were beaten. Two days later, in total, 22 protest participants received stiff fines ranging from 300 AZN to 600 AZN (280-560 EUR). The decision to raise fines for participation in unsanctioned rallies and protests was adopted on January 1st by the Azerbaijani parliament, perhaps part of the New Year's resolutions of the local authorities. A massive online campaign was launched in response to fines, asking for donations worth five cents. As of now, 11,516.83 AZN (more than 10.000 euro) have been raised.
Shopkeepers on the rise
A few days later, on January 19th, market traders at one of the largest shopping malls in Baku, Bina, clashed with riot police over increased rent for their stalls. According to Radio Free Europe , the owner of the mall is allegedly connected with top government officials. Dozens of merchants were arrested. Police used tear gas and prevented the protestors from reaching the presidential apparatus.
A Minister, his son and a riot in Ismayilli
It all began with a car accident turning into an argument and leading to city-wide unrest. But it wasn't as simple as it sounds. The cause of the accident was a young driver of a large sports car colliding with a local taxi. He was later identified as Vugar Alekperov, the son of the Minister of Labor and Social Protection. In Azerbaijan, ministers' children are notorious for their public behavior as it was the case in 2010, when the drunken son of the Minister of Transport ordered the restaurant owner in Qebele to grill him the bear kept at the restaurant, for entertainment. This cost him one million AZN, close to one million euro.
Following the accident, Alekperov junior took the liberty at demeaning local women, which angered the residents of Ismayilli and instigated a violent clash. The locals burned down a hotel, allegedly owned by the son of the Minister, and some of the governor's cars. As it turned out, the governor of Ismayilli, Nizami Alekperov, is the brother of the Minister, Fizuli Alekperov. People involved in the protests allegedly added they would have burned down the governor's residence too, if only they had enough fuel. They were also protesting the unemployment and poverty, and holding the governor accountable for these grievances. In her article examining the sources of discontent in Ismayilli, Khadiya Ismayilova reports that while the governor was quick in dismissing the allegations over hotel ownership, there is significant evidence proving otherwise.
The following day, January 24th, combined forces of local and national police used water cannons, rubber bullets and tear gas against unarmed civilians in Ismayilli, to suppress the riots. Mubariz Gurbanli, a devoted ruling party member, dismissed the riots all together seeing them as no reason to be frightened of, as it were just a matter of a few emotional young men disturbing order and now being punished. An incident last year, when the local governor called his constituents "sellouts", resulted in Quba's governor, resignation. However, Nizami Alekperov, unlike his former colleague, is holding firmly to his seat, dismissing the recent riots as a simple dispute between two people over a car accident. While the governor is refusing to go, the local people are kept under tight control with troops deployed there until March. Interestingly, during riots in Ismayilli internet cafe owners were pressured not to open their cafes until the protests were over.
Standing in solidarity with Ismayilli
In the meantime, in Baku, hundreds gathered at different locations to protest the use of force against unarmed civilians. Over 100 protestors were detained. Among these, prominent human rights defenders as Intigam Aliyev, activists as Emin Milli, journalists as Khadija Ismayil and many others. Demonstrators used Facebook to organize the protest, asking police to stop treating innocent civilians that way. These pleads didn't go well with the police. In these videos you can see how Emin and Khadija got arrested and treated. Again, the protests were violently dispersed, journalists arrested, activists and young participants later fined with amounts ranging from 300 AZN to 2,500 AZN (between 280 and 2,350 euro).
A young woman, forced into one of the buses used to carry away arrested protestors, later wrote:
"They pepper sprayed anyone who protested while on the bus. They sprayed it at the boy sitting next to me, on his face. I inhaled it too, filling my lungs. By the time I reached police station no. 37, I was feeling weak. First they took me to the cell, then to a room, moments later I felt weakness and fell on the floor. The police officer trying to wake me up poured the "cologne" all over my face. It felt like my brain was on fire. Then the ambulance came, they checked my pressure, it was high, they gave me a shot. I still have a headache, and the burning of my lungs still hasn't gone away..."
Later that evening, Khadija Ismayil shared her recollections of the detainment. That day, she was there as a citizen, not a journalist. The officers who arrested her never introduced themselves. "They carried me towards the car, and didn't allow me to enter by myself. They just pushed me into the car", she wrote. Officers took Ms Ismayil to two different police stations. She was asked to write an "explanatory" letter. She refused, however, to sign the final protocol before seeing her lawyer. She was pressured by the deputy chief of Sabail district court to respond to questions to which she had a full right not to. It all ended with a trial for her. "I entered the room where two men were sitting on the defense's place. I asked who they were; the judge said they were my lawyers. I said I didn't know these people and that I wanted my own lawyers." The judge dismissed Khadija's claims and proceeded with the trial. She received a 400 AZN (about 375 euro) fine for violating the law on freedom of assembly. As some of the other persons fined, Khadija is refusing to pay, considering the trial nothing more than a theatrical play.
On January 31st, residents of two other regional towns, Imishli and Zaqatala, protested against unpaid wages and other grievances.
On February 4th, deputy chairperson of the opposition Musavat party, Tofig Yagublu, and chairperson of the opposition group REAL, Ilgar Mammadov, were arrested. Mammadov was questioned for several hours on the morning of the 4th and taken to Court. His lawyer refrains from making any statements until the case receives a final verdict. The two are being blamed for instigating January 23rd riots in Ismayilli, for purposefully calling the local residents to break public order and using force against government employees. If found guilty, they are facing up to three years in jail. In addition, two more residents of Ismayilli, Abdullayev Mirkazım and İsmayıllı Elshen, received two months of pre-trial detention. Ilgar Mammadov and his movement were preparing to announce, on February 9th, his candidacy in the next presidential elections. Both Tofig Yagublu and Ilgar Mammadov are currently in prison, having received two months in pre-trial detention.
The comfy seats in Strasbourg
In Strasbourg, at the time of riots in Ismayilli, the Council of Europe Parliamentary Assembly convened to discuss the adoption of two important resolutions on Azerbaijan. While a resolution on Azerbaijan's human rights record was adopted with 196 in favor and only 13 against, the much-anticipated resolution on the country's political prisoners remained on paper, with 125 members voting against it. The latter called for resolving more than eighty cases, including those of Avaz Zeynalli, Hilal Mammadov and Vugar Gonagov.
A failure for many human rights and free press advocates, and a success for admirers of Azerbaijani caviar, January 23rd was not the best day in the history of European democracy or justice. Azerbaijani officials used this opportunity to belittle the author of the report, Strasser. In his comments, Ali Hasanov, the head of the Azerbaijani Presidential Administration Social and Political Department, advised Strasser to quit European politics altogether while accusing international organizations as Amnesty International, Article 19, Human Rights Watch for spreading anti-Azerbaijani propaganda. Another Azerbaijani parliament member Rauf Aliyev called this achievement as a sign of the country's improved image around the world. This accomplishment would not have been possible if it wasn't for the well-known apologists of Azerbaijani regime such as Bulgarian socialist Kristian Vigenin, Estonian Kristina Ojuland, Latvian Inese Vaidere and Lithuanian Vytautas Landsbergis. Their behaviour, and the invaluable commitment to Azerbaijan of a few others, is explained in a report produced by the Berlin based think tank European Stability Initiative, "Caviar Diplomacy: How Azerbaijan Silenced the Council of Europe (Part 1) ".
Human rights were clearly violated over the last years and during the past few weeks in Azerbaijan. Who sets the limits, if there are any, to this so-called caviar diplomacy? What can happen in a country deeply entrenched in corruption, bribery scandals and undemocratic political developments with growing discontent in the run up to the presidential elections scheduled for October 2013? Maybe, not much. But, then again, the world witnessed the Arab Spring... Who says there can't be a Caucasian Spring?
I commenti, nel limite del possibile, vengono vagliati dal nostro staff prima di essere resi pubblici. Il tempo necessario per questa operazione può essere variabile. Vai alla nostra policy