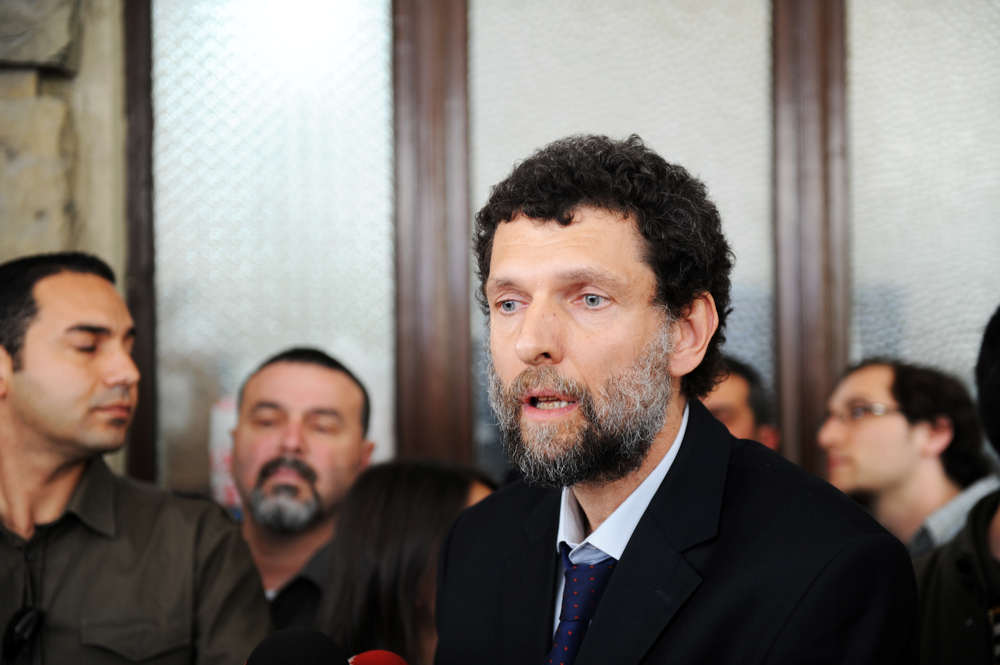 The Turkish philanthropist Osman Kavala is in jail for more than 700 days. He's accused of trying to overthrow the government and to have financed the Gezi Park protests in 2013. However, there is no convincing evidence against him
October 18th marks two years since the arrest of Turkish businessman and philanthropist Osman Kavala. Kavala is the founder and chairman of Anadolu Kultur, a cultural institution that was set up in 2002 to promote diversity and democracy through cultural exchange and art. But Kavala is accused of, among other things, attempting to overthrow the government and financing the peaceful Gezi Park protests in 2013. The public prosecution is calling for a life sentence without parole - the most severe sentence under Turkish law. The next hearing will resume on October 8th. Many international observers say that it is not just Kavala's innocence that is on trial, but also Turkey's credibility.
The fictional indictment
Ahead of the next trial, at a press conference on September 30th in Istanbul – just a day before Kavala's 700th day in Turkey's highest security prison Silivri – Murat Celikkan, co-director at Hafiza Merkezi (Truth Justice Memory Center) said that the authorities are trying to send a message to Turkish civil society and beyond. Celikkan reminded that the President and the Vice-President of the Constitutional Court said, during the hearing on May 22nd, that there was no convincing evidence in the file that the Gezi Protests were indeed financed by Osman Kavala and that the Gezi Protests were intended to overthrow the government. But they have been replaced, three times – which, according to Celikkan, is a sign of huge political influence in the case.
Adding to Celikkan's statement, Emma Sinclair-Webb, senior Turkey researcher at Human Rights Watch, said that the indictment contains a "series of assertions and statements" without evidence, "because the prosecutor does not strive to show how Osman Kavala organized these protests [...] Instead there is weird fiction about Otpor and Gene Sharp's manual on civil disobedience", added Webb.
Among other charges, the 657-page long indictment (and 8,763-page annex ) includes the unauthorised carrying of dangerous substances, damage to places of worship and cemeteries, serious plundering, grievous bodily harm, and damage to property. The same indictment also alleges that philanthropist George Soros was behind the conspiracy. In an interview with Open Democracy, Kavala said he was not surprised by this link, as Kavala was on the board of directors of the Open Society Foundation (OSF) – the grantmaking network founded by George Soros.
International response
On July 18th, a Turkish court ruled to keep Kavala in jail. Commenting on the decision, Andrew Garnder from Amnesty International said : "the decision to keep Osman Kavala in pre-trial detention is outrageous, but not surprising. It exposes, yet again, how Turkey's judicial system has been weaponized in order to target legitimate civil society activities and jail people without a shred of evidence".
Barbel Kofler, the Federal Government Commissioner for Human Rights Policy and Humanitarian Assistance, said that the decision was a mere "attempt to recast civic engagement as a foreign plot".
Several human rights and freedom of expression organisations condemned the interim judicial decision in a joint statement. "We share the view that the trial is in itself an act of intimidation, having been opened 6 years after the Gezi protests took place in 2013. We are extremely concerned that this trial may once again contribute to creating a chilling effect on the fulfillment of the rights to freedom of assembly and expression and the legitimate right to protest as enshrined in the Turkish Constitution. We call for a concerted response by the European Union and the Europe Member States to put urgent, consistent and collective pressure upon the Government of Turkey to restore the rule of law and the independence of the judiciary in Turkey", read the statement, also signed by OBC Transeuropa.
Together with Kavala, 15 other defendants stand trial, including artists and civil society figures. Some of the other defendants were acquitted earlier, but are being re-tried, which is against domestic law, say experts. Not to mention the indictment itself, which Kavala, in his statement in court on June 24th, described as "fantastical fiction", and contains no evidence for the alleged crimes Kavala and 15 others have reportedly committed.
Commenting on the indictment, Hugh Williamson, Europe and Central Asia Director at Human Rights Watch, said : "A thorough examination of the indictment against Osman Kavala and 15 others reinforces concerns that a politically motivated smear campaign advanced at the highest level of the Turkish government has become the basis for criminal prosecution".
Politics of fear in play
What Kavala has actually done, and is obviously missing in the indictment, is building bridges and bringing together communities through art, dialogue, and exchange. "He is a bridge-builder playing an important role in reaching out to different parts of society and the country. He has broken taboos", said Emma Sinclair-Webb during the press conference on September 30th. And Kavala has worked with everyone, regardless of their political, social, and economic background. He has been a supporter of constitutional and judicial reforms in Turkey, also working with the ruling party.
As Murat Celikkan said: "arresting or attacking Kavala is not only an act against the human rights community [in Turkey]. [Kavala] is a business person, he is rich, and is one of the untouchables. And [the authorities] are showing that they can attack anyone. He is a good target [in that] – if they can keep him in prison, they can keep anyone in prison in Turkey. It is fear politics".
I commenti, nel limite del possibile, vengono vagliati dal nostro staff prima di essere resi pubblici. Il tempo necessario per questa operazione può essere variabile. Vai alla nostra policy
blog comments powered by