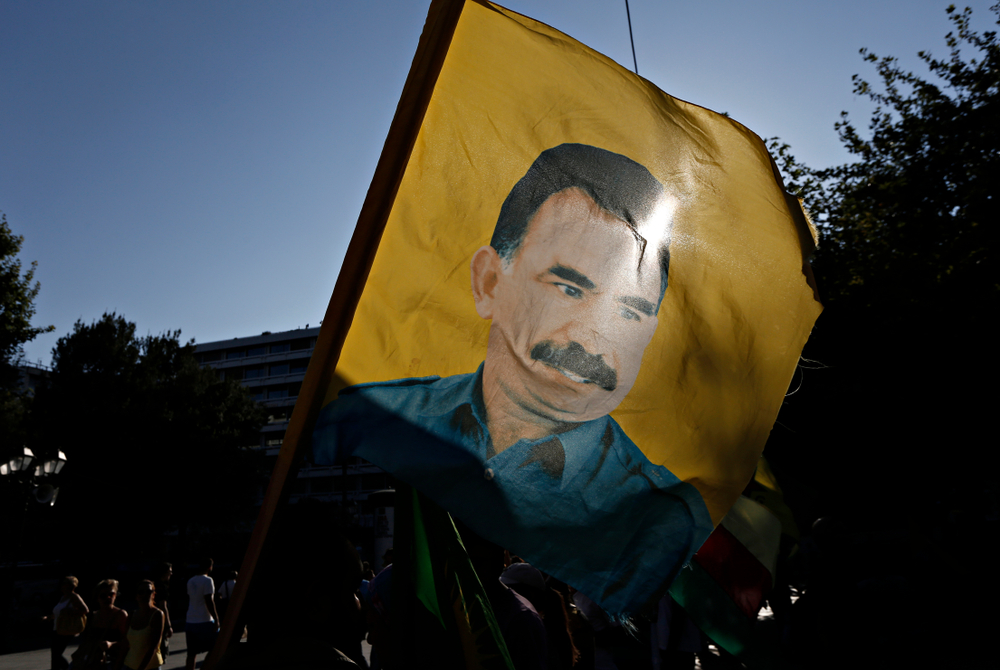 Hundreds of Kurdish detainees in Turkish prisons are carrying out a hunger strike to demand an end to the isolation of PKK leader Abdullah Öcalan. Despite the serious conditions of many detainees, and as many as seven suicides, their protest today seems to be at a dead end
In Turkey, hundreds of Kurdish prisoners have been on hunger strike since December 2018. Prisoners demand for the Turkish government to put an end to the isolation of outlawed Kurdistan Workers Party's (PKK) leader Abdullah Öcalan and allow family members and lawyers to visit him in jail. Since 1999, Öcalan has been in solitary confinement on the İmralı island, in the Sea of Marmara.
Leyla Güven, MP of pro-Kurdish HDP (People's Democratic Party), was the first one to launch a protest in jail last November. She has been on hunger strike for more than 160 days now. After being accused of "establishing and managing an armed terrorist organisation" and "making terror propaganda" due to her statements about Turkey's Afrin operation in Syria, she was arrested in January 2018. Güven was then released three months ago after falling critically ill in her 11th week of hunger strike.
"So far, my mother lost 15 kilos. She is suffering from nausea, low and unstable blood pressure, aphthous mouth ulcers, and bradycardia. She is extremely sensitive towards light and smell. She is also having body aches due to mylosis and cannot walk without our help", says Güven's daughter Sabiha Temizkan.
In addition to the hunger strikes, seven detainees in Turkish prisons have committed suicide to protest against the isolation of PKK leader Öcalan. Little coverage appeared in the Turkish media about the suicides, and no statement has been made so far by the Turkish authorities.
Sabiha Temizkan says that prisoners on hunger strike have reached a critical stage. "Terrible news are arriving every day. Some detainees have ended their lives in prison cells. We could witness more deaths in case of no action. I expect the authorities to take action before more people are hurt", she says.
"No one in Ankara is willing to talk about hunger strikes"
Leyla Güven, 55, is also in a critical condition. Lying on her bed in Diyarbakır, a predominantly Kurdish city, she is having difficulties even consuming liquid food. Like other hunger strikers, she takes vitamins and sugared water. Her daughter Sabiha sleeps with her in the same room every night, hoping to wake up to a better morning. "More voices should raise for those on hunger strike", she says.
Protesters are not willing to give up before their demands are met. The pro-Kurdish political movement expected the Turkish authorities to take action after the local elections, but this has not happened yet. Öztürk Türkdoğan, head of the Human Rights Association (İHD), believes that the authorities will soon take steps to end the hunger strikes of Kurdish detainees. "We have forwarded our meeting requests to the Ministry of Justice. We expect to meet with the ministry officials soon, but right now no one is willing to talk about this in Ankara", he says."
Turkey: a history of hunger strikes and death fasts
According to human rights defender Türkdoğan, the local elections' results showed that security measures taken by the Turkish government in the Kurdish areas and cities of Turkey are not useful in serving their interests, and the HDP is a political party that cannot turn a blind eye even if it wants to. In this regard, Öztürk Türkdoğan indicates that the government should make social and economic reforms. This, he believes, will also include reconnecting with the Kurdish people, while a dialogue between the HDP and the government should be renewed to end the hunger strikes and, in a broader sense, to solve the Kurdish conflict.
"The demands by political detainees have been very much clear from the first day of their protests. They ask the authorities to implement the law and to put an end to Öcalan's isolation. AKP will not be able to stand the raising tensions emerging from hunger strikes. Demands are not political, they are legal, and immediate action should be taken. The authorities will take action at some point, but the question is: when?".
Turkey has a long and tragic history of hunger strikes and death fasts. In 1996, 12 prisoners died during hunger strikes protesting against isolation in high-security prisons. 122 inmates died during death fasts against isolation cells in 2000-2007. In 2012, hundreds of Kurdish detainees ended their 68-day hunger strike after Abdullah Öcalan asked them to do so.
"Other political parties and the media are not paying attention"
Like Öztürk Türkdoğan, HDP PM Ayşe Acar thinks that immediate action should be taken by the government. "The Ministry of Justice is well aware that these people are not going to give up until their demands are met. The Turkish parliament, however, is not concerned at all. Only the HDP is talking about it. How is that possible?", she says.
Since the Ministry of Justice has not made any official statement, the exact number of prisoners on hunger strikes across Turkish prisons is currently unknown. Acar says that there are now thousands, while hunger strikes have already reached a critical stage and some prisoners are in very serious conditions. She stresses that the HDP's political agenda is dealing with hunger strikes, while the rest of the country – including politicians from the other parties – remains silent, causing a political deadlock.
"Neither other political parties nor the media are paying attention to what is happening in Turkish prisons. We are very much worried about receiving bad news. Prisoners on hunger strike are not willing to die. They don't want to die. The total isolation Abdullah Öcalan is forced to endure is against Turkish laws. Prisoners on hunger strike ask the Turkish state to just put an end to it".
I commenti, nel limite del possibile, vengono vagliati dal nostro staff prima di essere resi pubblici. Il tempo necessario per questa operazione può essere variabile. Vai alla nostra policy
blog comments powered by