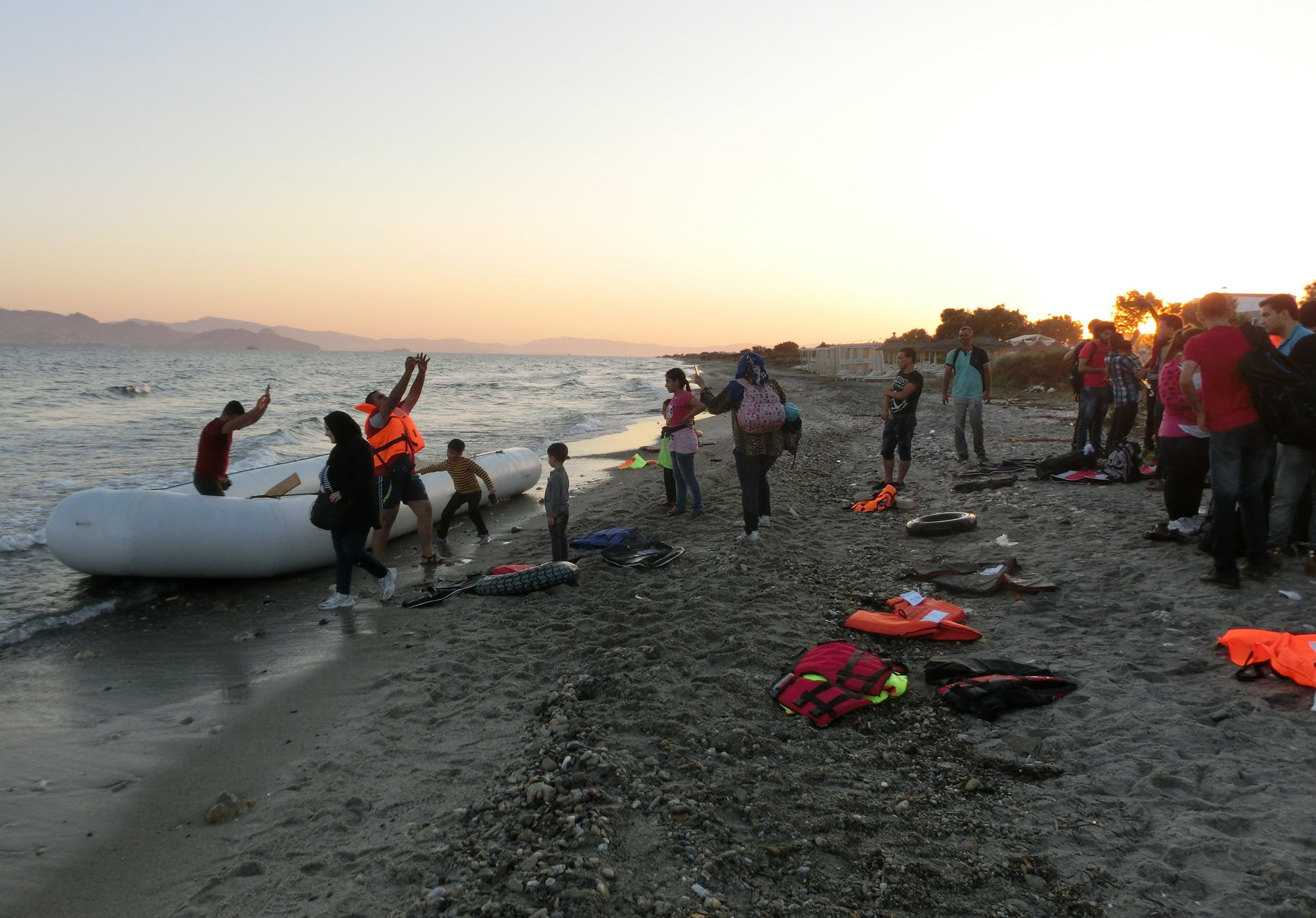 For the vast majority of refugees and migrants, using the Turkish network of traffickers is the only choice in order to start the journey along the Balkan Route. Our report
"Abu Al-Hakam? I found your number on Facebook, I'm thinking of migrating to Europe"
"No problem"
This is the start of a call to a member of a network of traffickers operating in Istanbul. Illegal activities are carried out in the open, smugglers advertise like travel agencies, and the basements of the ancient Ottoman capital are brimming with life jackets and suspicious eyes.
Istanbul is home to over 350,000 Syrians – a diverse world of new entrepreneurship and begging, art studios and labourers. The network of traffickers that has established itself in the metropolis has neither the structure nor the ways of local organised crime, but rather acts as an intricate network of contacts through which one can get to travel by sea to Greece and Europe – travelling by land through the Bulgarian or Greek border has become impossible.
Contacting the traffickers
The first step for aspiring migrants is getting in touch with the network. Word of mouth is often enough – asking a trusted person who probably knows another, and so on.
The alternative is the web: on Facebook we get into a closed, Arabic-language group. Among the posts, we find tariffs for counterfeited documents: 50 dollars for an ID card or a marriage certificate, 350 for a bachelor's degree, up to 1,250 for a brand new passport. The ads boast competitive prices and great professionalism. Above all, we find phone numbers. We choose two, and, with the help of a young Syrian, we make the calls.
The first trafficker introduces himself as Malik Samiah. He speaks with a reassuring, almost affectionate tone, and says that a bus will leave from Istanbul to Didim, a place not far from Izmir, on the west coast of Turkey: "From there we sail. We organise the most enjoyable journeys! Maximum 35 passengers on each boat. It's really a lovely trip. I can send you the video of yesterday's trip on Whatsapp".
The footage we receive shows many adults and children on a boat about to reach an island. The weather is sunny, people exchange smiles and shouts of joy – an almost idyllic picture. When we mention money, the dealer asks for 550 dollars to be deposited at the office of an insurance company in Aksaray, a district of Istanbul on the European side. "But you can use the office that you prefer. The important thing is that you get safely to destination. I will receive the money from any office you decide to use".
The second trafficker introduces himself as Abu Al-Hakam. He asks for a higher price, 750 dollars. "But it's for your safety", he emphasises. "If the weather is not good, you don't leave. If there are police checks, we postpone. You will not be on your own". Also in this case, the money should be deposited before departure to an office in Aksaray.
"Go to Aksaray and ask of Abu Ziad. Do you know the Anas restaurant? Ask them, they know". Al-Hakam then explains that the money will not be cashed in by the network until arrival in Greece is confirmed. Only then a call is made to the office, to unlock the payment with a password agreed upon deposit. "But when you decide to pay, I will go with you to the office: we have to register both our names".
After paying, the migrants get by bus to Didim, where they sail off. "The boat will be conducted by one of you, instructed by my men. Conducting a boat is easy, like riding a bike. And my people will keep an eye on you to make sure that nothing happens".
But what happens next? "At the beach you'll find the Red Cross volunteers. Otherwise, contact local authorities, they will give you a deportation order. Then you reach Athens and you can contact someone, I'll give you the name, who will take you to the Serbian border. Once in Serbia, the Red Cross will help you reach Germany".
Aksaray
We take our leave from Al-Hakam, it is time to go to Aksaray. Aksaray is a residential and commercial district three tram stops from Saint Sophia. We are on Istanbul's European side, one of the city's most multicultural areas, where Syrians fleeing the war have been moving to for some years.
The place mentioned by the trafficker is a diner that serves traditional Syrian dishes. It is one of the most popular ones, overlooking a busy street with crowded sidewalks. The waiters, all Arabs, say that traffickers often hang out there, tell us the names by which they call themselves. The meeting place to leave Istanbul is right around the corner from the restaurant.
The private buses that collect migrants stop in a small square, closed on the other two sides by a mosque and a series of four-floor buildings housing offices and shops. There are more signs in Arabic than in Turkish. "They leave almost every day, loading people on the bus late at night", says Ismail, 30, from Homs. He sells hot tea on the benches of this square where he spends his days, so he is well informed on the movements of migrants. "Here you can see traffickers at all hours of day and night". He argues that most of them are Syrians, "but they only have a small role in this business, they take a percentage on the cost of the trip, but most of the money goes to the Turks".
It is surprising to know that the main Istanbul police station is less than two kilometres away. Ismail escaped from Syria with his family four months ago, and now lives in the city with his wife and two young children. He does not earn much, but he is sure that God will take care of him. We ask him if, once collected enough money, he would be willing to go – he smiles and looks up at the sky, "Inshallah", God willing.
In a basement nearby, we find a shop that sells life jackets. At a glance, they clearly have nothing to do with those certified for sale in nautical shops – no reflector strips, non-existent padding. You get the impression that, once in water, they will pull you down rather than save your life.
Two middle-aged men are helping a child to wear one, trying to figure out whether it is the right size. They leave without buying anything as soon as we speak to the clerk, who speaks Arabic with a strong Turkish accent. He does not seem very happy to explain what he sells, but admits to selling products that he defines "original" and other, non-original, at lower prices.
In the same square in Aksaray where buses leave from, a thin man with dark complexion and sparse mustache is sitting alone on a bench. We speak to him in Arabic, he smiles immediately and invites us to sit with him.
As we speak, he offers us contraband cigarettes and freely tells us that he is Yemeni, and works in the trafficking market as the intermediary between the smugglers and the migrants. The cost of the trip is 1,300 dollars, over twice what we had been told on the phone. "But the money is also used for any bribes that I have to pay", he says as he lights another cigarette.
He insists that if you want a safe journey you have to spend a lot. The price for travelling in winter is lower than in summer, when the cost can reach 3,000 dollars. He says there are over 100 people working in the Aksaray square to organise trips and confirms that the money must be deposited before departure in the offices around there. He will cash in only after the trip. "The owners of these offices are Turks", he says. We exchange phone numbers, then the man takes leave recommending: "Let me know, tomorrow there is a departure".
A forced path
To understand those who want to take this route, or already have, we call Hashem, a Syrian young man of Palestinian origin. He is waiting for the call for the departure, he will leave Turkey within 2-3 days.
We ask him how he feels, if he is afraid of the people he has to deal with and the journey he is about to face. He realises that the people he contacted have no scruples, that they do not care about his life. But for him, after all, trust has nothing to do with this – his past, what he went through during his life, is more than enough to make him accept with fatalism and nonchalance the risk of drowning in the Aegean icy waters.
Mohamad, instead, is a young Syrian from Aleppo – he is one of those who made it. He left three months ago and reached Germany. "First I tried to settle in Jordan, then in Turkey, but in these countries there is no way to obtain the necessary documents to be reunited with my family, that is still in Aleppo. So I decided to leave. Relying on traffickers is not a choice, it's the only way. Almost no one tries to cross the border with Greece on foot: too guarded, too dangerous. I paid 1,000 dollars through friends and left on a bus from Istanbul, with another fifty people. On the first attempt we went back after two hours, they never explained why. The day after we left and reached a place near Izmir. There we camped in the woods for three days before boarding; they brought us food and water, the bare minimum, but we were constantly monitored and we could not move around".
"When you contact them, traffickers court you, at least until you pay. Then the only thing that matters to them is to put you on a boat and send you into the sea. They lie, everyone knows, their comforting attitude is a farce, but if you want to leave there is no other choice".
Every day in Istanbul you can hear hundreds of stories like Mohamad's, as hundreds of departures are organised daily by the network of traffickers.
The International Organization for Migration estimates that over 102,547 migrants have reached Greece departing from Turkey since the beginning of 2016 – a figure 26 times higher than the same period last year. Again in 2016, 321 never made it to the other side.
I commenti, nel limite del possibile, vengono vagliati dal nostro staff prima di essere resi pubblici. Il tempo necessario per questa operazione può essere variabile. Vai alla nostra policy
blog comments powered by