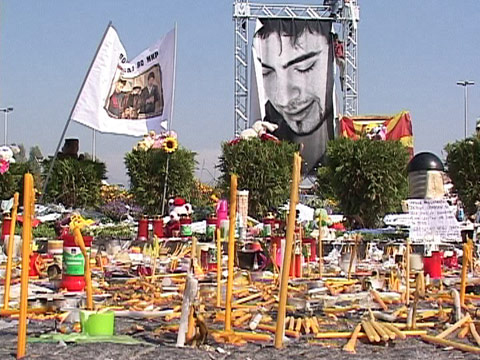 Toshe Proeski, Macedonia's greatest pop star died in a tragic car accident, near Nova Gradiska in Croatia, on 16 October 2007. Macedonia lost not merely a star, but a humanist and a unifier, someone who could unify people Macedonians with Albanians, and former Yugoslavs, too.
Toshe Proeski, Macedonia's greatest pop star died in a tragic car accident, near Nova Gradiska in Croatia, on 16 October 2007. The car, operated by a close friend of his, hit in the back of a big truck, lost balance, and crashed into the roadside railing. Toshe, who was asleep on the co-drivers seat, died instantly. The driver sustained minor injuries whereas Toshe's manager, Ljiljana Petrovic, who was seated on the back seat, went unharmed. Toshe was 26.
At this point in time it seems very unlikely that Macedonia will ever have a greater star. Or more precisely - a more loved person.
The country suffered shock at the news of his death. Parliament stopped working, schools closed. It seemed as if Macedonia stopped breathing. People started spontaneously gathering at major squares, lighting candles, and praying for their idol. All the rest was silence.
Toshe's remains arrived late the same night with a helicopter sent by the government. The country leadership gathered at the airport to receive them, before they continued to its native Krushevo.
The funeral, with state honors, took place next day at noon. The entire government, President, and diplomatic core to the country attended. Krushevo was crushed, and the country drenched in tears watched the procession on TV. His girlfriend, Croatian handball player Adriana Budimir, in a state of shock, had to be closely monitored by an emergency medical team.
"Toshe set an example to be followed and respected. He taught us humanity and modesty" said in his farewell at the funeral Prime Minister Nikola Gruevski.
Deepest condolences came from all sides. "I am shocked and saddened" said the letter by US Ambassador Jillian Milovanovic. Only several days before his death Tose did his last concert at the crowded Skopje stadium; a charity co-organized by USAID and the Ministry of Education, the proceeds of which went for renovation of schools throughout the country. Toshe was the only Macedonian and likely one of the very few Balkan (and even international) stars that could endeavor on filling a sports stadium. Very few people have done it as a matter of fact.
For those who didn't know his life and work it is perhaps difficult to comprehend - how can a pop star cause such a unanimous response? Such wide shared national grief and pain?
The truth is that to people in Macedonia he was a lot more than that.
Among those who will miss Toshe the most are probably the children from the Children's Hospital in Skopje. Toshe helped equip their entire hematology department overt the years.
"He was coming often to visit the children", says Katerina Stavric from the clinic, "each New Year's he would bring them packages and sing for them. Children loved him."
It is only one from among his numerous charities. From the volleyball club and a monastery in his native Krushevo to the "Skenderija" centre in Sarajevo.
Most of his charity work was done for children however. Over the years Toshe, a youngster still in his mid 20s, became one of the country's best known philanthropists.
People who knew him, professors from the music academy where he studied, say it was so rare to see someone so young be so matured as a person.
Media regularly reported of his intensive charity work; for the disabled, orphaned, disadvantaged.
A careful marketing strategy of an ambitious young man? Unlikely. After his death people came forward, who have been helped by Toshe, in total anonymity. A girl needing expensive surgery from Struga; a small orphanage outside the capital.
"My soul rejoices when I give" said Toshe in the past. "I want to give as I have also received".
One of the brightest former students at the musical high school in Bitola, professors moved Toshe from the department of clarinet to singing. He didn't have a clarinet. His parents couldn't afford one. He came from small town, poverty stricken Macedonia, but he also reminded his compatriots of the values thought long lost - honesty, modesty, respect.
That is what people lost when Toshe left. A humanist and a unifier. Not merely a pop star. Nobody could unify people the way he did, Macedonians with Albanians; former Yugoslavs. Everybody mourned him. Those who knew him understand. Never a scandal; never a bad word about him from anyone; never discourtesy. He was simply good. That is what Macedonia lost. Something incredibly rare and difficult to find. A good kid, a good young man.
The other former Yugoslav republics joined Macedonia in its grief. He was loved equally from Belgrade to Ljubljana. People visited the Macedonian embassies and signed the commemoration books; lit candles at city squares; TVs played his music and talked of his life.
Foreign media, trying to bring the news to their audience, compared the loss the Balkans suffered to that of Elvis Presley or John Lennon for the West. They called him a "pop icon" and "the greatest Balkan star".
He had his break in 2004. He presented Macedonia at the Eurovision, received the "Mother Teresa" award and became UNICEF's regional ambassador of good will. His fame took hold throughout the countries of former Yugoslavia.
He would have gone far, say his colleagues. As a matter of fact, he already did.
"I love you all", Toshe used to say to his fans. At his last concert in Skopje, just days before his tragic farewell, he said, "Deeds, not words express humanity".
"He will always be our angel" a young girl says.
I commenti, nel limite del possibile, vengono vagliati dal nostro staff prima di essere resi pubblici. Il tempo necessario per questa operazione può essere variabile. Vai alla nostra policy