27 May 2020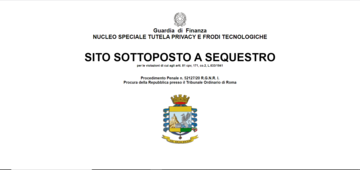 The popular website that publishes books in public domain has been blocked in Italy, perhaps confused with those that illegally distribute newspapers in PDF. A brief recap
Since May 24th, the website of the Gutenberg Project is inaccessible to many Italian users.
The block was reported by the organisation itself in a tweet:
According to a preventive seizure decree ordered by the Court of Rome, the site has been blocked together with a number of sites and Telegram channels that (illegally) disseminated PDFs of newspapers and other works protected by copyright, a much debated issue in April :
However, the Gutenberg Project, born as early as 1971, does not disseminate copyrighted newspapers, but public domain books with expired copyrights, which can therefore be disseminated freely and legally. The books are made available in various formats, so that they can also be easily opened with an ebook reader. OBCT readers may be interested, for example, in The Balkan Wars: 1912-1913 by American diplomat Jacob Gould Schurman (1854-1942), published for the first time in 1914.
It is not clear why Project Gutenberg ended up on the list of blocked sites: the decree does not clarify it. We can make three hypotheses, all three unconfirmed in the absence of official explanations.
A first hypothesis is that it was a simple mistake: since many sites that disseminate PDFs do it illegally, it was assumed that the Gutenberg project did it illegally too.
One could also imagine that the site mistakenly published documents that it could not publish: but then one wonders, is it permissible to block an entire site (which generally respects the rules) because sometimes it accidentally violates them? If so, many would be at risk.
Another hypothesis is that the site was blocked because it published material that is of public domain in the United States (where it is based), but not in Italy. Such a thing has happened in Germany . The site hosts books by some German authors who died between 1950 and 1957, which will not be in the public domain in Europe for a few years, but already are in the USA because different rules apply for works published before 1978. A German judge ordered the site to block only those books, but on the advice of lawyers in Germany everything was blocked to avoid similar cases.
In general there is a certain uniformity on copyright rules in the different countries, but some differences remain. However, if this means that a site must comply with the rules of each country in order not to be blocked, we would risk fragmentation of the Internet. Such a thing happened when the GDPR came into effect and some US newspapers self-blocked in the EU, including for example the Los Angeles Times (which is now accessible again from Italy). It should also be considered that the Gutenberg Project is a non-profit organisation based on the work of volunteers, not a web giant, and this implies obvious differences in the means available.
Depending on the DNS (Domain Name System ) server you use, the site may have remained visible, or may remain invisible longer if and when back online. This has led to some misunderstandings: for example, on May 26th, La Stampa titled that the site was accessible again, only to then specify "only for someone", and that in any case there was "no official communication of unblocking".
On the issue Maurizio Codogno, Wikimedia Italia spokesperson, commented:
"We are afraid they want to throw the baby out with the bath water. We would not want the fight against the illegal distribution of copyrighted material to have as a side effect the blocking of resources that legally contribute to the dissemination of free knowledge. We hope that the situation will be resolved as soon as possible".