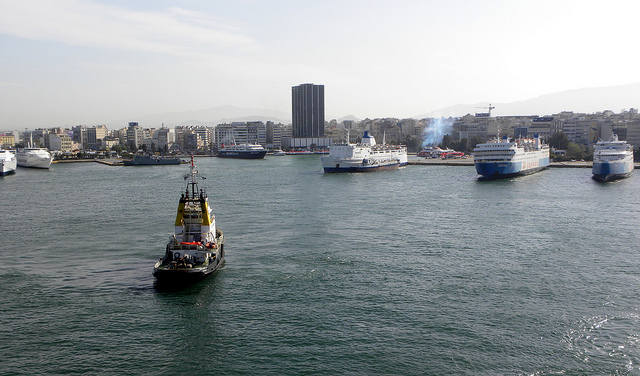 Greece has not emerged from its economic crisis. If the European Union stops signing " blank cheques" in order to save Greece, many Greeks will start hoping that China soon becomes a lifebuoy to keep them afloat. In the meantime, economic relations between Athens and Bejing keep increasing at a very fast pace, even if relations between the two countries has some friction
"What is the only road to survival for Greece? Borrowing money from China or Russia rather than from the European Union or the International Monetary Fund. It goes without saying that interest rates must be sustainable." Who pronounced these words on Sunday, 5 June, before an immense crowd of indignados who gathered for the twelfth consecutive day in front of the Parliament building in Athens? Neither an economist, nor a professional politician.
These were the words of Mikis Theodorakis, a great Greek musician famous in Italy for having composed the soundtrack of films such as "Zorba the Greek" (1964) and "Z" (1969) and for having been imprisoned and exiled several times on small islands in the Aegean Sea such as Ai Stratis (south of Lemnos) during the colonels' dictatorship between 1967 and 1974.
Theodorakis has never stopped composing music and dealing with his country's social problems. He never stopped saying his opinion, never stopped commenting on Greece's political life and thus fostered hard criticism both by the leftwing parties and rightwing parties. He was a militant of the Greek Communist Party KKE until 1981. Then, in 1990, Theodorakis was appointed Minister of Culture by the rightwing New Democracy government headed by Constantine Mitsotakis. He later cut all connections with the conservatives.
China in Greece, Greece in China
Is this the slogan of an old visionary? Not exactly. Actually, Beijing seriously thinks of intervening in the crisis-weakened Greek economy: intervening with deeds, not only with words. To begin with, on 22 May, Air China inaugurated its first direct scheduled flight from Beijing to Athens (stopping in Munich), during the visit of Greece's deputy foreign minister, Spyros Kouvelis in the Chinese capital. Kouvelis later signed an agreement with China on simplification of the visa regime for citizens of both countries.
"In 2010 only 10,000 Chinese tourists visited Greece," Kouvelis stated, "Our aim is to significantly boost these figures." Actually, tourism in Greece accounts for 15% of the GDP: in a country where 16 over 100 people are unemployed and 36% of young people are unemployed, a boost in holiday reservations would be more than welcome. This potential increase is further encouraged by unstable political situation in traditional "rival countries" in the "sea-sun-beach" sector such as Egypt and Tunisia.
The Chinese-Greek honeymoon started with 13 bilateral agreements signed in Athens last October by the Greek government and the Chinese premier Wen Jiabao. These agreements seek to promote partnerships between China and Greece in strategic sectors such as cooperation in sea transport, credit, telecommunications, cultural and trade exchanges. Kouvelis stated, "Direct flights between Athens and Bejing are indeed extremely important, because they were actually implemented when Greeks understood that China is our friend in these times of hardships."
Certainly, Greek exports to China have increased by 56% in the last months. Greater amounts of dairy products, cereals and leather products have been exported to east-Asian markets by Greece, the "leper of European Union" due to its huge state debt (amounting to approximately 360 billion euro) and a national budget deficit staying at more than 10% of the GDP.
"We will soon start exporting more sophisticated, high-quality goods, because of the increasing Chinese demand for Greek products," Michalis Chrisochoidis, minister of regional development and competitiveness, stated last May, when announcing two more agreements to increase Greek and Chinese economic cooperation in the agriculture and industrial sectors.
Zhi Shuping, Chinese minister of the general administration of quality supervision, inspection and quarantine, flew to Athens to sign the agreements. A bilateral cooperation agreement specified that the quality of goods imported from China to Greece must also be assessed and certified. The agreements have a validity of five years and can be prolonged for another five years; they include the setting up of a Joint Inspection Committee.
Piraeus, a Chinese port
Does China see Greece as a foothold in the Eurozone, where Beijing wants to increase its influence?
Actually, the Chinese dragon has already landed on the Greek coasts: it has "swallowed" the father of all ports, the Piraeus in Athens, which ranks first in Europe and third in the world for number of passengers. The Piraeus is also the largest port in the eastern Mediterranean basin for container handling.
In November 2009 (when the Socialist Party's Papandreou already led the government), two out of the three maxi-jetties, including freight handling, was leased for 35 years to the Chinese company Cosco. In short: the Chinese can decide which goods can and can not reach Greece. As a result, Piraeus port workers called a strike that lasted for months.
The whole Greek market is bubbling: Eastern containers will allow shops and supermarkets to be filled with made-in-China cheap junk, and induce bankruptcy for local sellers of local products. The Chinese invasion raised significant concern, but this is not the end of the story: the straw which broke the camel's back was the announcement of a short visit by "Mr.Cosco" at the end of 2009. Wei Jiafu (who loves referring to himself as "Captain Wei") stated: "Give me the port of Piraeus to invest in the cruising sector and I will get out of all the other European ports!"
It sounds like good business, but it is not: the inhabitants of Pireus still remember the mooring of the super cruise liner "Splendida" in January 2010: the 28-story vessel is as long as the Eiffel Tower. The Greek hoped that crowds of tourists would get off the ship to visit Athens and go shopping, but most passengers remained on board and enjoyed the landscape from the ship's restaurant. You can say goodbye to business.
Another seven Chinese companies are already working in Greece in order to prepare their invasion of the complete Balkan area.
Investments and funding of public debt
Today, after eighteen months, mistrust seems to have decreased for offers coming from China. Perhaps it is because the fifth tranche of the EU-IMF loan to Greece to be granted in the next days will imply further cutting of public expenditures, increased real estate taxes (also for small-size real estate) and further redundancies. German Chancellor Angela Merkel specified, "We will not sign a blank cheque for Greece."
Recently, the Chinese Ambassador to the EU, Song Zhe, stated again, "The European Union is China's main trade partner, so we have all interests in keeping the European economy stable and we hope in a fast recovery from the crisis." Song stated that Beijing has already bought billions of dollars of Greek and Portuguese public debt and added, "This is only the beginning. Probably, we will make further investments." Song specified, "China hopes that individual governments will be able to create a safe environment for our investments."
A columnist of Athens News, an authoritative, English-language weekly newspaper, recently wrote, "Buying the European public debt and stating one's intention to do so can help Chinese companies to make their products cheaper and more competitive once the value of Euro increases again."
Is China getting nearer and nearer? We will see this summer, when we count how many east-Asian tourists will step down from the Air China planes flying twice a week from Beijing to Athens.
I commenti, nel limite del possibile, vengono vagliati dal nostro staff prima di essere resi pubblici. Il tempo necessario per questa operazione può essere variabile. Vai alla nostra policy