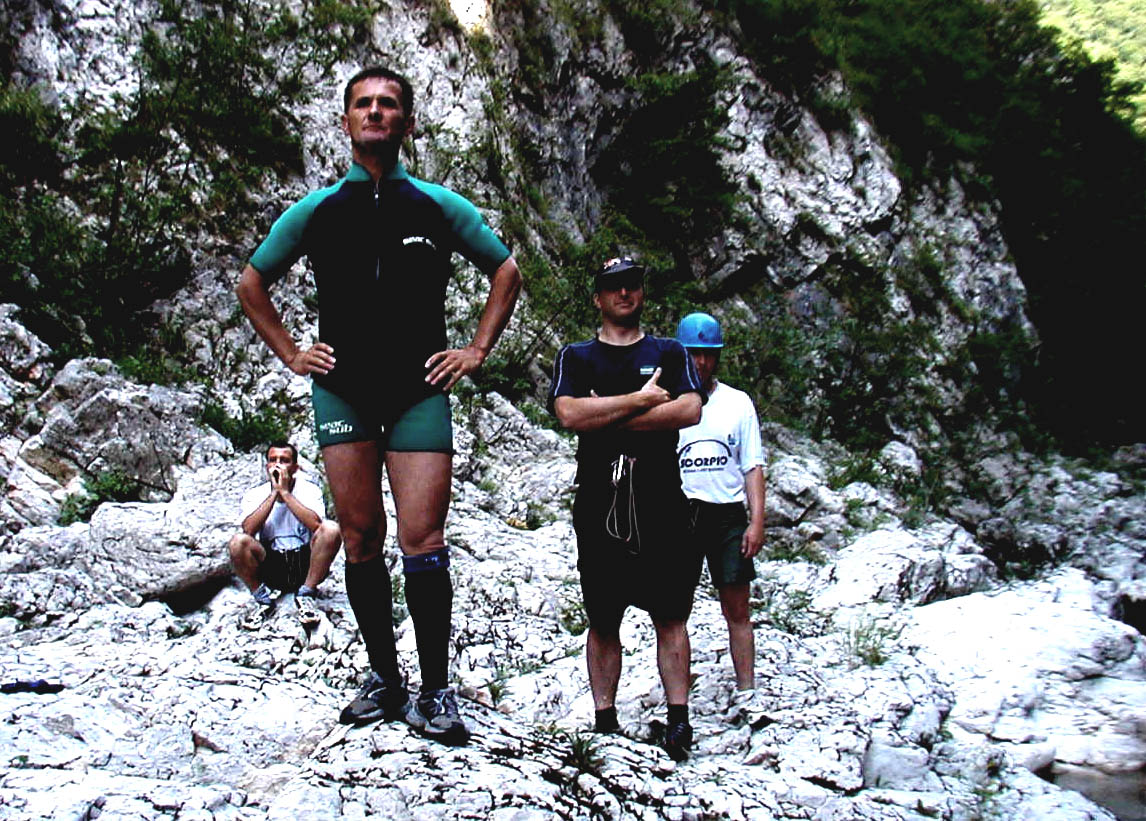 It is not an NGO nor an association, but, developing from the grass roots with great enthusiasm, it has both rare entrepreneurial spirit and strong civic commitment. Scorpio is a private firm, a so-called Limited Company, but it is strongly community minded
Edin's character can be seen in his eyes: lively, determined and clear blue. With those eyes, in 1996 right after the war, he stared insistently at the rock walls of Bosnia Herzegovina; nothing distracted him except the climb. That was when Edin took his free-climbing shoes back in his hands, never to put them aside again, setting up a courageous enterprise which is still going today, and about to create the first "outdoors association" in Bosnia Herzegovina.
Edin Durmo is a climber and mountaineering instructor (with the highest qualification awarded in the country) whose experience extends well beyond Bosnia, going from the European Alps to the Caucasian Mountains, to the Tian Shan, ascents of Han Tengri and the Pamir, to the Silk Road, Tibet, the Himalayas and the Rocky Mountains. He is the founder of Scorpio, a private firm with a strong sense of responsibility towards the community.
Since the early years following the 92-95 conflict, Edin's idea has been to stimulate people and give them a future by rediscovering Bosnia through its magnificent natural beauty. That is how, straight after the war, he convinced Ernad, then hardly more than a boy, not to flee the country. Ernad had already tried to leave Bosnia but was repatriated. Today he himself remembers that he would have tried to emigrate, legally or illegally, if Edin, through the climbing, hiking, canyoning and paragliding, hadn't helped him overcome the hatred for his country that the war had generated in him.
Born in Zenica in 1977, Ernad, at Edin's side, has become a permanent member of Scorpio's staff. He is one of the most versatile of the sportsmen in the group, achieving excellent results in several fields: rock climbing, ice climbing, and paragliding, for which he is Scorpio's main instructor.
On the Scorpio website we also find Jure, a physical education teacher in Zenica schools, a mountaineering instructor and a ski touring and canyoning leader. He is Edin's long term partner and shares the hardest tasks with him. Then there is Erkam who is mainly involved in scuba diving and mountain rescue. Adnan, another staff member, teaches in the physical education department of Sarajevo University and, besides being a ski instructor, is head of the mountain rescue station in the capital. Milos, likewise based in the mountain rescue team, has been ski instructor for the Greek national team, climbed Kilimanjaro, Himalayan peaks and run in 28 marathons.
Finally there is Igor who is not so much a practitioner of extreme sports as a lover of nature and related activities. He has long been a member of the Zenica cycling association and is a mountain bike enthusiast. In 2006 he decided to take on the practical role of webmaster at Scorpio, thus enabling the organisation to promote its activities to a wider and even international public.
Keen interest in Scorpio therefore is not confined to Zenica or even Bosnia: Massimo, an Italian friend, who in '96 began to follow Edin's acrobatics on the rock faces, at the time probably never expected that, 14 years later, he would be one of the staff in that small company, called in by international television directors to help with the logistics in filming episodes about man at grips with the wild and unspoilt world of nature.
"This too is Bosnia" ("i ovo je Bosna"), is the title Edin gave to the first publicity calendar printed by Scorpio in 2005 to recall this: a country surely bitterly hit by war, but whose natural aspects remain particularly attractive, not only for their natural beauty but also because they are unspoilt. The canyon on the Rakitnica river, between Mount Bjelasnica and Mount Visocica (mountains to the South-east of Sarajevo) is one example: after some preliminary surveys, in the summer of 2004 Edin took there the first tourists interested in exploring these incredible meanders through limestone and water.
I was one of those. Having bought enough rubber dinghies in toy shops, with helmets, ropes and the rest of the gear needed for safety while climbing and in water, we set out. The rusty, but roadworthy, VW van left us at the edge of the canyon where we each blew up our own dinghy and then carried it down to the river Rakitnica. We clambered into our dinghies and set off for the rapids, Edin in the lead, Jure helping and Massimo bringing up the rear of this mixed group of foreign and Bosnian tourists.
In some parts the river ran wide, in others it was channelled into clefts in the cliffs from where we could see the outlines of the trees up above. It was clear to us all that the only way to see the natural features of that piece of Bosnia was from the waterway in which we were immersed.
When the rapids became too strong we got out and climbed up the sides, our dinghy on our backs. There were also crossings to negotiate using ropes. This adventure lasted the whole day, ending where the river widened and flowed into the Neretva. Tired but satisfied, we left the water to stretch out on the nearest green meadow.
Now that trip has become a must for Scorpio. As has the habitual dinner of local dishes, after the effort, at the nearby rafting centre. Then, after a night in a sleeping bag, departure for the Bijela canyon, explored in 2002 for the first time after the war by Edin himself.
This activity, together with mountain hikes, climbing, paragliding mountain bike and ski touring all still make up Scorpio's sports tourism offer today. But the club doesn't only do this: Edin's motto on finding one's own future by rediscovering one's own country, despite the painful heritage of the past, leads him to involve the younger generations, starting with the children.
In winter, in the gym of a school in Zenica, three evenings a week he teaches climbing to boys and girls from six years up. There they don't only learn to climb which, for many girls of the area is already a goal in itself, because it gets them out of the house and to do sports, something often guaranteed only to boys of the same age. In fact new friendships are made and entire families become involved.
Selma, a young mother, at first just took her child to the course. But gradually she got involved and now she is one of the keenest members of the rock climbing group. She is a beginner but she enjoys it very much. Over time many of their friends have become real fans of Scorpio's activities.
But Edin with his character cannot be restricted to the town. In 2003 on the hill behind Zenica, at Smetovi, Edin bought some land with a dilapidated house. Over time he rebuilt it and now it's a proper sports centre where visitors can stay overnight. The challenge Edin took on in those years was a high risk: in fact his aim was to create a centre for sports and nature near Zenica, a small town in the middle of Bosnia which was unfortunately best known for the pollution coming from its enormous steelworks with 24,000 employees.
A challenge which up to today has been won. In fact in winter Edin runs a ski school at Smetovi for the children of Zenica, involving over 100 per year. Smetovi is also a good departure point for ski touring courses, and the building has become an educational centre for schools which bring their students there to learn about the woods, the tree species, how to survive outdoors, make fires, etc. Meanwhile Edin has continued to invest in his projects, financing them with work as a climber, washing the windows of highrise buildings and securing rock walls prone to landslip. It was with this money, for example, that he was able to build an artificial climbing tower about 20 metres high, used for training, leisure activity and fun; for both adults and children, for training young Bosnian climbers and mountain rescue teams.
This is not all: Scorpio wants to open up to international markets for responsible "green" tourism, so it is sending abroad its proposals for package tours of the Bosnian cultural and natural heritage. On two occasions, in 2007 and 2010, Italian tourists came came to Edin's organisation with "Avventure nel Mondo". The visitors spent a week hiking, rafting and visiting sites of cultural interest. "Cultural hiking" is a term coined by Scorpio to describe a new activity: excursions which take you on foot to see not only places of natural beauty but also sites of historical and cultural interest. One example of these are the "stecci", the remains of medieval tombs found in the Bosnian hills, usually in remote areas.
Recently the Ltd. company has been called in by a German firm assigned by UNESCO to do a technical survey of the bridge in Mostar, to check some cracks which had opened under the arch. Work on a symbolic place for Bosnia, so Edin chose to ask for help from friends from all the communities now living in Bosnia: Jure, a Bosnian Croat, Miloš a Serb from Pale and various climbers from Sarajevo. They dropped down below the bridge together on ropes, stretched out on flying scaffolding, with Emir, one of the first children to use the climbing wall in Zenica now a successful climber and in his second year at the Faculty of Architecture, to make drawings of the cracks to enable the German firm to complete its monitoring. This too is Scorpio, this too is Edin and this too is Bosnia.
I commenti, nel limite del possibile, vengono vagliati dal nostro staff prima di essere resi pubblici. Il tempo necessario per questa operazione può essere variabile. Vai alla nostra policy