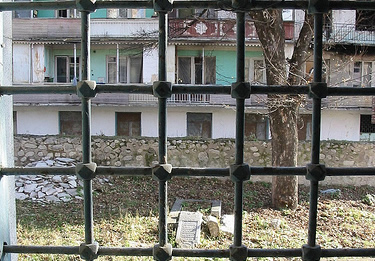 Panic reportedly began to spread last week in Yerevan as news of the worst major skirmish between Armenian and Azerbaijani forces on the line of contact in two years was reported by the local media. Ironically, the ceasefire violation occurred just one day after the Armenian president and his Azerbaijani counterpart met in St. Petersburg for talks convened by Russia
Panic reportedly began to spread early last week in Yerevan as news of the worst major skirmish between Armenian and Azerbaijani forces on the line of contact in two years was reported by the local media. Four Armenian soldiers were killed in the fatal clash during what is claimed to have been an Azerbaijani raid behind enemy lines in north eastern Karabakh. Azerbaijan's Defense Ministry has confirmed reports that one of its own soldiers was also killed on Armenian-controlled territory.
The two sides have been locked into bitter conflict over the mainly Armenian-inhabited territory of Nagorno Karabakh since the early 1990s. Over 25,000 were killed and a million forced to flee their homes in the war that followed until a 1994 ceasefire agreement left Armenian forces in control of 16.8 percent of Azerbaijan, including Karabakh. Skirmishes are common, leading many international analysts and observers to consider that the conflict is far from "frozen," especially after the August 2008 war between Russia and Georgia.
Ironically, however, the ceasefire violation occurred just one day after the Armenian president, Serge Sargsyan, and his Azerbaijani counterpart, Ilham Aliyev, met in St. Petersburg on June 17 for talks convened by Russia. Initial reports indicated that the two leaders had narrowed their differences in continuing efforts to negotiate a lasting peace, but Armenia has since blamed Azerbaijan for the incident, accusing Baku of attempting to derail the talks.
International mediators from the Organization for Security and Cooperation in Europe (OSCE) as well as the European Union also deplored the loss of life, but also avoided blaming either side. "Evidently, it was a pre-planned and programmed operation," Armenia's Foreign Minster, Eduard Nalbandyan, responded in a written statement. "It once again shows the real face of Baku, which is doing everything to kill the negotiating process."
Adding to some concern were also reports that the Azerbaijani army staged large-scale military exercises on 21-24 June while official Baku once again warned that full scale war might yet break out again. "The main purpose of these exercises is to enable us to liberate our lands from the occupiers with our joint efforts, Azerbaijan's president, Ilham Aliyev, was quoted as saying. "All armed units will be mobilized for that purpose."
An apparently unscheduled visit to Nagorno Karabakh by his Armenian counterpart took place as those exercises finished while others were quick to downplay fears of a new war. "We are now prepared for any scenario, but do not support artificial rumors circulating in our society that war is imminent," Artur Baghdasaryan, Armenia's National Security Council Secretary told a press conference. "On the contrary, I condemn such statements."
Nevertheless, while official Yerevan and Baku engaged in yet another war of words, others were more upbeat about the prospects for peace despite the latest front line skirmish. On 26 June, at the G8 Summit in Canada, U.S. President Barack Obama, Russian President Dmitry Medvedev, and French President Nicolas Sarkozy backed reportedly new progress made in negotiations to end the stalemate.
Although specific details remain unknown, the framework of the current peace plan under discussion envisages the return of most of Azerbaijan's territory surrounding Nagorno Karabakh, an interim status for the disputed territory along with international security guarantees, and a corridor linking it with Armenia. IDPs and refugees would have the right to return and Karabakh's final status would be determined by a referendum.
Yerevan has since applauded the move from the U.S., Russian and French presidents while Radio Free Europe's Armenia Bureau also reported that the Armenian Foreign Minister will meet with his Azerbaijani counterpart, Elmar Mammadyarov, on the sidelines of an OSCE ministerial meeting to take place next month in Almaty, Kazakhstan, in July. RFE also reported that the G8 statement indirectly supported that development.
Meanwhile, adding to speculation that international interest in mediating a breakthrough is increasing, U.S. Secretary of State Hilary Clinton will visit both Armenia and Azerbaijan earlier the same month. Nevertheless, many international observers remain skeptical after similar hopes in the past failed to come to fruition. The major obstacle, analysts say, is the lack of political will on both sides to make unpopular compromises or to prepare both their societies for peace.
Although critics of both leaders claim they lack the 'legitimacy' to do so, the situation is made even more sensitive in Armenia following the disputed 2008 presidential election which brought Sargsyan to power. Similar concerns were also raised during last year's efforts to establish diplomatic relations with Turkey and open the border with Armenia closed by Ankara in 1993 in support of Azerbaijan during the Nagorno Karabakh war.
Protests from Azerbaijan as well as internal resistance inside Turkey prevented that, but with Karabakh continuing to be the main card played by political forces inside Armenia to come to or retain power, such concerns remain as real as ever.
I commenti, nel limite del possibile, vengono vagliati dal nostro staff prima di essere resi pubblici. Il tempo necessario per questa operazione può essere variabile. Vai alla nostra policy