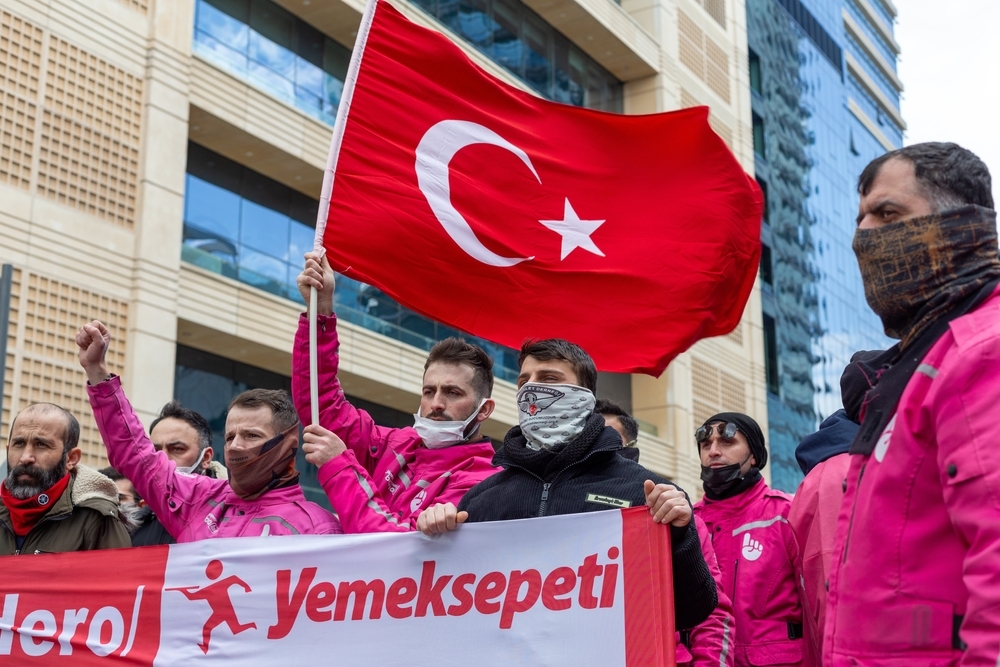 Squeezed between galloping inflation and insufficient wages, more and more workers in Turkey go on strike. A wave of protests that started in home delivery, but which soon spread throughout sectors
In Turkey as elsewhere in Europe, the pandemic has increased people's dependence on e-commerce and food delivery platforms. While Turkey was in lockdown in 2020, those who could work from home began to rely more and more on platforms for home delivery of groceries, meals, and goods.
Yet, the front-line delivery drivers who made it possible for people to do their shopping or order their meals from home remained invisible. As the pandemic enters its third year, these couriers are demanding their rights. Over the past three weeks, delivery drivers at several major Turkish companies have gone on strike. But they are just the most visible face of what has turned out to be a much deeper wave of labour militancy in Turkey.
These strikes are a reaction to the ongoing economic crisis in Turkey. However, they may also point to a change in Turkish politics. Today, with the elections on the horizon, will the increasing numbers of low-wage workers fighting for their rights begin to question the ability and willingness of the ruling Justice and Development Party (AKP) to protect their rights as citizens and as workers?
Fight to survive
The latest strike wave was partly inspired by workers at Trendyol, a Turkish e-commerce platform. Like Amazon, the company sells clothing, electronics, home and furniture products, and more. Trendyol delivery drivers went on strike on 24 January after rejecting an 11% raise. After a three-day strike, they won a raise from 9,500 Turkish Liras (618.59 Euros) per month to 12,500 (813.94).
The Trendyol strike raised public awareness of the injustices faced by couriers in Turkey. For example, the company was valued at 16.5 billion U.S. dollars in 2021. The leading e-trade group Alibaba is also a major shareholder of the company. With its over 30 million customers, Trendyol has done extremely well in the pandemic era of increased online shopping.
Meanwhile, the 11% raise that Trendyol management initially offered workers did not even keep up with inflation. The Turkish Statistical Institute (TUIK) put official annual inflation at 48.69% in January. However, independent groups put this figure at 114.87%. A wave of protests started in-home delivery, but soon spread throughout sectors. The price of food, transport, electricity, and fuel has also risen astronomically since the new year. Not since the economic crisis of 2001 had Turkey had inflation and consumer price increases at these levels.
This dire economic situation has pushed workers toward greater militancy. To survive, they must ensure their wages keep pace with inflation. The new minimum wage of 4,250 Turkish Liras announced at the start of the new year is barely above the starvation level.
As Basaran Aksu, coordinator of the independent workers' organisation Umut-Sen, has argued in a recent interview: "Even workers who vote for the AKP and MHP [the Nationalist Action Party, government's ruling partner] do not believe the announcements made by the Turkish Statistical Institute but rather what is said in opposition media. [ . . .] That is why workers want to sign new agreements and have their wages reassessed. Otherwise, they have no way to stay alive".
The protest spreads
With their demand for wages that reflect the cost of living in Turkey, in their actions, Trendyol workers voiced the anxiety of workers across the country. Celebrating on Twitter after a successful public outreach campaign, the workers' official account declared: "With our struggle, we have rejected the 11% raise they were trying to pass off on us. We now have a 38.8% raise. Congratulations to all our fellow employees at Trendyol and may it be an example to all workers and labourers!".
The swift acceptance of the Trendyol workers' demands has inspired other labour actions, particularly in the delivery sector.
Couriers at the food delivery service Yemeksepeti stopped working on February 1st. Since then, they have been gathering in front of the company's headquarters in the Istanbul district of Maslak. Wearing their distinctive pink uniforms, the convoys of drivers on their motorbikes have created iconic images for this new moment of labour militancy.
Singers and MPs from Turkey's main opposition parties have also come to show support for Yemeksepeti workers. There is also a widely publicised call for a boycott of the company. Since the strike began, the transportation union Nakliyat-Is claims that food orders are down 70% among the company's 20 million users.
Rights as well as salaries
Yemeksepeti workers are demanding better wages, but they are also fighting for their rights as salaried employees. Yemeksepeti hires its drivers as independent contractors to avoid paying for severance pay, social security, or annual leave. Many of its drivers do not even have written contracts. They also pay for their own motorbikes and insurance. This last issue is important because being a courier is a risky job. As Paul Benjamin Osterlund writes in Equal Times, drivers weave through traffic and narrow streets to make their deliveries, all while battling with time to finish each job within the allotted period.
But Yemeksepeti workers' key demand is the right to unionise. For years, they have been fighting to join the All Transport Workers' Union (TUMTIS). Though they have technically won the right to collective bargaining, the company has kept its workers caught up in lengthy court cases.
Thanks to the recent strike, however, Yemeksepeti's union-busting tactics are being more widely discussed. This has implications for Europe as a whole, as German company Delivery Hero has owned Yemeksepeti since 2015. Delivery Hero has also come under fire for its labour practices in Latin America and has been sued in Canada and Norway.
While Yemeksepeti's parent company in Berlin faces lawsuits elsewhere, Turkey is not the only country to see labour unrest against delivery platforms. According to the Friedrich-Ebert-Stiftung study "Global Labour Unrest on Platforms", between January 1st, 2017 and 20 May 2020, 36 countries across the world saw labour actions against companies like Delivery Hero, Deliveroo, Uber Eats, Zomato, and Glovo for their exploitative practices.
But in Turkey, it is not just "gig workers" who are rising up. In the province of Denizli, nearly 60 couriers at Aras Cargo went on strike. Their counterparts at Yurtici Cargo in Istanbul did the same when they demanded a 17% raise. These actions build on previous strike waves at other cargo companies, for example, UPS workers' historic 2011 win of the right to collective bargaining.
On 3 February, 400 workers at the Istanbul warehouse of the supermarket giant Migros occupied their workplace. The same day, a police water cannon was sent into the warehouse. 300 workers were fired and continue to demonstrate in front of the Migros complex despite the cold weather and police repression.
Widespread dissatisfaction
Because they are more visible, workers in the supermarket, e-commerce, food delivery, and cargo sectors are more familiar to the general public. However, in assessing this new strike wave it is important to note the militancy of manufacturing and industrial workers.
For example, the women at the sock factory Alpin Corap in Istanbul won a 70% wage increase after a mere 24-hour strike.
Similarly, workers at the Farplas automobile factory in Gebze occupied their factory on 30 January. Though 200 were taken into police custody, with the support of the United Metalworkers' Union (Birlesik Metal-Is) they succeeded in winning a raise and annual leave.
When we combine these less visible industrial labour actions with the high-profile victory of journalists at the BBC's Istanbul Bureau on 30 January, it is clear that a change is coming across all sectors.
Inflation is expected to reach upwards of 70% later in 2022. Meanwhile, the Turkish government shows few signs of being able and willing to manage the conditions giving rise to this new labour unrest. As long as the crisis continues, it seems we can also expect the strike wave to continue spreading.
I commenti, nel limite del possibile, vengono vagliati dal nostro staff prima di essere resi pubblici. Il tempo necessario per questa operazione può essere variabile. Vai alla nostra policy
blog comments powered by