26 October 2017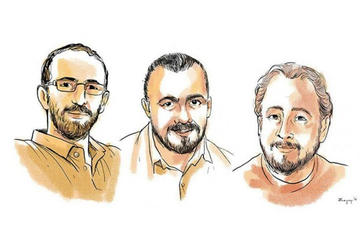 In an interim ruling, the court ordered the release pending trial of Ömer Çelik. The former news editor of the closed pro-Kurdish Dicle News Agency (DIHA) had been in pretrial detention since December 2016 with two other colleagues, Tunca Öğreten, a former editor and investigative reporter of news portal Diken, and Mahir Kanaat, an employee of leftist newspaper BirGün.
DIHA correspondent Metin Yoksu, Yolculuk daily editor-in-chief Eray Sargin and ETHA news agency managing editor Derya Okatan are pending on trial without arrest.
All of the journalists stand accused of spreading terrorist propaganda and revealing state secrets for their reporting on emails allegedly authored by Minister of Energy and Natural Resources Berat Albayrak, which were leaked by the hacktivist group RedHack. Albayrak is the son-in-law of President Recep Tayyip Erdoğan.
In the indictment, which was submitted to the court seven months after three of the defendants had been detained, the prosecutor accuses the journalists of being members of terrorist organisations and spreading propaganda for a terrorist organisation - the Kurdish Worker's Party PKK; the extreme leftist DHKP-C and the "Fethullahist Terrorist Organization" FETÖ. The prosecution's primary evidence in the nine-page indictment is a Twitter message group in which an allegedly RedHack affiliated account shared access to the leaked emails with the journalists. The prosecution also lists the accounts the journalists follow on social media, their posts and reports as evidence in the case against them.
The leaked emails were originally published on Google Drive and Dropbox before being republished by Wikileaks on a publicly accessible website. The journalists standing trial reported on the content of Albayrak's emails that they considered in the public interest, which detailed the energy minister's involvement in the Kurdish oil trade through a company known as Powertrans. The messages contained potentially incriminating information about the minister.
The prosecutor overseeing the case is asking the court to sentence the journalists to between 16 and 24 years in prison. The journalists maintain that they are being prosecuted for reporting on government corruption.
The next hearing is set for 6 December. The chief judge of the trial held before İstanbul 29th Heavy Criminal Court is Mustafa Çakar, who has previously ruled that the defendants in the Cumhuriyet trial, journalist Meşale Tolu, Die Welt Turkey correspondent Deniz Yücel and Özgür Gündem consultant board member Aslı Erdoğan be arrested. Deniz Yücel was detained in February in connection with the RedHack leak, but his case was later separated from his colleagues.
This publication has been produced within the project European Centre for Press and Media Freedom, co-funded by the European Commission. The contents of this publication are the sole responsibility of Osservatorio Balcani e Caucaso and its partners and can in no way be taken to reflect the views of the European Union. The project's page