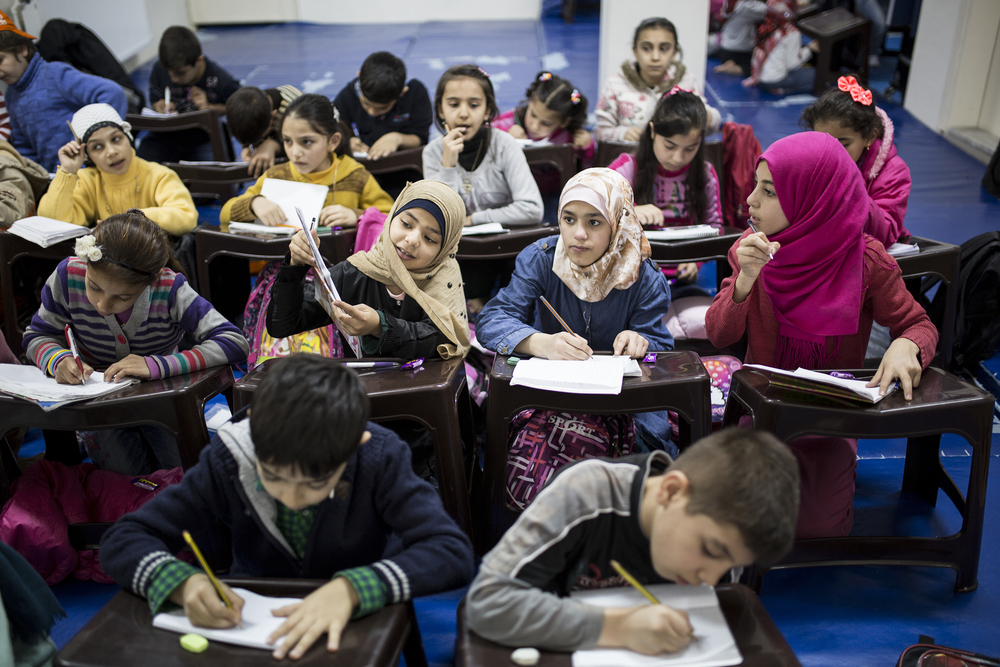 There are two main discourses about Syrian refugees in Turkey's media: they are depicted either as "guests to help" - thus implicating moral superiority over Europe - or as a "threat", highlighting their otherness from the country's socio-cultural identity. Either way, disinformation is everywhere
(The article is excerpted from the policy memo Exclusion through Public Discourse: Media representations of Syrian Refugees in Turkey appeared on EUCANet - Europe Canada Network in June 2020)
Turkey currently hosts over 3.88 million displaced Syrians, while acting as gatekeeper and regulator of mass migration to European countries. Syrians in Turkey are not recognised as refugees, but are granted "temporary protection status" (TPS). TPS gives Syrians access to healthcare facilities, education, and work permit in the province of registration, but provides no timeframe for the duration of temporary protection, placing applicants in an uncertain situation. Moreover, the majority of the Syrian population in Turkey experiences limited access to proper accommodation and work, and faces social and economic precarity. Indeed, as of March 2019, only 31,185 Syrians were granted a work permit, while most refugees informally participate in the labour market with salaries under the minimum wage. On top of this, the recent Covid-19 pandemic has left thousands of refugees unemployed, putting them again in an extremely precarious situation.
The policy measures adopted by the Justice and Development Party (AKP – Adalet ve Kalkınma Partisi) in recent years have been considered a sign that the Turkish authorities had accepted the likelihood of a long-term settlement of Syrians. The issue is also addressed in the Turkish presidency's development plan for 2019–2023, which stresses the need for developing efficient policies for the economic and social integration of refugees. However, the public discourse of the AKP is still centred on an eventual return of the refugees. Moreover, reports in July 2019 of some refugees being forcibly deported from Istanbul have raised concerns about any large-scale forced returns. As almost all of the Syrian population lives outside of refugee camps, the capacity of service providers in areas with a high refugee population density remains stretched, at times leading to social tension. The policymakers' instrumental use of the Syrian refugee issue for domestic or international political purposes only worsens the situation.
Media discourses clearly impact Turkish society's perception of Syrian refugees and thus their social acceptance. The presence of Syrian refugees is entangled with the prevalent identity debates and conflicts in domestic politics. Accordingly, media discourses reflect the outlet's political stance towards the government. Recent studies have shown that there are two main types of discourses alternatively or jointly used to frame Syrian refugees in the Turkish media. The first type is a "humanitarian" discourse which focuses on displacement challenges, features the refugees as "needy people", and often identifies them with a passive, collective entity that is instrumental to place Turkish actors in a good light. Some of these narratives directly express the AKP policymakers' humanitarian discourses based on religious solidarity. While both pro-government and opposition papers almost never specify the legal status of the Syrians (TPS), the term "guest" is often used by government representatives to refer to Syrian refugees. As stressed by scholar Rabia Polat , this term indicates a temporary situation while implying that Turkey's acceptance of fellow Muslim Syrians is a moral obligation - thus justifying their presence to the party's constituency. But the humanitarian discourse on refugees is also deployed by the AKP to claim moral superiority vis-à-vis Europe and the EU, accused of being irresponsible and inhuman in this regard.The second type of public discourse presents Syrian refugees as a "threat", offering discriminatory and alienating statements coupled with particular political and social issues. The trend, more visible in some opposition media, incorporates security and threat discourses in criticisms of the government's policies on Syria and refugee. The image thereby constructed presents Syrian refugees as a "burden" for the country's economy as well as a group of people that is alien to the country's socio-cultural identity.
Other studies have stressed that both media and social media platforms appear to have an important role in the dissemination of discourses of "othering". But they also enable the circulation of false/unverified information to "rationalise" discrimination and nationalistic statements. The extent of misinformation spread on Syrian refugees has led some NGOs and debunking platforms to launch counter-information campaigns. One recent example is Suriyelilerle İlgili Doğru Bilinen Yanlışlar [False Claims considered True about the Syrians], a booklet by the Mülteciler Association that lists 16 of such claims. "Syrians are getting a salary from the government", "Free public housing for the Syrians", and "Syrians will be able to vote in the upcoming elections" are among the most common "fake news" concerning the refugees. This type of narrative is frequently reproduced in the speeches and social media comments of the major opposition party's (CHP - People's Republican Party) representatives, as well as in those by Turkish nationalist parties (namely MHP - National movement party, ally of the AKP, and İYİ Parti).
Similar comments are echoed in the public perception of Syrian refugees, as exemplified by a 2019 research conducted in Istanbul by the Istanbul Political Research Institute. According to this study, for 78% of the interviewees the government treats Syrians better than Turkish citizens. Another 78% does not have any contact with Syrian refugees despite seeing them every day in the street they live (52%), in the workplace (44%), or in groceries and shops (69%). For 49% of the respondents, Syrians are "a less talented race", while 36% think that "they are not victims of war". Finally, 33% of the respondents feel "intense rage" towards Syrians, while 47% of the participants affirm to experience "an intense sense of uneasiness" with regard to the refugees.
If the majority of Syrians is to stay in Turkey, their integration becomes even more important and challenging. What is clear is that exclusionary and mixed messages on refugees sent by policymakers to the public can only worsen tensions.
I commenti, nel limite del possibile, vengono vagliati dal nostro staff prima di essere resi pubblici. Il tempo necessario per questa operazione può essere variabile. Vai alla nostra policy
blog comments powered by