1 February 2022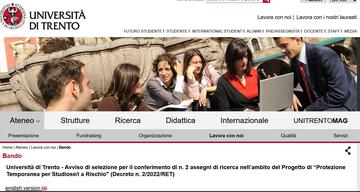 A new call for two more beneficiaries within the protection programme "Scholars-at-Risk": asylum seekers and refugees can apply
In the light of the growing number of at-risk scholars worldwide seeking for protection in universities based in EU member States and considering the University of Trento's membership in the international network Scholars at Risk (SAR), and in SAR – Italy, a selection process based on qualification, research project, motivation
letter and interview has been opened for two Research Fellowships (Assegni di Ricerca) at the University of Trento.
This selection is part of the 'Temporary Protection Project for At-Risk Scholars', co-funded by the Autonomous Province of Trento.
The deadline is 4 April.
Here all relevant info.