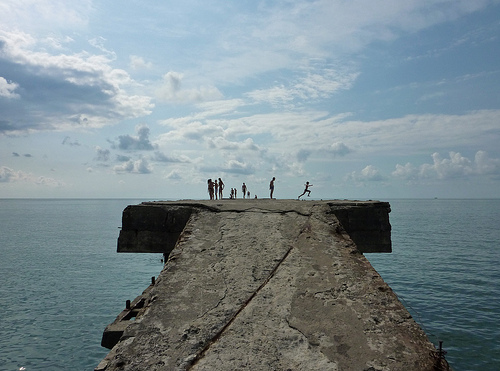 Georgia has great touristic potential with beaches, mountains, ancient cities, castles and churches, but political instability, conflicts and economic crisis have not made the country attractive to visitors from the West. The war and the global economic crisis have hit all sectors of the Georgian economy, but the tourism sector, which had begun to recover in the last 2 to 3 years, has taken the hardest fall
Touristic Potential
In all sectors of tourism, be it cultural, coastal, ecological or for sports or mountaineering, Georgia has great potential. Journeying in the country is simplified by the fact that Georgia is small - just 70,000 square kilometers - and the various touristic zones are not more than a couple of hours traveling distance from each other. For example, the Black Sea coast is not more than half an hour from the high-mountain tourism areas.
Probably, for Western tourists, Georgia is more interesting from the perspective of ecological and cultural tourism. The country contains many sparsely inhabited mountainous regions (Svaneti, Racha, Tusheti, etc.) where life has changed very little over the centuries, even if there have been great infrastructural advances in the last few years. Roads have been constructed and there is constant access to electricity. Private hotels have appeared and the authorities have succeeded in fighting criminality, which used to permeate these zones. Traveling in these wild areas is hardly risky for foreign citizens.
In regards to cultural tourism, Georgia has much to offer: the capital Tbilisi, Batumi (located near the seaside), Kutaisi (capital of western Georgia), the little city of Signakhi in eastern Georgia, Mtskheta, the ancient capital of Georgia. It is true, all of this is ruined by tremendous Soviet architecture and by ugly apartment buildings constructed in the time of Khrushchev. However, the historic centres of cities, known for their original architecture, are normally separate from the Soviet-style suburbs so tourists are well-placed not to notice the Soviet squalor.
Georgia has many ideal places for ski tourism, like Gudauri or Bakuriani, which feature small, respectable hotels. It also has places for those who like the high mountains, like Borjomi or Shovi.
The touristic seaside is about 60 kilometers long and isn't particularly interesting for western tourists. The infrastructure equals that of Sochi and the Crimea and the service is a far cry from western standards. Of course, it is respectable, but there is nothing that can't be found (better, even) in Egypt Turkey or Croatia, not to mention France, Italy or Spain. Georgia's seaside attracts mainly local residents or Armenian citizens.
In summary, Georgia has many attractions, but a series of circumstances impede the development of the tourism sector.
A question of image
In the 1990's everyone confused Georgia with the American state of the same name, and the situation probably hasn't improved very much. It is said that during the conflict of last August, many Americans were incredibly surprised that the Russians had tried to invade U.S. territory. "Russians in Atlanta? Impossible!" the Americans said. Only later did they discover that, by some inexplicable coincidence, there is a country with the same name as the American state.
It will take many years to make Georgia's name familiar, at least as much as that of Croatia or Serbia, mostly because for 200 years, the country was dropped from world maps: it was nothing other than a southern province of a great empire.
As far as the question of image, one must realize that, at first glance, our country does not seem particularly attractive. In recent years, there have been three wars, two revolutions, constant protests and blocked streets.
The fact that the wars were only regional and circumscribed to determined areas and that the political instability of the last two years has in no way influenced daily life of the residents, much less that of foreigners, is overlooked. On the other hand, who cares? There are 200 countries in the world and one can always find a beautiful place to go.
The paradox is that western citizens go en masse to countries which are much more dangerous for foreigners, for example Colombia or Bolivia, or to much poorer countries like Kenya or Tunisia. The difference is that people have gone to these countries for a long time and their touristic attractions have been talked up for decades.
Georgia must reintroduce itself to the world, especially because a minute of Russian tanks on CNN can destroy five years of work dedicated to creating a positive image for the country.
The reality
Actually, Georgia's tourism sector is on standby at the moment. The tourist season has not yet begun, but there is no doubt that the sector will see a fall. Even if the country has begun to recover from last August's war, the global economic crisis is still in its darkest period.
One of the main tourism companies of Georgia, Intertur, which specializes in mountain tourism for foreigners, recently released some discomforting statistics.
After the war of last August, Intertur brought only 35 tourists to Georgia while, during the same period in 2007, it brought between 180 and 200. Other tour operators find themselves in a similar situation. In every case, the statistics leave no doubt that the tourism sector will suffer greatly this summer.
The hit will be softer for seaside tourism, mainly because Georgia's Black Sea coast draws mostly local residents, Armenians, and, to a lesser extent, citizens from the nearby countries of Turkey, Azerbaijan and the Ukraine.
According to forecasts, between 170,000 and 180,000 people will holiday on Georgia's coast this year - most of them Georgians.
In the end, Georgia's tourism sector faces a difficult period and there is no clear path for how to overcome it. In order to see a recovery of the tourism sector, the global economic crisis must end and another war with Russia must be avoided. Unfortunately though, neither of these things really depend on Georgia.