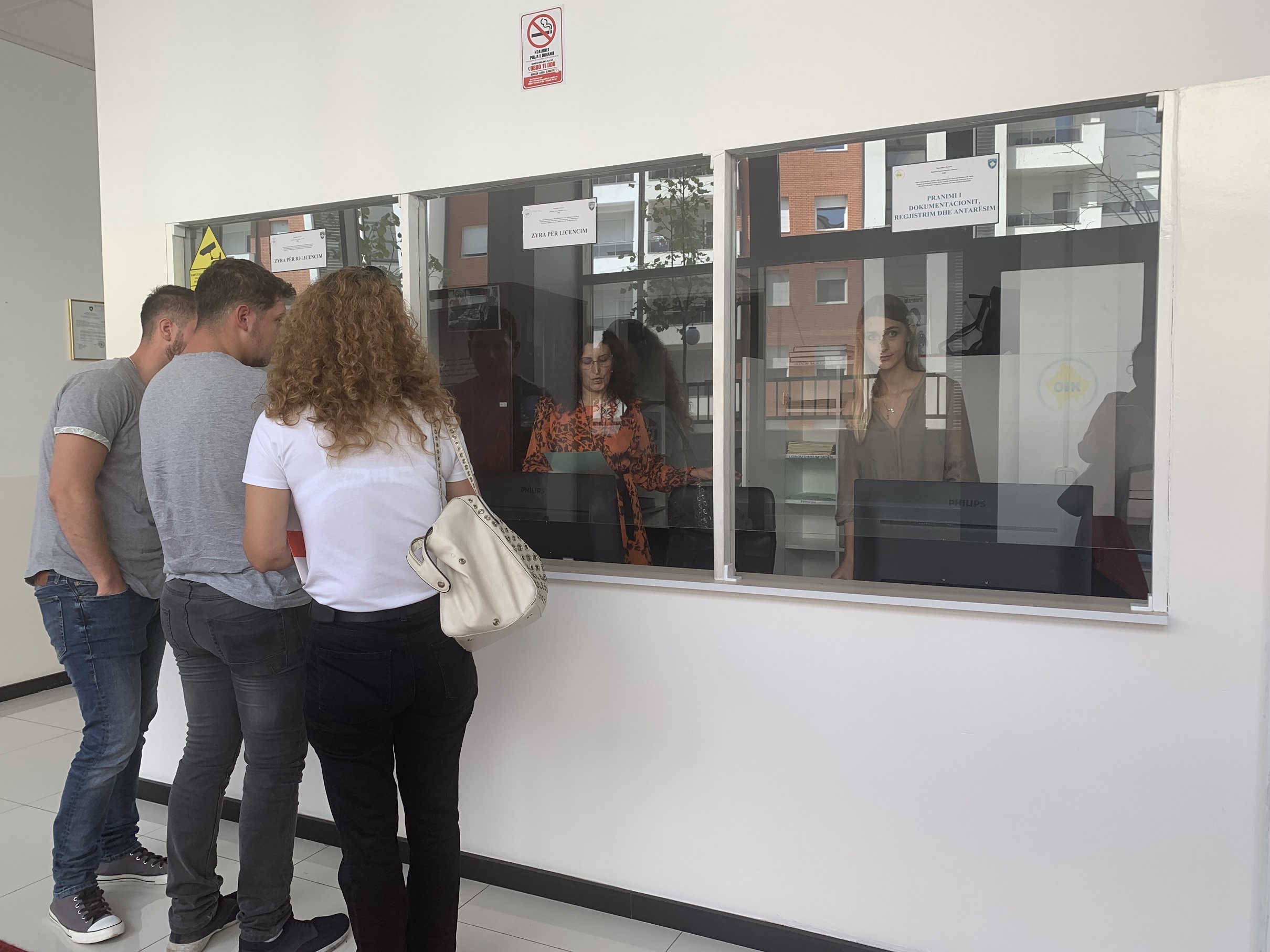 Many people, above all young and qualified, emigrate or dream of emigrating from the Balkans to other European countries. A phenomenon that puts entire sectors of the economy at risk, and that warrants urgent answers
In Tetovo, North Macedonia, buses packed with migrant workers leave almost every night, headed to Italy, Germany, and Switzerland – the top destinations for North Macedonian migrants.
Sadness shows on people's faces, a result of the emptiness migration waves are leaving in the Polog region (North-West Macedonia). North Macedonia, however, is not an isolated case, since migration is shaping a grim future throughout the Western Balkans.
Massive migration concerns mostly high skilled workers, especially doctors and healthcare workers who have the best chances to find employment.
Social insecurity, poor healthcare, financial precarity, job stagnation, and clientelism as well as discrimination against vulnerable groups such as ethnic minorities, women, and LGBT persons are the main reasons for people leaving the Western Balkans countries, explains Zhivka Deleva, an independent migration researcher at Interkulturanstalten Westend e.V. in Berlin.
Boban Gjakov, 38, is a specialist in gynecology and obstetrics. In 2011, he left Skopje and moved to Slovenia to seek better financial stability. "It's a sad and miserable feeling, when as a doctor the state throws you into the water like trash", he says.
According to Gjakov, getting a decent job in North Macedonia takes strong political connections. "I paid for my entire education, and then the starting salary in North Macedonian hospitals was lower than the salary I had while working as a waiter", he says bitterly.
According to the World Bank, almost half a million North Macedonian citizens currently live abroad, i.e. 25% of the total population.
Dejan Nakovski, university professor in Skopje and an expert on migration, raises concerns that some sectors could face dysfunction because of migration."This is linked to the educational and social status of migrants, for example: the migration of medical staff leads to dysfunction in healthcare, the migration of general workers leads to labour shortage in the industrial sector etc.'', says Nakovski.
A similar trend in neighbouring Kosovo
Between 2008 and 2018, EU countries issued approximately 245,000 work-residence permits to Kosovo citizens. According to data by EUROSTAT, almost half of these permits were issued by Italy, but many professionals, particularly in the healthcare sector, choose Germany.
Vigan Roka, 32, is among the many doctors who left the region. In 2013, he went to Germany to pursue his specialisation in ophthalmology. The main reason he chose Germany were the conditions the University Clinic offered to medical specialists. "It was impossible to make my dream of becoming an eye surgeon come true in Kosovo, so I had to leave, broken-hearted, but very motivated", he said.
The trend is obvious: only in the small city of Detmold there are six other doctors who, like Roka, come from Gjakova, in western Kosovo.
Even more concerning is the number of healthcare professionals and nurses who leave Kosovo. The Chamber of Nurses and medical professionals of Kosovo receives on a daily basis tens of applications for licenses and ethics certificates, documents needed to get a working visa for the EU.
Naser Rrustemaj, head of the Chamber of Nurses of Kosovo, says that the system loses three to five professionals every day. "The biggest concern is that we are losing our nurses working for departments such as intensive care, and training for such positions requires a lot of time, over two years", he points out.
Germany needs healthcare professionals, says Vigan Roka, who has been working as a doctor in Germany for over five years. "The clinic where I work struggles to find specialists and nurses, and this triggers a constant movement of healthcare workers toward Germany", he explains.
Irregular migration will remain low, but regular migration will increase, says Besnik Vasolli, a Kosovo-based EU integration expert. "We have witnessed an increase of work permits in EU member states such as Germany, Croatia, and Slovenia", he says.
The last general election in Kosovo brought political change and some hope; however, according to Vasolli, this will be short lived. "Economic challenges will not go away, the new government will face difficulties to deliver the promises made during the electoral campaign, and the general public will continue to face the same issues", he says, adding that migration will continue.
Germany has 1.6 million vacancies in the healthcare system
Corina Stratulat, Senior Policy Analyst at the European Policy Center, a Brussels-based think-tank, points out the issues with workers getting their education at home and then taking their knowledge and skills elsewhere.
"Certainly there is demand for high skilled workers and the fact that Germany puts in place policies to become attractive is understandable and there's nothing wrong with it. Except if this becomes a one way street only; where high skilled workers from the Western Balkans are only coming to the EU but then there is no circle of migration involved, no going back, no reinvestment of resources, of the skills, of the time and energy back into the countries they have left. In this case, we have a problem", she says.
Despair leads Albanians to dream of the west
Albania has the highest emigration rates in the region, but Edi Rama's left-wing government has been downplaying the issue as a "global trend". According to data by the National Institute of Statistics, in the last five years over 200,000 Albanians migrated to EU countries or the United States.
With Germany as the top destination, the demand for learning German language has skyrocketed.
Alketa Kuko, director of the "Goethe" institute in Tirana, has witnessed a multiplication of the number of doctors, paramedics, architects, or engineers registering in German language courses.
"I just need a B2 level in German and everything else is ready for me in Germany", says Olti, 23, a paramedic from Tirana. He hopes to start a new life in Dusseldorf next January.He has worked hard to learn German in the last several months and says he is among scores of young Albanians who had chosen to enroll in paramedic school to migrate to Germany. His salary in Tirana's Urgent Care Unit is 35,000 Lek [286 Euros] per month, while he could earn six times more in Germany.
Since medics and paramedics are among the professionals most wanted in Germany, Albania – just as other countries in the region – is losing many healthcare workers. According to partial data by the Order of Medics and Paramedics in Tirana, some 1,049 medics and 1,271 paramedics have currently filed the documents necessary to emigrate.
In October 2018, the organisation "Together for Life" published the results of a national survey of 1,000 medics of Albania. About 78% of them said they would prefer to emigrate if they had the chance.
"Doctors are not happy – they are overworked, not respected, and stressed", says Eglantina Bardhi from "Together for Life".The main reasons pushing doctors away are poor salaries and poor working conditions, she adds.
While emigration has been a basic feature of the country over the transition period, experts are concerned by the new wave over the last few years and the loss of qualified workforce.
"The most qualified people are leaving the country and brain drain is a major problem for Albania", says Eda Gemi, a migration and integration policy expert. "We have currently a brainless country, what future can we imagine for it?", she muses.
While the country has a strategy on migration and a ministry for Diaspora, Gemi says that the underlying causes of emigration are not on the government's agenda. She suggests the need to build bridges to help the diaspora engage in their home country.
Serbia, more risk in staying than in leaving
Currently unable to stop the migration process, the Serbian government is focusing instead on measures to stimulate birth rates with the new Ministry for demographic policies, which provides child benefits.
According to a new law, a family with a first child born after July 1st, 2018 receives a onetime "first help" payment of 800 Euros. For a second child, families get 80 Euros per month for two years, while for a third one families get 100 Euros per month for the next ten years.The government also raised the salaries for doctors and nurses in an attempt to stop migration of healthcare workers.
The German Service for migration estimates that in 2017 and 2018 nearly 51,000 people moved from Serbia to Germany and, with facilitated procedures to obtain work permits, the migration wave is expected to continue.
Mirjana Arnaut used to work as a journalist in Serbia and now lives in Germany, unemployed, but with the support of her husband, who works for a German company. They decided to raise their child away from Serbia. "Serbia is not a place where we want to live. It is sad and depressing, it promotes wrong values, bad politics, and I just don't see us there anymore", says Mirjana.
Ivan Andric, from the NGO "Serbia 21" also wants to go abroad. According to him, instead of opening up, Serbia is becoming a closed society. "If you are unable to express different political views, if you don't have the same chances to get a job as people who join the ruling party, it is likely that at some point you will want to leave", says Andric.
According to the OSCE, almost 655,000 people have left Serbia since the fall of Milosevic's regime in 2000. An estimated 4,000 people leave Serbia every month, meaning Serbia annually loses an average town of 50,000 people. In the two last decades, due to migration, Serbia has lost 10% of its population.
The highest number of emigrants (179,000) went to Germany; the second top destination is Austria with 105,000, while about 70,000 migrated to Switzerland, according to OECD data.
Two-thirds of young people want to leave Montenegro
Montenegro has the smallest population in the Western Balkans, with only 625,000 inhabitants. In spite of its flourishing tourism industry, it is estimated that around 150,000 people have left the country over the last three decades. According to EUROSTAT, some 17,346 Montenegrins received a residence permit in the EU between 2008 and 2018. Germany has issued approximately 3,000 work permits to Montenegrin citizens: more than any Montenegrin company currently employs. Data from the trade unions of doctors show that 150 specialist doctors have left Montenegro in the last 4 years.
Nenad Todorovic, a specialist in ophthalmology from Podgorica, is also preparing to leave. Like his colleagues, he has been learning German for months to get a work permit in Germany. Montenegro, like other countries in the region, creates no prospects for young doctors.
"Our wages are low. I have a mortgage, and when I pay it off, I have to live on 300 Euros together with my family, so I am very depressed by my current economic situation".
A recent survey by the Westminster Foundation for Democracy in Montenegro found that about 70% of young people are considering leaving the country.
All this puts the Balkan states in a vicious circle: much of the population is making plans to leave, migration waves further weaken the economy, and the poor economic situation pushes more people away.
According to the World Bank, the negative consequences of high levels of emigration include loss of human capital and slower economic growth.
Romania, massive migration after joining the EU
After 2007, when Romania joined the EU, European borders opened for Romanian citizens, thus facilitating people's desire to leave the country's struggling economy.
According to the World Bank, 3.6 million Romanians currently live abroad – i.e. 18.2% of the population, with high skilled workers making up 27% of migrants. According to the World Bank, from 1990 to 2017, migration from Romania rose by 287%.
This process has led to shortages of labour, especially in science and technology.
Stefan Cibian, Executive Director of the Făgăraș Research Institute, says that migration increased during all the stages of the EU integration process, especially after visa liberalisation.
"Our institutions need a strategic approach to manage migration and need to accept reality. With this approach, they will limit the negative consequences of high migration, but also reap its benefits, because having such a large community living abroad is an immense asset", says Cibian.
Christian Moreh, lecturer in Sociology at York St. John University and also the author of the book "Romanians of Alcalá. Migration and social differentiation", explains that the way the liberalisation of the Romanian economy was accomplished in the 1990s caused a new wave of migration from Romania, because Romanians were already able to travel freely to other European coutries.
"The slow development of political liberalisation and democratisation is still a problem in Romania, which prevents people to go back and start their own businesses", he says. "Bureaucracy prevents migrants to return to Romania and pushes away even more people", adds Moreh.
Experts do not see any easy solution, but they suggest that countries affected by high levels of emigration need to offer locally something that Western European countries cannot offer young people, like technology infrastructure and easy legislation in creating companies.
Western Balkan migrants – both men and women – tend to be young and have relatively high levels of education. In the long run, high levels of emigration, especially among the highly educated, generate mismatches between the skills available and those needed in the country of origin.
Since massive migration is happening in Western Balkan countries even before they join the EU, one can only wonder if people will stay once they do.
This article is part of the project "Migration in the Balkans, before and after joining the EU" organized by Kosovo Institute for Economic Development and the Făgărash Research Institute and sponsored by the International Alumni Centre-Berlin.
I commenti, nel limite del possibile, vengono vagliati dal nostro staff prima di essere resi pubblici. Il tempo necessario per questa operazione può essere variabile. Vai alla nostra policy
blog comments powered by