PEDAKOS (Preschool Education Development Alliance for Kosovo), alongside the children of Kosovo
In the next three years and thanks to the collaboration with RTM and its project PEDAKOS , we will deal with early childhood in Kosovo. A sector that has a significant impact on both the education and the social inclusion of girls and boys. "PISA 2015 – Programme for International Student Assessment" by the OECD sees Kosovo occupy the 69th position out of a total of 72 education systems monitored, signalling the need for an overall reform of the education system. The document is to be credited for pushing public institutions and local civil society, together with the international community, to take an interest in the preschool sector. The activities of RTM and its partners, both local and Italian, will focus on the professional training of pre-school staff; on the dissemination of good practices by supporting 15 pilot preschools in adopting an educational approach based on the protection and promotion of children's rights and potential; on encouraging the participation of public, private, and community kindergartens and other institutions in the definition of sector policies. OBC Transeuropa will support this project with investigations and original content on the many issues it raises, with articles and multimedia products.
PEDAKOS is financed by Agenzia Italiana per la Cooperazione allo Sviluppo and implemented with the support of AICS Tirana and the 'Italian Embassy in Pristina .
Arta Berisha
| 23/4/2021
An already fragile system, severely affected by the Covid-19 pandemic. We met educators and families from the 0-6 education sector in Kosovo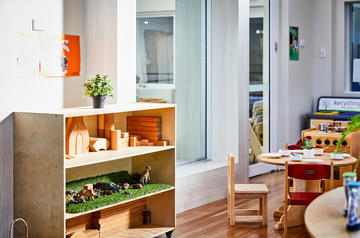 Arta Berisha
| 7/1/2021
Not all municipalities in Kosovo have their own infant-toddler centre, and the public resources invested in the sector are minimal. Yet, at the Faculty of Education in Prishtina, efforts are being made to train teachers who put the needs of children first. An interview