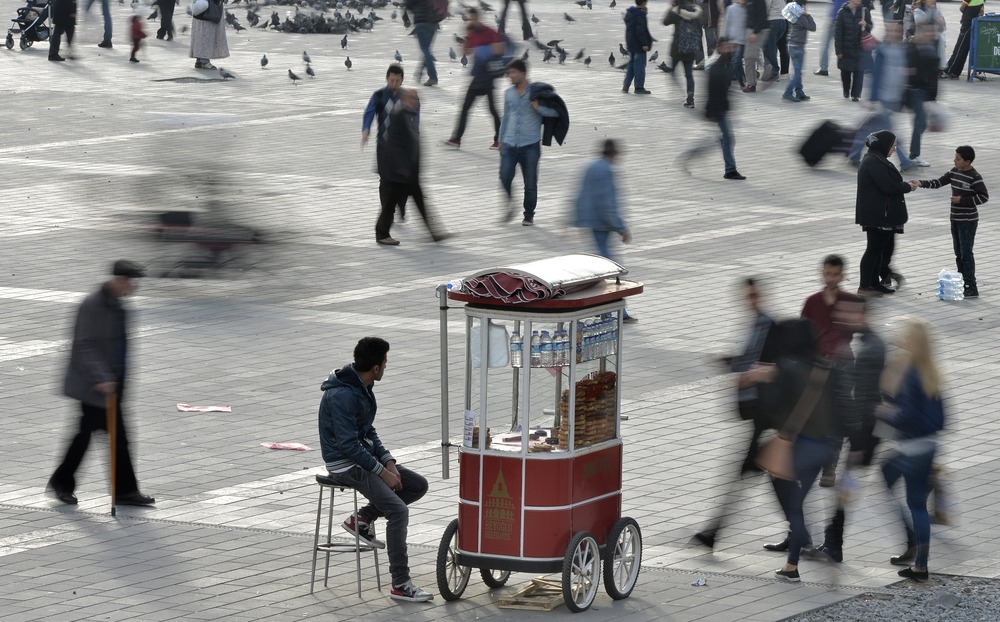 The recent attack in the heart of Istanbul brought the issue of political violence in Turkey back to the fore, but also dramatically exposed the limitations on access to free information in the country
On Sunday afternoon of November 13, a bomb exploded on a packed pedestrian avenue in Istanbul's historic Taksim district, claiming six lives and injuring more than 80. While Turkey reeled from the news, its citizens were also left struggling to find reliable information about what had happened.
People in Turkey often turn to social media for fast, on-the-ground information in crisis situations. However, access to platforms like Twitter, Instagram, and Facebook was temporarily restricted with a technique known as "throttling" that makes these sites load slowly or not at all. The situation was no better for people hoping to learn more from mainstream television channels, as Turkey's media watchdog, known as RTUK, issued a temporary broadcast ban on the topic of the bombing. All this comes after Turkey passed controversial legislation known colloquially as the "censorship law" and described by the government as a law targeting disinformation.
The aftermath of the bombing offers hints as to what freedom of the press, speech, and information will be like under this new legal atmosphere as Turkey again heads toward elections.
"Everybody is thinking the same thing but nobody can write it"
One haunting phrase went viral across social media in the wake of the explosion in Taksim: "Everybody is thinking the same thing but nobody can write it".
Fresh in many people's memories is the bloody period of terrorist attacks and explosions that Turkey experienced in 2015-2016, but especially in the period between the general elections in June 2015 and November 2015. This period saw gunmen armed with automatic weapons attacking Istanbul Ataturk airport and bombs exploding throughout Istanbul and Ankara.
Some of these attacks were carried out by Islamic State militants and others by the outlawed Kurdistan Workers' Party (PKK). However, for too many in Turkey, terrorist attacks are now firmly associated with election season. This is likely what many were thinking but could not say as the country was again struck by terrorism after six years without such a major attack on civilians.
Yet why were so many people hesitant to state this aloud? According to Freedom House's most recent report on freedom of speech around the world, Turkey is in the "not free" category. It also ranked 153rd out of 180 in last year's World Press Freedom Index by Reporters Without Borders.
After the "disinformation law" and with elections set for 2023, the situation is likely to deteriorate even further, as Assistant Professor of International Relations at Johns Hopkins University Lisel Hintz argues.
"We can see the disinformation law in the context of the run-up to elections as the government's efforts of trying to find ways of criminalising critical reporting, of criminalising individuals who are sharing posts on social media, who are complaining about inflation, who are complaining about government policies", Dr. Hintz said in a recent interview .
"Publicly distributing false information"
The disinformation bill, ratified in the Turkish parliament on October 18, adds a new crime to Turkish law: "publicly distributing false information". Those who commit this offense can be jailed for up to three years, or even longer if the "false information" is shared from an anonymous social media account. Not just journalists, but any social media user can be charged with this crime.
One of the biggest issues the law's critics point to is that "misinformation" or "false information" is not clearly defined, so it is left to the courts to decide what is fact and what is not. This comes at a time when the World Justice Project ranked Turkey as low as 116th among 140 countries worldwide in terms of rule of law and the independence of the judiciary.
Media organisations both within Turkey and abroad have warned that this new law will expand censorship, have a chilling effect on public debate, and further criminalise journalism as Turkey heads toward a historic election.
As legal scholar Kerem Altiparmak explains, under this law saying that inflation in Turkey is at a higher rate than the state statistics can be a reason for arrest, for example. Or if someone publicly declares they have experienced police violence but the courts rule this is untrue, they can go to jail.
After the Taksim bombing, these scenarios are not hypothetical but fact. A total of 25 social media account holders were identified for posts "intended to spread fear and panic among our citizens" according to a November 13 statement by the Department for Combating Cyber Crimes under the General Directorate of Security.
No access to vital information
The broadcast ban and Internet throttling meant that after the bombing people in Turkey, including those in the area directly affected, were not able to access vital information. While maliciously false information can put citizens in more danger, some have argued that these bans put people at the mercy of even less reputable sources for information.
One metric for trying to predict how the "disinformation bill" will play out is the effects of the previous social media law passed in 2020. This required companies like Facebook and Twitter to open local offices and comply with government requests or else be unable to operate in Turkey. According to the independent Media Research Association (Medya Arastirmalari Dernegi), in the first seven months after the law was passed, Turkey ordered 658 posts or news items to be removed. Most covered corruption or irregularities among business people, ministers, or high-level bureaucrats.
Whether or not the new disinformation bill will function similarly to 2020's social media bill remains to be seen. However, it will only serve its true function if it goes after dangerously false information, whether in independent media or pro-government channels, without showing bias.
Until then, the restrictions in Turkey limit people's ability to access information at critical moments. However, people always find a way to communicate, even if through whispers or what is left unsaid.
I commenti, nel limite del possibile, vengono vagliati dal nostro staff prima di essere resi pubblici. Il tempo necessario per questa operazione può essere variabile. Vai alla nostra policy
blog comments powered by