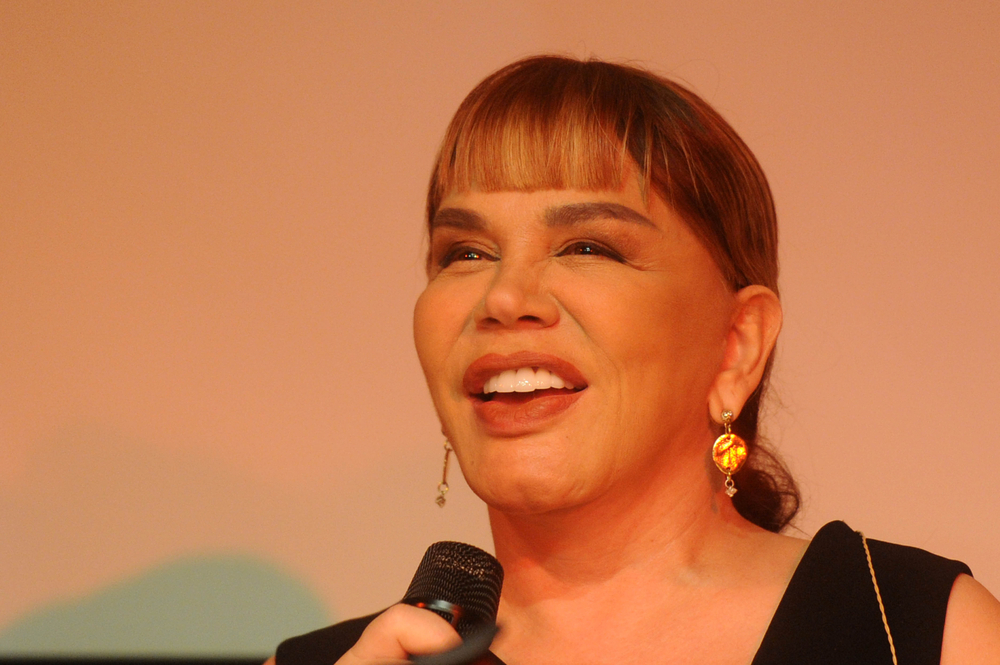 A recent intimidation campaign against Sezen Aksu, the queen of Turkish music, has highlighted how artists as well as politicians, journalists, and activists are subjected to censorship and pressure from power in the country
It is not every day that the president of a country threatens a pop singer, but that is what happened when Turkish President Recep Tayyip Erdoğan promised to "rip out the tongues" of those who insult religious figures.
Erdoğan's speech came days after religious conservatives in Turkey began targeting legendary singer and songwriter Sezen Aksu because a four-year-old song that describes Adam and Eve, considered holy figures in Islam, as "ignorant".
Since Erdoğan's incendiary "ripping out tongues" threat, Turkish diva Aksu issued a powerful statement declaring that she has been writing songs for the last 47 years and will continue to do so. After widespread public support for the musician, Erdoğan backtracked and said his words were not about Aksu at all. At the president's signal, his supporters also backed down.
However, weeks of threats against Aksu at the highest level of the state have revealed that it is not only activists and journalists who are in danger in Turkey. While Turkey is now the sixth-worst jailer of journalists (down from first in 2016), the plight of artists and musicians is not as widely discussed.
The latest State of Artistic Freedom report by Freemuse confirms with figures the fear and anxiety that cases like the attack on Sezen Aksu create among artists in Turkey. In 2020, Turkey had seven artists in prison, sharing third place in the world with Myanmar, Belarus, and China. The same year, 17 artists in Turkey were prosecuted. Of all the 236 cases of violations to the right of freedom of artistic expression documented across the world in 2020, Turkey registers the most with 32 cases.
The case of Sezen Aksu may be exceptional because of her fame and the widespread support she enjoys. However, it is still illustrative of the cycle of online harassment and legal action that typically brings artists into the government's crossfires.
Sezen Aksu, known affectionately as Turkey's "Little Sparrow", has been a beloved performer since she began releasing music in the mid-1970s. She has had countless number one hits in Turkey and albums like Aglamak Guzeldir (1981) and Isik Dogudan Yukselir (1995) are considered masterpieces. Her collaborations with composer Goran Bregovic and singer Haris Alexiou introduced her to European audiences in the 1990s. Turkey's "Queen of Pop" is now 67 and continues to release music that reaches the top of the national charts from radio to streaming.
The song that recently brought Aksu into the headlines is actually from 2017. However, on 30 December 2021, she released a music video for the song "Sahane Bir Seydir Yasamak" (Living is a Wonderful Thing), which brought it into public awareness. The song describes the sweetness and pain of living. According to Aksu, life is like a roller-coaster we ride from birth to death. On the way, we "wave hello to that ignorant Eve and Adam".
Those lyrics angered some conservatives in Turkey. In the first days of 2022, the hashtag #SezenAksuKnowYourPlace began to trend on Twitter. Afterward, a lawyer in Ankara fired a criminal complaint against Aksu. According to Article 216/3 of the Turkish Penal Code, "public degradation of religious values" is a crime. On 17 January, a far-right nationalist group known as the National Defense Movement, with links to Turkey's Interior minister, threatened Aksu and held a protest in front of her house.
At this point, MPs from the ruling Justice and Development Party (AKP) and its partner Nationalist Action Party (MHP) also began targeting Aksu for insulting Turkey's values "under the guise of art and music", as one politician said on Twitter. Then on 21 January, at Friday prayers at the Grand Camlica Mosque in Istanbul, President Erdoğan thundered, "Nobody can wag their tongue at the holy Adam. It is our duty to rip out those tongues".
Though Erdoğan did not mention Aksu, the reference to Adam made it clear that Turkey's president had thrown his full weight behind the campaign to intimidate and silence anyone who says things, even in the context of artistic creativity, that conservatives find objectionable.
On the same day, the deputy chairman of Turkey's Radio and Television Supreme Council began calling channels warning them against playing Aksu's song or others like it. While it is not illegal to play the song, RTUK can effectively ban content it does not approve of by issuing penalties or temporary broadcast bans against TV channels.
After the broadcast warning and Erdoğan's threat, Turkey's opposition began rallying to Aksu's defense, including Istanbul Mayor Ekrem Imamoglu and legendary actress Mujde Ar. Then Aksu issued her own powerful response on 22 January in which she thanked everyone who has supported her and then shared the lyrics to a new song called "The Hunter". The lyrics include phrases like "You cannot crush my tongue", in an apparent reference to Erdoğan, and "Let's see who is the traveler and who is the innkeeper", which suggests that while politicians come and go, a country's artists remain. On social media, the lyrics were widely shared and translated into more than 50 languages.
Four days after Aksu's statement, Erdoğan issued what many saw as a retraction when he said, "My statement was not directed at Sezen Aksu, an important name in Turkish music who has translated the feelings of our people with her songs".
It is rare for Erdoğan to back down once he has targeted someone. This rare example may show that the opposition was effective in uniting behind Aksu. Or perhaps he was hesitant to insist on targeting a musician who, though often aligned with left or liberal causes, supported his government in the early 2010s on a constitutional referendum and a since-abandoned peace process with the Kurds.
Yet, just because the president has backed down from targeting a musician as famous as Aksu, it does not mean that attacks against artists and freedom of expression will decrease.
In fact, a late-night presidential circular letter released on 28 January, just a day after Erdoğan's retraction, has caused many observers to worry that a new crackdown is coming. The letter says that the "digital age has as many dangers as benefits" and that "decisive steps" must be taken against "the disruption of the family structure" and "the wearing down of our national and spiritual values with media".
Since the letter was released, already one television show on an opposition channel has been taken off the air on accusations of promoting "paganism and propaganda for satanism". With freedom of expression under threat in Turkey, there is little to stop these bans from extending further into music, film, visual arts, and other fields.
I commenti, nel limite del possibile, vengono vagliati dal nostro staff prima di essere resi pubblici. Il tempo necessario per questa operazione può essere variabile. Vai alla nostra policy
blog comments powered by