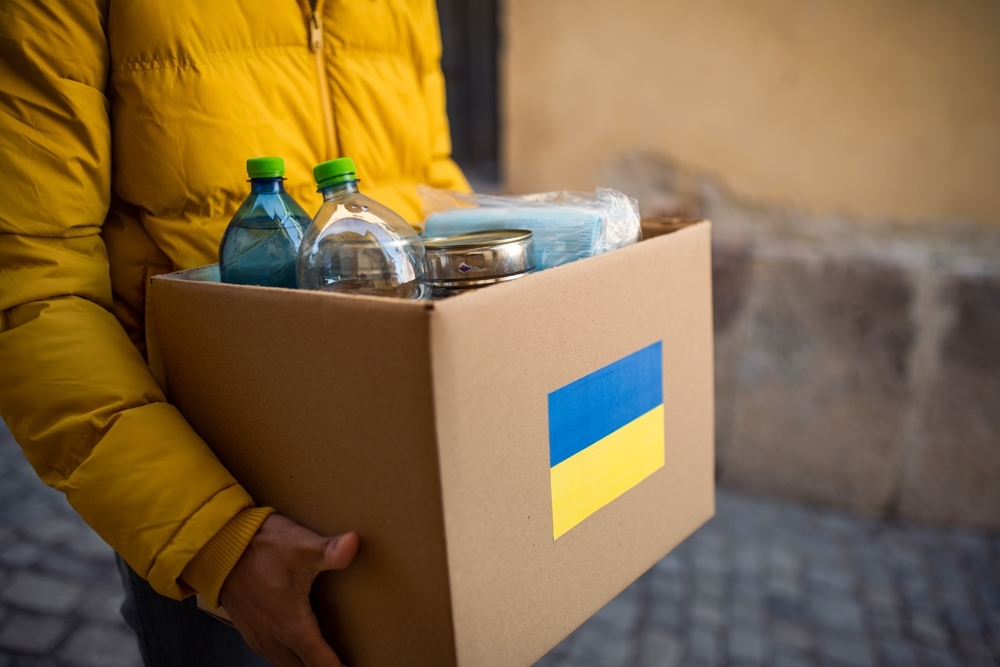 After Putin's invasion, Greece has shown solidarity with both Ukraine and the many refugees who have arrived from the country in war. However, there are concerns about the possible fallout from the rift with Russia, which had longstanding and solid relations with Greece
Dozens of cardboard boxes stacked at the Foyer of the City Hall of Thessaloniki: the place has recently become a hive of humanitarian activity to support Ukraine. Staff and volunteers, some of whom Ukrainian expats living in Greece, move around swiftly, classifying donations per item: pills and bandages are separated from food cans, warm clothes, and blankets. Everything has been offered by individuals, organisations, or trade unions in a collective act of solidarity towards people affected by war. In the last weeks, 80 tons of first aid supplies have been sent from Thessaloniki only to different Ukrainian cities.
In addition to humanitarian aid, Greece has been sending defence supplies. Moreover, it has generously opened its borders to Ukrainians seeking refuge. Displaced persons are automatically granted a one-year temporary protection by the Asylum Service of the Ministry of Migration and Asylum, which gives them the right to access the labour market and medical care. Moreover, there is the possibility of accommodation in open structures.
According to figures provided by the Hellenic Police and communicated via the Ministry of Civil Protection, approximately 8,000 Ukrainians have crossed the Greek border since the beginning of the Russian invasion of their country. In the last 24 hours, 835 Ukrainian refugees entered Greece, including 281 minors.
A social worker employed in a large humanitarian organisation operating in Northern Greece talked to OBCT about the experience of welcoming Ukrainian refugees in their site: "It is the first time in my life that I see such a contrast among asylum seekers. On the one hand, we are receiving people who have lost everything. They have nowhere to go to, no money, no other choice. Most of them are women with children. As I understand, men have stayed behind to fight. On the other hand, there are the more privileged ones. The other day, a couple arrived with their children. From the way they were dressed, the car they drove, you could tell that these people had a good life back home. They came to our camp because they had been told at the border that this was the formal procedure. They thanked us, but refused to stay. They just asked where the nearest hotel was".
Olena is one of the single women who have arrived in Thessaloniki together with her sister and niece. They fled Odessa as soon as the bombings started. After spending a few days in Moldova, where they stayed in shared apartments for a small fee, they decided to head to Greece via Romania.
'We had a small budget for basic expenses. It might sound naive now, but when we left, we thought that this would only be for a few days. When we started running low on money, we understood that we need to find a solution. I heard that Greece was providing residence permits to Ukrainians, so I took a chance. I might as well find a job. No one can predict how long this situation will last. And this is scary".
At the time of the interview, Olena and her family were being hosted at a friend's house, but were planning to move to a refugee camp in a nearby city. "I am grateful to my friend, but we cannot stay here any longer. We need to find our own way".
Natalia from Mariupol is also counting on the support of local friends, at least for the first days. She crossed the Promachonas border together with some other relatives.
"It feels much safer to be on EU soil", she says.
Ever since the outbreak of conflict, the Greek state has openly expressed solidarity with Ukraine. In a parliament debate on Ukraine, Prime Minister Kyriakos Mitsotakis said: 'We have always been on the right side of history, and we are doing the same now".
Choosing the 'right side', however, is not as obvious as one might think, especially considering the long friendship between Greece and Russia. The two countries have longstanding historical, cultural, and religious ties. In Greek Orthodox prophecies, Russia is depicted as the 'blond angel' that shall protect the Greek nation from enemies in its geographic proximity and beyond. Bonds of Orthodoxy, shared ideology, and 'pure blood' still affect a significant part of Greek nationals, inside and outside Greece, who would resent favouring Kyiv over Moscow.
When the European Parliament responded to an emotional address from Ukrainian President Volodymyr Zelensky and voted overwhelmingly in favour to accept Ukraine's application to join the European Union, two of the 13 MPs who voted against were Greeks. These were Ioannis Lagos and Lefteris Nikolaou Alavanos, representing the far-right and the far-left, respectively.
Lagos is one of the leaders of 'Golden Dawn', a neo-Nazi party recognised by Hellenic justice as a criminal organisation. Golden Dawn had reached peak popularity during Greece's financial crisis in 2012. As its members gained power and influence, their hateful rhetoric and violent practices against immigrants and left-wing activists caused wide controversy. The murder of anti-fascist musician Pavlos Fyssas in 2013 stirred public outrage and triggered a criminal inquiry. As a result of a five-year trial, 39 defendants were convicted for their involvement in the organisation's unlawful activities. Lagos was one of them, but managed to avoid arrest because of his parliamentary immunity.
There are also well-known journalists, academics, and artists who have not followed the solidarity route. Furthermore, amid soaring prices in basic goods and energy, many entrepreneurs call for the Greek government to exhibit neutrality, warning against the devastating impact of an imminent economic crisis. As the tourist season is about to start, tour operators and local business-people express their pessimism over a Russian-free summer.
"In comparison with other nationals, who try to save as much as possible on their holidays and even bring food from their own countries, Russian tourists spend serious amounts of money", says to OBCT a Greek realtor operating a business near Mount Athos, a place of high religious symbolism.
In terms of economic figures, Russia is a heavy investor in Greece with mega-projects in the sector of tourism, energy, transport, real estate, and sports. Citing data from the Central Bank of Russia, the Hellenic Bureau of Economic and Commercial Affairs in Moscow had calculated that, at the end of 2020, the stock of Russian direct investments in Greece had reached 664 million Euros. In the same year, the volume of bilateral trade was estimated at 3 billion Euros.
I commenti, nel limite del possibile, vengono vagliati dal nostro staff prima di essere resi pubblici. Il tempo necessario per questa operazione può essere variabile. Vai alla nostra policy
blog comments powered by