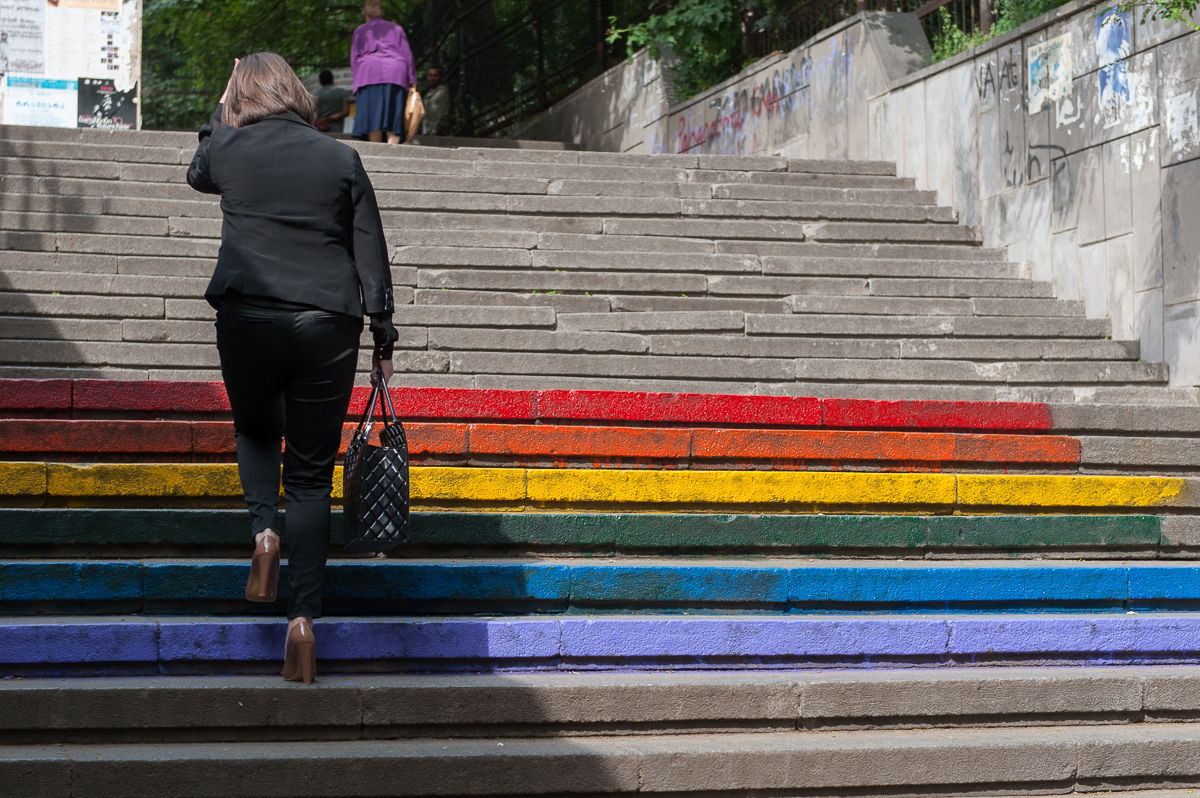 Following last year's rampage by conservatives targeting LGBT activists intent on marking 17 May as the International Day Against Homophobia and Transphobia (IDAHOT), the Georgian Orthodox Church this year instead declared the day as one celebrating family unity. And while civil society did not take the attempt to hijack IDAHOT lying down, some are concerned that this is just the start
In yet another blow to gay rights in Georgia, there was no marking of the International Day Against Homophobia and Transphobia (IDAHOT) in Tbilisi this year. In a statement released by IDENTOBA , an NGO working on LGBT issues in the country, the environment was considered too dangerous to hold any events following the violence that erupted a year earlier . Instead, in what activists saw as an implied threat of additional violence and confrontation, the Georgian Orthodox Church declared 17 May to be the "Day of Families and Parents."
"Unfortunately, LGBT activists are unable to organise or plan any counter protest to this absurd situation due to security reasons and state's inability to ensure their safety," IDENTOBA's statement read. "Until now, neither we, nor other human rights actors, have been able to meet with the representatives of the police to discuss security concerns for that day. It is expected that not only the streets of Tbilisi will be dangerous for LGBT individuals […]"
Meanwhile, the premier of a gay comedy film made in Georgia originally planned for the same day as IDAHOT was postponed. "We took the very painful and adverse decision not to present 'We Are Mad' on May 17, 2014," Democracy & Freedom Watch quoted the director, Otar MIkeladze, as saying. "The premiere will be held when Georgia becomes an European country."
National values
In neighbouring Azerbaijan, the situation was different with the Nefes Azerbaijan Alliance holding a LGBT 'rainbow flag' flashmob, although the head of the nationalist Karabakh Liberation Organisation, Akif Tagi, did accuse the group, as well as the Embassy of the Netherlands, of 'enmity' against the country. Meanwhile, In Armenia, leading LGBT organisation PINK Armenia held no events, but did issue a statement alleging 'state sponsored intolerance and discrimination.' However, the situation in Georgia is of most concern especially with the signing of its EU Association Agreement set for 27 June.
The counter-event, announced by Georgian Patriarch Ilia II and attended by many hundreds of believers, was also used to protest the recent passage of anti-discrimination legislation required as part of Georgia's Visa Liberalisation Action Plan with the European Union. Ironically, gay rights activists already consider the law, which was adopted on 2 May and came into effect five days later, as watered down in its second reading following criticism from the Church. "The legalisation of illegality is a very serious sin," the Patriarch declared. "There are issues which can not be allowed."
A petition to call for the removal of references to sexual orientation and gender identity in the law was also launched on 17 May, something that could resonate positively among a large number of Georgians. According to the results of an opinion poll released by the National Democratic Institute (NDI) earlier this month, while 73 and 79 percent of respondents said that they believed the protection of religious and ethnic minority rights was important, only 24 percent said the same for sexual minorities.
And in a survey held by the Caucasus Research Resource Centers (CRRC) following the violence on 17 May last year, 50 percent of respondents felt "physical violence can be acceptable towards those people or groups who endanger national values." Only 46 percent disagreed, with 57 percent believing that a "successful, peaceful celebration of IDAHOT would have endangered Georgia."
The invisibles
But if the Church's influence in a highly traditional society appears to have achieved its aim, civil society did not shy away from counter-actions. The next day, for example, 100 pairs of shoes appeared on the street adjacent to Tbilisi's Freedom Square 'on behalf of the invisible and against invisibility.'
"Today, these empty shoes stand instead of those humans, who dared, one year ago, to stand up against the invisibility of one social group, the LGBTQ community, those who tried to unmask how merciless we are […]," the organisers of the action wrote. "This is a protest for the invisible and against invisibility. Despite that fact that we couldn't yet manage to recognise and appreciate each other, we still exist, with our desire to speak […]. Turning a blind eye and covering our ears won't erase our existence, won't smooth over our wounds, and won't take away our ability to feel empathy and love."
And on 19 May, in a flashmob staged in the early hours of the morning, steps next to the Freedom Square metro station were painted in the colours of the LGBT rainbow flag while posters appeared throughout the city. "I am here against homophobia," they read. "I cannot find a reason to justify your hatred."
Hysteria
But despite the 'hit and run' tactics to protest homophobia in society, the trend remains negative. Just days before IDAHOT, the manager of the gay-friendly 'Cafe Gallery' posted an update on Facebook alleging that police had visited the venue's premises to demand the names, addresses, and phone numbers of staff members who were members of Tbilisi's LGBT community. Meanwhile, on IDAHOT itself, at the demonstration organised by the Church, believers openly accused and displayed aggression towards anyone they suspected on appearance alone of being gay or even 'different.'
As evidence of the hysteria emerging among some traditionally minded Georgians, a scuffle even erupted between two homophobic males who accused each other of being homosexual.
In such an environment, IDENTOBA's Irakli Vacharadze sees new threats emerging in the future if the government does not adequately respond to the potential dangers now. "The church is flexing its muscles and sees the anti-discrimination law as taking away their right to freely attack minorities," he told Osservatorio. "The danger is that this rhetoric could give birth to independent — even Neo-Nazi — groups that the church can't control. We have already seen anti-immigrant groups emerge, but that could be just the beginning. The worst might yet be to come."
And this could prove to be a major obstacle to the country's gradual integration with Europe.
"It should be understood that the issue is not about so-called propaganda for a certain lifestyle but about ensuring basic rights to all human beings," Thomas Hammarberg, EU Special Adviser on Constitutional and Legal Reform and Human Rights in Georgia, wrote in a September 2013 report. But civil society activists such as Vacharadze argue that the government is still not ready to tackle this issue in earnest. The rainbow flag painted on the steps close to the Liberty Square metro station is another example of that.
A week after it appeared, it was removed in what ostensibly appeared to be construction work. IDENTOBA, along with many Georgian Facebook users, remain unconvinced.
I commenti, nel limite del possibile, vengono vagliati dal nostro staff prima di essere resi pubblici. Il tempo necessario per questa operazione può essere variabile. Vai alla nostra policy
blog comments powered by