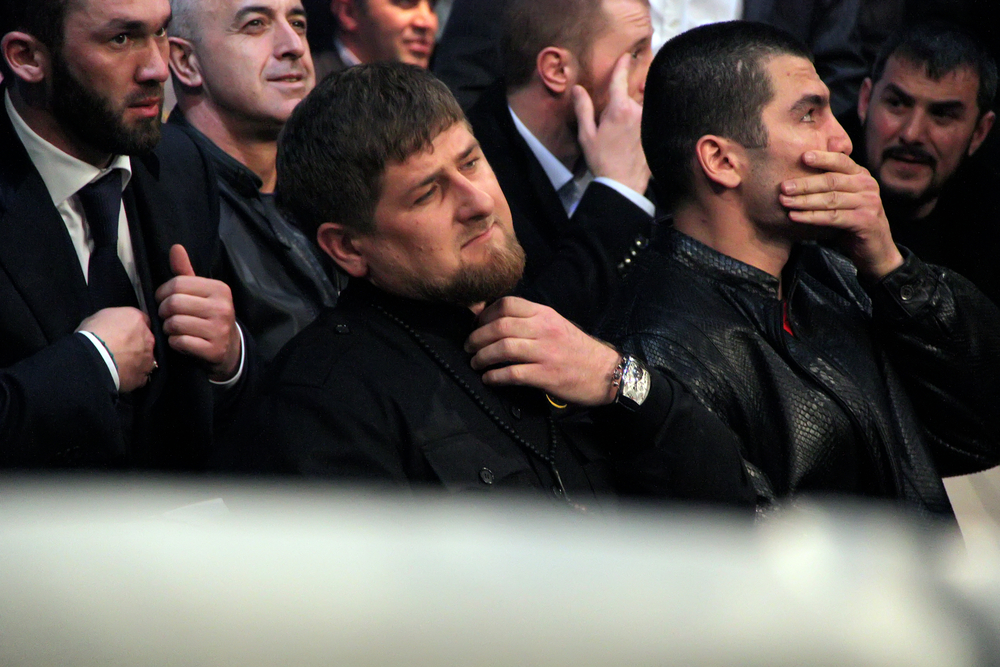 An unexpected tv report puts shame on Islam Kadyrov, a disgraced grandson of President Ramzan and former mayor of Grozny. The news quickly spread throughout the social media, leading users to guess what happened behind the curtains
The report shown by the Chechen State TV on October 25th caught everyone by surprise. If usually the "negative" part of the Chechen news would feature a story about a successful witch hunt or about a just detained bunch of drug users, this time the protagonist was a member of Kadyrov's team, that has ruled the republic since the early 2000s. On top, he is a close relative of the head of the republic Ramzan Kadyrov. In other words, this report was very unusual to say the least.
The 13 minute-long footage showed the former mayor of Grozny Islam Kadyrov screaming at and insulting people, threatening them, discharging a stun gun onto a woman, throwing small stationery items at another one, while interrogating her in the mayor's office.
The report continued claiming that these "unconventional" work methods were the reason for his discharge in 2017. This claim was supported by the short footage in which the head of the republic, referring to his nephew, concluded that "incompetent people should not occupy positions, even if they are somebody's relatives".
The news quickly spread throughout the social media, leading users to guess what made the current elite give up on one of them and why it happened now. There are several possible versions, but two of them deserve a closer look.
A leak?
One of these versions was voiced by Tumso Abdurakhmanov, opposer of the current Chechen elite currently based in Europe. The videoblogger, who had to seek asylum in Europe after he was accused of following the Salafi stream of Islam by then mayor Islam Kadyrov, became a real pain in the neck for Chechen officials.
Abdurakhmanov openly accuses the most influential of them of many crimes, despite all the pressure that the regime imposes on him and his relatives. In support of his activities, many Chechens send him video materials that help the videoblogger in his struggle against the regime in the republic. This way, according to Abdurakhmanov, he received incriminating material about his "personal enemy" Islam Kadyrov and was ready to release it, but somebody from the government learnt about this leak and prevented it by releasing the materials first.
Anyway, Islam Kadyrov was already going down. He was sacked from his position of mayor back in 2017, when he lost the trust of his omnipotent uncle and the republic's leader Ramzan Kadyrov. Word of mouth and the investigation conducted by Novaya Gazeta in 2017 claim that the then mayor of Grozny was involved in a plot against Kadyrov. It was him who leaked the secret mobile phone number of his uncle to his enemies, the Yamadayev brothers. The latter, according to Novaya Gazeta, were plotting to avenge the death of two elder brothers, who were allegedly killed by order of R. Kadyrov. Some people claim that Islam himself wanted to poison his uncle, but these rumours have a little ground.
In any case, Islam Kadyrov made it then. As a punishment, he was shot in his hands, sacked from his position, and employed as a janitor – a humiliation which was supposed to teach him a lesson – and then "promoted" to rank-and-file security officer at the entrance to R. Kadyrov's hometown. Everyone expected him to be rehabilitated after that, but two years later he could become a subject of investigation.
Or a massive cleansing in the Chechen elite?
The second version, that does not contradict Abdurakhmanov's, is voiced by Novaya Gazeta , which writes about a massive "cleansing" of the Chechen elite. Islam Kadyrov would be just one of its victims. According to Novaya Gazeta, others – including many high-rank officials – are held in secret prisons across the republic.
Most probably, they will pay for their disloyalty losing their possessions, positions, maybe they will be tortured or even killed, but it is unlikely that they will become the objects of investigation as happened to Islam. It is unusual for the Chechen elite to rely on official law, which is less fearsome than punishment behind the curtains. Thus, the government likely decided to earn some transparency points while getting rid of the untrustworthy elements in its ranks.
It is highly unlikely that Islam Kadyrov will be completely sacrificed to the law, though. The report was constructed in a way which partly justified his "unconventional" methods. Although it is not a mayor's duty to interrogate people in the office, Islam – according to the report – used such methods only with "tax avoiders" or "rogue criminals".
Moreover, as the report emphasised, his behaviour was most probably a result of his damaged psychology. After a car accident some years ago, Islam had to undergo a medical treatment, which included some drug-based medicines. All this makes Islam Kadyrov – or any other members of the government who do not mind using similar or even harsher "unconventional" methods – unreachable to the official law.
I commenti, nel limite del possibile, vengono vagliati dal nostro staff prima di essere resi pubblici. Il tempo necessario per questa operazione può essere variabile. Vai alla nostra policy
blog comments powered by