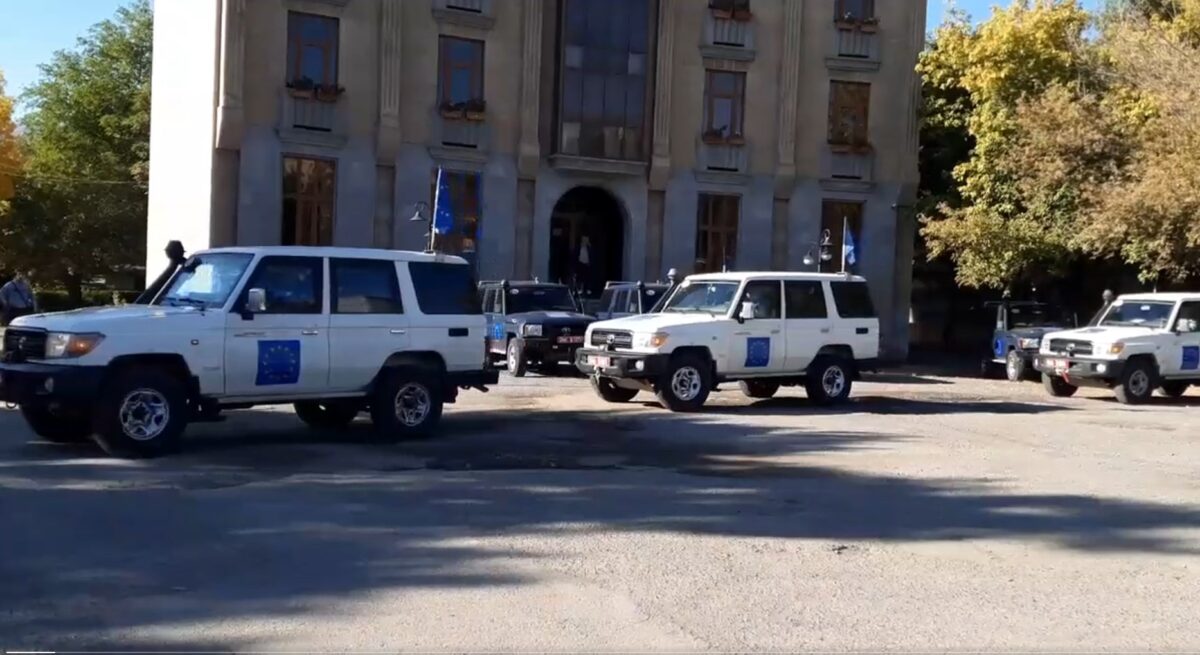 The European Monitoring Capacity (EUMCAP) is the short-term EU mission deployed on the borders between Armenia and Azerbaijan with the aim of reducing tensions between the two states and strengthening their mutual trust
The European Union has deployed around 40 unarmed civilian monitors on the Armenian side of the border with Azerbaijan following serious military escalation on 12-13 September, that saw the latter strike and capture territory within the former, leaving nearly 300 dead on both sides. Though requested in September by Armenian Foreign Minister Ararat Mirzoyan, the decision to deploy the monitors came on 6 October at the meeting in Prague between Prime Minister Nikol Pashinyan, Azerbaijani President Ilham Aliyev, European Council President Charles Michel, and French President Emmanuel Macron. Azerbaijan, however, did not consent to the mission's presence on its side of the tense border, though it did agree to "cooperate with this mission as far as it is concerned".
Formally approved by the EU member states on 17 October, the monitors have since started their short mission of only two months following the visit by an EU technical mission days earlier. Though some Armenians hoped for a longer and even a military presence, despite the EU being more known for its civilian missions, this was not unexpected. Indeed, on 29 October, Special Representative for the South Caucasus and the Crisis in Georgia Toivo Klaar explained that the only way to deploy quickly would be to use some of its 200 monitors in the European Union Monitoring Mission (EUMM) in neighbouring Georgia. Moreover, the Armenian mission's two-month duration would be funded from EUMM Georgia's budget, currently at 22.4 million Euros per year, and will not be extended.
EUMM, also a civilian monitoring mission, was deployed in Georgia in the aftermath of the August 2008 Russia-Georgia war and monitors the country's Administrative Boundary Lines (ABLs) with two other breakaway regions in the South Caucasus – Abkhazia and South Ossetia. Klaar, incidentally, was EUMM Georgia's head in Tbilisi in 2013-14.
Despite its small and temporary nature, however, the mission, named the European Monitoring Capacity (EUMCAP) in Armenia , is expected to lead to a reduction of tensions on the border by contributing to confidence-building measures between Armenia and Azerbaijan as well as assisting the ongoing process of border delimitation between the two countries. This was particularly highlighted on 27 September at a meeting between Armenian Security Council Secretary Armen Grigoryan and Azerbaijani Presidential Advisor Hikmet Hajiyev, facilitated by US National Security Advisor Jake Sullivan in Washington D.C.. Sullivan stated that not only would Armenia and Azerbaijan commit to "begin time-bound, text-based negotiations to complete a peace agreement by the end of the calendar year", but an alleged document leaked on Telegram also included reference to the need to "complete delimitation of the Armenian-Azerbaijan international border in parallel with peace negotiations to be done by the end of the calendar year".
Security Council Secretary Grigoryan repeated much of the content from the leaked document word for word in an interview just days later, effectively confirming its authenticity. Though some analysts believe that this short timescale might not be feasible, others do, though they are also cautious and suggest that a framework agreement upon which to build later might be more likely. Some are now also unsure what the 31 October trilateral meeting between Aliyev, Pashinyan, and Russian President Vladimir Putin in Sochi might mean for the two increasingly competitive peace platforms being considered by Yerevan and Baku – one facilitated by Brussels and supported by Washington D.C., and the other led by Moscow.
As a sign of this increasing disagreement, both Russia and Iran have reacted negatively to the brief deployment of EUMCAP in Armenia. "We see this as yet another attempt by the EU to interfere by any means in the normalisation of relations between Armenia and Azerbaijan, to oust our country's mediation efforts", accused Russian Foreign Ministry spokesperson Maria Zakharova. Yerevan, however, remains frustrated that the Collective Security Treaty Organisation (CSTO) the – Moscow-led security organisation of which Armenia is also a member – has failed to respond to requests to deploy its own mission. Meanwhile, Moscow is also unhappy with the EU's engagement in the process of border delimitation.
Indeed, on the eve of the meeting of the Armenian and Azerbaijani border commissions in Brussels in early November, Russian President Putin again said that the Russian Federation is ready to provide "the most accurate maps of the Soviet General Staff" to resolve the issue of demarcating the border between Armenia and Azerbaijan. During the EU-facilitated meeting in Prague on 6 October, both Armenia and Azerbaijan had already confirmed their commitment to the 1991 Alma-Ata Declaration through which they recognised each other's territorial integrity and sovereignty.
On 3 November, those border commissions met for the third time in Brussels following earlier meetings on the Armenian border with the Azerbaijani exclave of Nakhichevan as well as in Moscow. At time of writing, little is known of what concrete details were discussed, but reports indicate Brussels, Yerevan, and Baku were satisfied with the meeting. "The European Union urges the sides to take steps to improve security on the ground and to achieve progress on delimitation", tweeted Stefano Sannino, Secretary General of the EU External Action Service.
Also present at the meeting of the two commissions, headed by Armenian Deputy Prime Minister Mher Grigoryan and his Azerbaijani counterpart Shahin Mustafayev, was Toivo Klaar. The following day, on 4 November, NATO Deputy Assistant Secretary General for Political Affairs & Security Policy and Special Representative for the Caucasus & Central Asia, Javier Colomina, also welcomed the meeting.
"Good news to see our partners discussing border delimitation, a must to increase security on the ground. #NATO supports the normalisation of relations between Armenia & Azerbaijan, and welcomes #EU efforts towards that end, including hosting this talks and launching recently the @EUMCAP", Colomina tweeted. And on the day of the meeting in Brussels itself, Armenian Foreign Minister Ararat Mirzoyan announced that he would be again visiting Washington D.C. to meet with his Azerbaijani counterpart, Jeyhun Bayramov, and US Secretary of State Antony Blinken.
Azerbaijan has said that it would like a peace treaty signed by the end of the year, and Armenia has tentatively agreed, but there are still many obstacles to overcome after more than three decades of hostility. Nonetheless, the West clearly views EUMCAP as a necessary instrument to help create a more conducive environment in which to reach such an agreement.
"What you can expect to see in the weeks and months ahead is continued American engagement, continued senior-level American engagement", said US State Department spokesperson Ned Price on 11 October. "I can't promise a particular outcome, but I can promise that it will remain a priority for us".
I commenti, nel limite del possibile, vengono vagliati dal nostro staff prima di essere resi pubblici. Il tempo necessario per questa operazione può essere variabile. Vai alla nostra policy
blog comments powered by