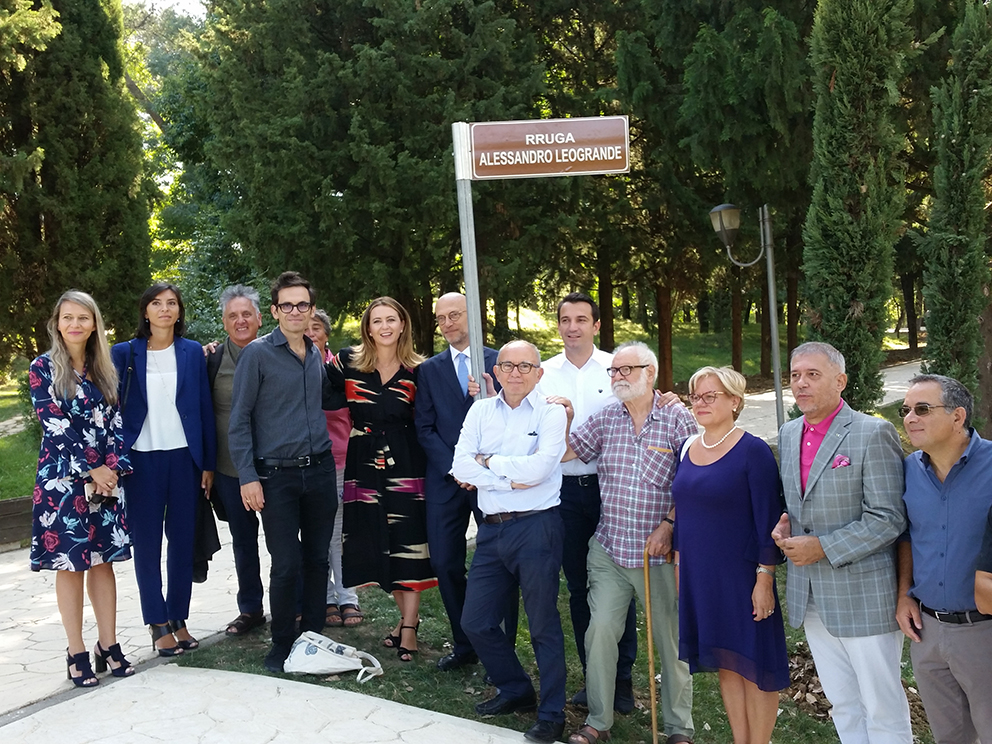 Less than a year after his untimely death, Albania celebrates Alessandro Leogrande. The Municipality of Tirana dedicates him a street and his Albanian publisher celebrates his work. Here, we remember him through a conversation he had with his friend Nicola Lagioa
It is a strange day, as beautiful as it is difficult, the one Tirana wanted to dedicate to the memory of Alessandro Leogrande, Apulian journalist and writer, who with the curiosity and commitment of the intellectual also touched the Albanian coasts and the lives of many people here, that he met and told in his books. A day that begins with the inauguration of the street that the municipality has named after him in the popular Parku i Liqenit – a recognition of his commitment to those who cannot defend themselves, those who have never had or no longer have a voice: migrants, foreigners, the last ones.
"He gave us a great gift, our story. He had to be the one to tell it", says his publisher, Arlinda Dudaj, who had translated in Albanian Il Naufragio (The Shipwreck, 2011), a novel-investigation that reconstructs the day of March 28th, 1997, when Albanian patrol boat Katër i Radës sank in the Strait of Otranto with 120 people on board. The reportage series Adriatico (2012) and La frontiera (2017), the last unforgettable work on migratory waves in the Mediterranean, were also published in Albanian.
In Tirana, on September 8th, the day of the inauguration, some of his dearest friends and colleagues met: his mentor and historical contributor of the magazine "Lo Straniero" Goffredo Fofi, writers Nicola Lagioia and Ylljet Aliçka, and the collaborators of the Puglia Region, Loredana Capone and Luigi De Luca, who had entrusted him with the Regional Strategic Plan of Culture.
They remembered him together, each in their own way, but with the shared awareness of having had to say goodbye too soon to a unique intellectual in the Italian cultural scene. Unique was the way he was able to tell the contradictions of the present, without hesitations and rhetoric – because even when direct and ruthless, Leogrande's prose is never accusatorial.
During the meeting, the memories of the participants were interspersed with some passages of Il Naufragio read by the actors of the Koreja Theatrical Sites company, that have recently presented in the main Albanian cities the theatrical piece Katër i Radës, an artistic transposition for which Leogrande himself had worked with passion in the last years.
Thought and action
"Thought without action is a vain illusion, action without thought is a vain effort", said Goffredo Fofi, summing up in a quote Alessandro's way of working and living and comparing him to masters like Kapuściński and all those journalists-writers who through books "that manage to get to the heart of situations and truths, but are also exceptionally written". "Alessandro – continued Fofi, who with Leogrande shared for twenty years 'the very small office' of the direction of Lo Straniero – wrote some of the most beautiful pages in Italian literature at least of the last ten years. I learned more from him than I could teach him".
Also according to Nicola Lagioa, in Kapuściński's very footsteps, Alessandro did not write "by hearsay", but went "on the field", to meet people, getting and consulting sources and documents. "He did all this with a monstrous theoretical preparation, but he prevented that from turning into prejudice, and the practical investigation served him both to discover things that no one would ever have told otherwise, and to be ready, when necessary, to review his positions".
With Alessandro, Nicola has in common the school of Goffredo Fofi – "the only serious one I have ever attended", he emphasises – the lights and shadows of the Apulian origins, the contradictions, the plights, the illegal recruiters and constructors of a land that he told like few others. I turned to Lagioia to learn more about Leogrande.
Lagioia: "The Vlora ship overturned our world, opening the doors of the 21st century"
There is an event, a watershed date, which marked the life of those who share the stretch of sea between Albania and Italy and sanctioned, even in the Mediterranean, the end of the short century. It is August 8th, 1991, is the berth of the Vlora ship in the port of Bari. A vessel made Biblical from 20,000 bodies huddled and perched on board, human flesh that colours and blurs the lines and contours of that rusty ruin. "With that image – recalls Lagioia – for young people like me and Alessandro, the world divided into two blocks was over, the twenty-first century began, our idea of ​​the world was overturned".
"With a clear advance compared to other intellectuals – continues Lagioia – Alessandro began to explore what we consider today the major themes of our era: migrations, work, ecology, new exploitation, politics reduced to personalism and low empire practices, new forms of poverty and new populisms, the collapse of the middle class".
Let us not forget that Leogrande's birthplace was Taranto, emblematic of a context in which one is forced to choose between work and health. Ilva is a factory that still pollutes and causes many people to get sick with cancer. The percentages are frighteningly higher than in the rest of Europe. Leogrande's father died this way too. Children who grow up in the Tamburi neighnourhood develop higher learning deficits than their peers who are fortunate enough to grow up in other areas.
These days, Italian newspapers are full of articles on Ilva, since the saving of the factory (the largest iron and steel complex in Western Europe) once again does not seem to go hand in hand with reclamation works. On these dilemmas Leogrande had started important reflections long ago – concludes Lagioia – because since the time of the Vlora ship he had understood that a new world had begun.
Remembering Alessandro
I remember hearing Lagioia say that Leogrande's commitment, intelligence, and professionalism forced those who knew him to come to terms with him whenever they faced subjects he was an expert in, anxious to know whether he approved what they said or wrote. In the hours when we Albanians remembered him in Tirana, I kept wondering what Alessandro would think of all of us who, moved, arranged to meet to dedicate a street to him, to talk about him, and celebrate him.
"Alessandro would have been moved in turn – Lagioia replied to me without delay – many positive feelings would have shone in him and even a little bit of vanity, because he was human too, what the heck. He would have been touched and happy to be recognised as a brother by whom he has always considered such, but I imagine him also very annoyed, for having to leave so soon".
New walls
The memory and biography of both Leogrande and Lagioia are rooted in 1991, in an idea of ​​Europe that finally breaks down its walls. Today, however, this story meets a Europe that builds new ones, a widespread mentality in which the border seems to have lost its etymological meaning of "place where we end up together", in which the frontier that gives the title to Leogrande's last book no longer means "facing someone". In short, thirty years after the Vlora ship, Europe and the Mediterranean return to being places of separation.
"This is how things are – continues Lagioia – and we must understand that outrage is useless, indeed, it is an alibi if you do not engage. If you do not like the context in which you live (and it is very hard these days to) you should remember right away that you are in that context too, you are part of it, not a simple observer, and if you do not try to bring a solution (not a theoretical recipe, but your ability to do things, your generosity, your time, your courage) then you are also part of the problem. It would be enough to make a little speech every morning, looking in the mirror, to have more hope of starting on the right foot. What happens around us – Lagioia concludes – forces us to return to Alessandro's thinking and method, to remember it, and to make it known. Being inspired by his example is the best way to keep him with us, in the present".
I commenti, nel limite del possibile, vengono vagliati dal nostro staff prima di essere resi pubblici. Il tempo necessario per questa operazione può essere variabile. Vai alla nostra policy
blog comments powered by