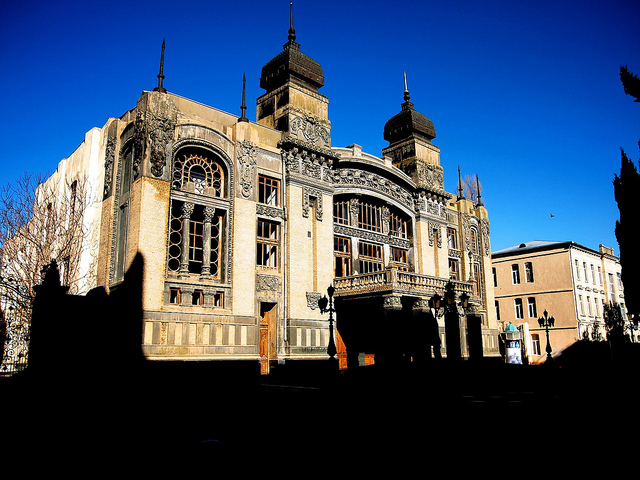 Azerbaijan can hardly be considered a typical opera destination. But the country has a lot to offer opera lovers: performances of Western and Eastern European masterpieces, its own compositions, which are a unique mixture of musical traditions, and excellent singers
The history of opera in Azerbaijan is connected with the musical traditions of the Russian Empire and, later on, the Soviet Union. The Russians got their first opera theatres in the 18th century, and little by little, this typically Western tradition spread to more peripheral parts of the empire. In Azerbaijan, the first documented opera performance took place in 1889: Askold's Grave, an opera by Alexey Verstovsky.
The first opera house in the country, however, was inaugurated only in 1911. Its construction is narrated in an urban myth involving love, betting and friendship: the Russian soprano Antonina Nezhdanova, while touring in Baku, said she would not return to the city before a real opera house, where singers could show all their talent, was built. Daniel Mailov, who had grown found of her, thus invited her to return within a year, when she would attend the inauguration of a new opera house in her honour. Oil baron and philanthropist Haji Zeynalabdin Taghiyev, who had built many buildings in Baku, doubted this was feasible and bet that if Mailov managed to finish the opera within a year, he would cover all the expenses. Ten months later, he had to do so, as the theatre was ready before his eyes. Built by architect Nikolai Bayev, having been destroyed by a fire in 1985 and being subsequently reconstructed, it has been central to the cultural life of the country since its inauguration. From the outside, it looks more like a mosque than an opera house, in a mixture of styles, perhaps in anticipation of what the spectator will listen to.
As for the repertoire, many famous Western and Russian operas have been performed in the country since the opera was inaugurated, being present in every year's repertoire. This is true to this day: Baku's 2016 opera season has seen, for instance, operas by Puccini and ballets by Tchaikovsky. But the season also presented operas by local composers, which however remain virtually unknown to many Western opera lovers.
Azerbaijani opera
Azerbaijan can be proud of having composed the first opera in the Islamic World: "Leyli and Majnun", written in 1908 by Uzeyir Hajibeyov (1885-1948). Listen to it here. The first opera in the Islamic World by a woman was also composed by an Azeri: Shafiga Akhundova, who composed "Galin gayasi" (Bride's rock) in 1972
The Azeris were pioneers not only for being the first to compose opera in that region, but also for coming up with unique combinations of musical traditions, timbres and systems. Many Azerbaijani operas are characterised by a mixture of local vocal traditions with Western arias and recitativos. While the combination of different musical traditions is nothing new and can be seen in very famous operas, such as Puccini's Turandot (whose libretto is by the way based on a story by Nizami Ganjavi, a writer from Ganja, today Azerbaijan's second largest city) and Madame Butterfly, the Azerbaijani compositions lead us to a more unusual sonority, bringing new timbres and new musical systems into what we recognise as "traditional opera". Thus, an orchestra performing an Azerbaijani opera can have, besides typical orchestra instruments (string, woodwind, brass and percussion families), local instruments, such as the tar (a string instrument whose shape resembles a guitar) and the zurna (a wind instrument of very high range). This musical mix also relies on the use of different musical systems and tunings simultaneously: Western systems based on equal temperament and Eastern systems based on microtonality, typical of the Middle East, Turkey, India and Central Asia. This is true not only for the instrumental parts, but also for the vocal lines, where the characters sing arias with both tonal and microtonal parts. The result is a fascinating and unique form of theatre music, proving that, at least when it comes to music and Azerbaijan, the cliché defining the Caucasus as the "place where West and East meet" is true.
This is especially true when Azerbaijani operas are combined with a specific local oral tradition: the Muğam, which employs musical modal scales to create recognisable melodies and fragments, along with improvisation. The tradition was nominated a UNESCO Intangible World Heritage in 2003, in an acknowledgement of its importance as a local cultural manifestation. When combined with opera, the genre is called Muğam opera. Indeed, the most famous Azerbaijani operas fall within this typology, although there are also several Azerbaijani operas which strictly follow Western musical traditions.
One of the most famous Azerbaijani Muğam operas is Koroğlu (1937), by the pioneer Uzeyir Hajibeyov. Watch it here. Its overture was considered a sort of "national anthem" for Azerbaijan: in the past, it represented its struggle for independence from the Soviet Union, probably inspired by the legend of Koroğlu itself. The Azerbaijani hero, whose name means "the son of a blind man", sought revenge on the tyrannic ruler who blinded his father. He was a sort of local Robin Hood, as he stole from to the rich to give to the poor. A perfect symbol for Azerbaijan, which fought for independence against Soviet domination and needed a national hero to consolidate its identity and new state.
Other famous Azerbaijani operas are: Asli and Kerem (1912), again by Uzeyir Hajibeyov, Shah Ismayil (1919), and Nargiz (1935) (see a fragment here), by Muslim Magomayev (not to be confused with his grandson and namesake, a famous Azerbaijani baritone - see below), and Natavan (2003), by Vasif Adigozalov, among others.
Azerbaijani opera performers
Azerbaijan has produced not only interesting operas, but also some excellent opera singers.
Traditionally, opera singers from Azerbaijan can be sorted into three groups: singers who are specialised in Muğam, those who sing Azerbaijani classical operas and those who sing European and Russian repertories. However, there are also singers who sing more than one kind of repertoire - or even all of them.
The most famous male voice from the past was probably the baritone Muslim Magomaev (1942-2008), named after his grandfather, a classical composer who also wrote operas (see above). He was notable for his performances of Western classical operas and pop songs, being at times referred to as the "Soviet Sinatra". Listen to his charismatic interpretation of famous Figaro's Largo al Factotum, from Rossini's Il Barbieri di Siviglia.
Representing the female voices from the past, Sona Aslanova (1924-2011) was a soprano who stood out for her interpretations of national classical opera. Listen to her interpretation of Asya, from the opera "Arşın Mal Alan", by Uzeir Hajibekov. Other prominent singers who were popular during Soviet times were the Gasimova sisters, Khuraman and Fidan. Listen to Kuraman's interpretation of Tosca, by Puccini, here, and Fidan singing Pietà signore, here.
Apart from Soviet stars, there are several contemporary Azerbaijani opera singers who are making their way to the hall of fame. Among the male voices, we have, baritone Elchin Azizov, who made his debut at the acclaimed Metropolitan Opera last year, and tenor Yusif Eyvazov, who has made a series important debuts in the 2015-2016 season (Metropolitan Opera, Wiener Staatsoper, Arena di Verona), besides being married to an opera diva, the Russian soprano Anna Netrebko, and singing regularly with her. Listen to Elchin singing Carmen's Toreador, by Bizet, here, and Yusif singing Kalaf, from Puccini's Turandot, here.
Among the ladies, we have mezzo-soprano Fidan Haciyeva, who has performed both important opera roles, such as Bizet's Carmen, and Azerbaijani folk music, together with soprano Dinara Alieva, who has been singing famous roles in many important theatres around the world (Deutsche Oper Berlin, Carnegie Hall and Wiener Staastoper). Listen to the latter's interpretation of Violetta, from Verdi's La Traviata, at Bolshoi Theatre.
Azerbaijan, thus, has some opera surprises in store even for the most skeptical opera lovers, and is more than worthy some serious consideration.
I commenti, nel limite del possibile, vengono vagliati dal nostro staff prima di essere resi pubblici. Il tempo necessario per questa operazione può essere variabile. Vai alla nostra policy
blog comments powered by