Adam Fagan & Aron Buzogány (2022) Beyond Europeanization: political ecology and environmentalism in Central and Eastern Europe, Environmental Politics, 31:7, 1203-1213
Abstract: The legacy of Europeanization was a battery of laws, formal mechanisms for compliance and regulation, and institutionalised access for non-state actors. Despite a decade of so-called 'democratic backsliding', EU environmental standards and policy remain as normative benchmarks for all countries across the region. The new member states are no clear outliers in terms of compliance even if they have a tendency to support less green climate and energy legislation at the EU level. Yet civil society autonomy and freedom to operate have been severely constrained in most of the states of the region, resulting in 'shrinking spaces' for civil society actors that are critical of de-democratizing tendencies. The EU has been sharply criticised for failing to protect the liberal democratic order in the region. Indeed, if the EU conjures a reaction within protests and actions of civil society and social movements, it is mostly with negative connotations, such as failure to hold domestic elites to account or encouraging mega-developments. All of this suggests that, over 30 years since environmental activism first came to political prominence in the region, there is a need to re-engage with a host of domestic factors that had become somewhat obfuscated by the emphasis on Europeanization.
Read more: 10.1080/09644016.2022.2147652
Aron Buzogány (2022): Natural Allies? External Governance and Environmental Civil Society Organizations in the EU's Eastern Partnership
Abstract: Civil society networks have received little attention when it comes to sectoral analysis of adaptation of EU rules beyond borders. This article offers a remedy by conceptualizing EU influence as an opportunity structure, a resource, and a discursive frame used by civil society organizations. Empirically, it describes how EU rules are used to support environmental reforms by civil society networks in Georgia and Ukraine. Civil society activism and mobilization can lead to high levels of policy approximation despite weak sectoral conditionality, entrenched domestic interests, and low public salience.
Read more: https://doi.org/10.1080/10758216.2021.2025404
Aron Buzogány, Patrick Scherhaufer (2022): Framing different energy futures? Comparing Fridays for Future and Extinction Rebellion in Germany
Abstract: Combining research on sociotechnical imaginaries and social movements, this contribution examines how two major actors of the climate justice movement active in Germany – Fridays for Future and Extinction Rebellion – frame the discourse on climate change and just transitions. We focus on narratives of both movements and their justification strategies based on the analysis of frames. Using material produced by the two movements, the paper comparatively analyses the movement's frames on social, political, economic and epistemic orders. The results suggest that the two groups are part of the same discursive community but emphasize different aspects of just energy futures.
Read more: https://doi.org/10.1016/j.futures.2022.102904
Aron Buzogány, Szabina Kerényi & Gergely Olt (2022): Back to the grassroots? The shrinking space of environmental activism in illiberal Hungary, Environmental Politics, DOI: 10.1080/09644016.2022.2113607
Abstract: This article illustrates the post-euphoric development of the environmental movement in the period since 2010 that was marked by democratic backsliding and the consolidation of 'illiberalism' in Hungary. Embedded from a historical perspective that spans the last three decades, we present two case studies of urban environmental mobilisation and identify 'localization', the reorientation towards grassroot activism, as a new trend driven by the closure of political opportunity structures. Localization combines with the alienation of protesters from institutional channels of influence-seeking and the weakening of ties with potential political allies, such as political parties or professionalised NGOs, and the increase of mistrust between the different actors
Read more: https://doi.org/10.1080/09644016.2022.2113607
Chiara Milan & Luisa Chiodi (2022), 'Grassroots European solidarity. Italian solidarity movements in the Western Balkans in the 1990s and 2020s and their visions of Europe' - Transnational Political Contention in Europe (TraPoCo)
(Forthcoming)
Pešić J., Vukelić J. (2022), 'Europeanisation from below at the semi-periphery: the movement against small hydropower in Serbia'. Sociologija, DOI: https://doi.org/10.2298/SOC2201005P
Abstract: This paper focuses on Let's Defend the Rivers of Stara Planina, a local environmental initiative that has managed to scale up and transnationalise (Europeanise) from below and to generate sufficient pressure on national power-holders to amend existing legislation and halt further construction of small hydropower plants in protected natural areas. Linking the concepts of environmentalism of the poor/dispossessed and the transnationalisation (Europeanisation) of environmental protests through the example of Serbian protests against small hydropower plants, we explore how a local movement grew out of a tradition of non-politicised everyday environmentalism, transformed into a rebellion of the dispossessed and then tried to organise at both national and transnational level, using assistance from EU institutions and international environmental organisations to leverage national authorities and developers, while at the same time remaining critical of certain EU environmental policies and practices. This study is based on discursive analysis of the content posted to the official Facebook group and website of Let's Defend the Rivers of Stara Planina.
Read more: http://www.sociologija.org/admin/published/2022_64/1/752.pdf
Szabó, I. G., Golden, D. and Erne, R. (2021) 'Why Do some Labour Alliances Succeed in Politicizing Europe Across Borders? A Comparison of the Right2Water and Fair Transport European Citizens' Initiatives'. Journal of Common Market Studies, DOI: 10.1111/jcms.13279. (ABS 3)
Abstract: Under what conditions can organized labour successfully politicize the European integration process across borders? To answer this question, we compare the European Citizens' Initiatives (ECIs) of two European trade union federations: EPSU's successful Right2Water ECI and ETF's unsuccessful Fair Transport ECI. Our comparison reveals that actor-centred factors matter – namely, unions' ability to create broad coalitions. Successful transnational labour campaigns, however, also depend on structural conditions, namely, the prevailing mode of EU integration pressures faced by unions at a given time. Whereas the Right2Water ECI pre-emptively countered commodification attempts by the European Commission in water services, the Fair Transport ECI attempted to ensure fair working conditions after most of the transport sector had been liberalized. Vertical EU integration attempts that commodify public services are thus more likely to generate successful transnational counter-movements than the horizontal integration pressures on wages and working conditions that followed earlier successful EU liberalization drives.
Read more: https://onlinelibrary.wiley.com/doi/epdf/10.1111/jcms.13279
Civic movements that go beyond national borders, populism, and the construction of the common European home. We talked about it with sociologist Paul Blokker, starting from what is happening with the "Conference on the Future of Europe"
In the last thirty years in Albania, only the main parties have managed to bring people to the streets to protest, with some notable exceptions. An interview with researcher Klodiana Beshku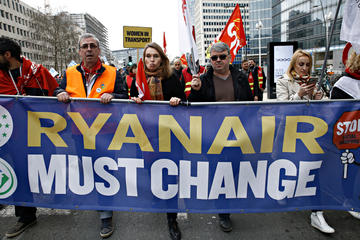 Two cases – the Right2Water campaign and the protests of Ryanair pilots – show how important transnational alliances are for the affirmation of workers' rights. We talked about it with Imre Szabo, Darragh Golden, and Graham Finlay
In Serbia, the environmental issue is becoming an increasingly important social and political matter. Protests against some controversial laws are bringing numerous citizens and environmental associations to demonstrate in various cities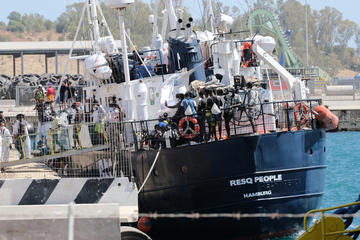 The EU approach to migration is based on strongly government-centred, restrictive policies, impervious to the external motions of grassroots actors. Yet, there might still be room for a systemic change from below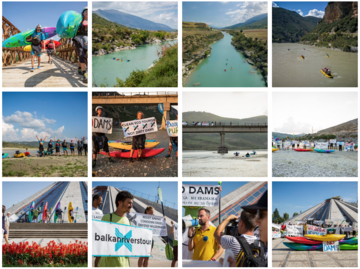 In Slovenia, as in the rest of the world, Covid-19 has upset the dynamics of youth activism, including the environmental one, which was in full swing before the pandemic. Despite the assembly ban, the closed universities, and the economic crisis, environmentalists have achieved a historic referendum victory with another unexpected consequence: to take root in the rural country, traditionally impervious to mobilisations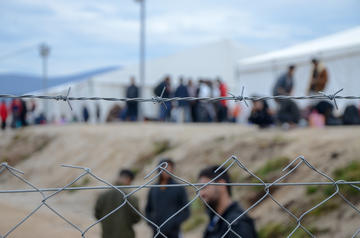 Since 2018, many associations, international grassroots movements, and informal groups have taken action to support people in transit along the Balkan route. They stress the need for networking to counter the increasingly widespread criminalisation of organisations in solidarity with migrants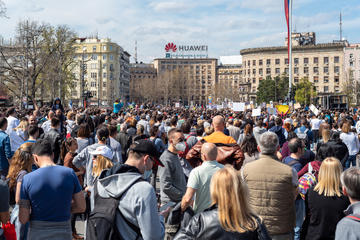 Environmental battles in peripheral areas in Serbia are little known and little studied. Activists and citizens encounter many difficulties in mobilising. Interview with social researchers Jelisaveta Petrovic and Jelena Pesic from the University of Belgrade
In Trieste, a civil society initiative focuses on the themes of hospitality, transnational solidarity, and the need to build "the anti-border"
The application of the readmission agreement between Italy and Slovenia is illegitimate. This was confirmed by the Court of Rome, that accepted the appeal of a Pakistani citizen who had arrived in Trieste via the Balkan route and was then pushed back to Slovenia and then Bosnia and Herzegovina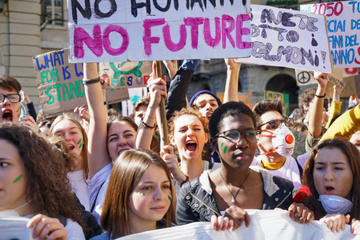 The research project "Transnational Political Contention in Europe (TraPoCo)", supported by the European Commission and dedicated to the study of trans-European political activism, is underway. The focus will be on the role of movements, non-governmental organisations, activists, and trade unions in strenghtening the space of rights and democracy in Europe