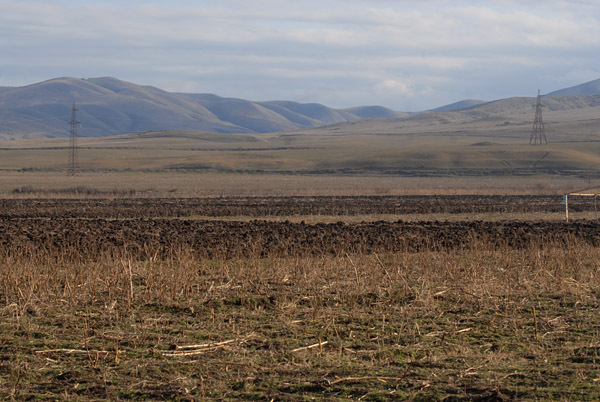 The project of an Armenian theatrical director and actor turned peace activist to open a peace center in Tekalo, a small village in Georgia a few kilometers from the border with Armenia and Azerbaijan. "Communication is not betrayal, it is a natural human need."
This year will mark the 17th anniversary of the 1994 ceasefire agreement which put the war between Armenia and Azerbaijan over the disputed territory of Nagorno Karabakh on hold. Since then, attempts to find a lasting peaceful solution to the conflict, which claimed around 25,000 lives and forced a million to flee their homes, have faltered. Indeed, following less than conciliatory speeches from the Armenian and Azerbaijani presidents at the OSCE Summit in Kazakhstan late last year, and with Baku's military spending set to hit $3.1 billion in 2011, analysts and international observers are now increasingly talking about the need for conflict prevention rather than resolution.
The latest to ring the alarm bell was the International Crisis Group (ICG) in a report on the Nagorno Karabakh conflict released on February 8.
"An arms race, escalating front-line clashes, vitriolic war rhetoric and a virtual breakdown in peace talks are increasing the chance Armenia and Azerbaijan will go back to war over Nagorno-Karabakh," the report read. "[…] Increased military capabilities on both sides would make a new armed conflict in the South Caucasus far more deadly than the 1992-1994 one that ended with a shaky truce. Regional Alliances could pull in Russia, Turkey and Iran. […] To start reversing this dangerous downward trend, the opposing sides should sign a document on basic principles for resolving the conflict peacefully and undertake confidence-building steps to reduce tensions and avert a resumption of fighting."
Naturally, the response to the report from both Yerevan and Baku wasn't favorable to say the least, with both accusing the ICG of bias in favor of the other. Local journalists and even civil society were among those critics, even if such groups could have been expected to at least objectively reflect growing fears that another war in the South Caucasus is increasingly looking likely. Others, frustrated by the lack of any real progress since the 1994 armistice, were not surprised, however. One of them was Georgi Vanyan, the 47-year old Armenian theatrical director and actor turned peace activist behind the South Caucasus Integration: Alternative Start movement.
"Many involved in peace-making initiatives don't have any interest in seeing the conflict resolved because they have a certain 'visibility,'" he says. "The mass media is part of this too."
Georgi Vanyan, the "betrayer"
Vanyan is no stranger to controversy himself, of course. At the end of 2007, for example, his organization held a Days of Azerbaijan at a school in the Yerevan. Funded by the British Embassy, it was an unprecedented move in a country locked in a bitter stalemate with an estranged neighbor. The event was momentarily disrupted by a small group of nationalist bloggers. "Holding such events are a way of making money for Vanyan," one of those government supporters claimed. Especially known for his campaigns against Azerbaijan, Georgia and Turkey, as well as even women's groups in Armenia, the critic went even further. "Vanyan-like elements should be taken out of circulation,"
Comments such as those, including less than veiled threats against Vanyan's life, are nothing new and were most recently voiced last November during his attempt to stage a festival of non-political Azerbaijani films in Yerevan. The event was postponed after hate messages were spread on Facebook, and the owners of venues pressurized into pulling their support. The local media was also part of the campaign, effectively branding Vanyan a 'traitor.' Even the fact of being regularly interviewed by the Azerbaijani media was used against him, although he isn't the only Armenian civil society activist to speak to journalists from across the ceasefire line. Nevertheless, he is the only one to be targeted.
Indeed, in 2010, the British Embassy alone funded three projects to the tune of over $200,000 each. Vanyan was not one of the recipients.
What makes Vanyan different, perhaps, is that rather than be content with holding his activities at holiday resorts or five star hotels on neutral ground in third countries such as Georgia, Vanyan targets the general population. "The approach of keeping everything closed carries with it some very grave consequences," he explains. "Armenians and Azerbaijanis are human beings first of all and have a basic desire for peace. What we need to do is to make this basic desire public and to initiate some kind of open discussion. Instead of organizing seminars, we talk to people in the markets, or in local cultural centers. It's why we hope events such as our film festival will start some kind of discussion in society."
A peace center in Tekalo, Georgia
His latest project, supported by a small group of other civil society activists, cultural figures and journalists in Azerbaijan and Georgia, centers around Tekalo, a small village Georgia, and is arguably the most interesting. Situated just 29 kilometers from the border between Georgia and Armenia, it is also 10 kilometers from the border with Azerbaijan. Inhabited by ethnic Azeris, the largest minority in Georgia, there are also pockets of ethnic Armenians living in nearby co-inhabited villages and towns. However, there's just one problem. Tekalo and the larger nearby village of Kachagan, as well as the Marneuli region in general, are impoverished and lack the necessary infrastructure to host such initiatives.
Vanyan quickly counters such criticism by arguing that it is precisely for this reason that such a project is all the more important. Not only would it be beneficial for the local ethnic Azeri population in Georgia, but also co-inhabited villages populated alongside ethnic Armenians and Georgians. Such examples of peaceful co-existence in the South Caucasus are rarely if ever mentioned let alone supported. Moreover, not only would Tekalo be quicker and cheaper to travel to, with cell phone signals from all three South Caucasus countries in range, but it would also create much needed employment. No wonder, then, that local [ethnic Azeri] officials, were positively inclined towards the idea.
Today, ethnic Azeris and Armenians in the area have no choice but to seek work in Azerbaijan or Russia.
"The establishment of a peacemaking center in Tekalo will be the first step for the creation of a free communication zone for citizens of the three countries," a press release declared. "This proposal is based on our firm belief that Armenian-Azeri dialogue may take place only under the conditions of the revival of the South Caucasus region, of regional thinking, and regional integration and safety. Georgia is a part of this region, its central player," it continued, while also calling for other civil society organizations to relocate their cross-border activities there. As part of the project, the local infrastructure including schools, cultural centers and roads, for example, would be renovated.
Vanyan also argues that, in the interest of countering bias in the media, Tekalo could also be used as a base for a radio station which can broadcast to regions in all three countries. Although new and social media also offers the potential for cross-border communication, Internet use remains low, and is certainly costly and thus inaccessible to many rural communities. Moreover, such an idea of a "peace zone" has been implemented in other conflict-prone areas worldwide and promoted at international conferences, including by Armenian, Azerbaijan and Georgian students at a symposium held at the George Mason University in Washington D.C. in February 2009.
For the Georgian government, such a project could also greatly contribute to regional development and assist in a policy aimed at integrating its national minorities. With that in mind, Vanyan says he has already established an NGO, the Teqali Association, alongside counterparts in Azerbaijan and Georgia and with the support of some other activists and organizations in the region. As a central player in the Caucasus, the initiative also hopes to encourage Georgia to seek a more active role in attempts to resolve the Armenia-Azerbaijan conflict. It remains to be seen how many other organizations will follow suit, but the first event to be held there is scheduled for the beginning of next month.
With the involvement of participants from Armenia, Azerbaijan and Georgia, it will likely result in more criticism for Vanyan, and especially inside Armenia, but he remains undaunted. "Communication is not betrayal," he told an Azerbaijan newspaper in 2009. "It is a natural human need."
I commenti, nel limite del possibile, vengono vagliati dal nostro staff prima di essere resi pubblici. Il tempo necessario per questa operazione può essere variabile. Vai alla nostra policy