17 December 2021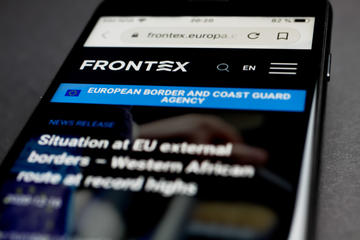 EU border agency denies forcing team from Italian-based rights watchdog to leave Greece and go back to North Macedonia, saying due process was followed – and the team had expressed a wish to return to North Macedonia
(Originally published by BIRN )
Frontex told BIRN that all due procedures were followed, after the Italy-based Association for Legal Studies on Immigration, ASGI, claimed the EU border agency and Greek police on November 6 intercepted a team of four ASGI legal experts near the border village of Idomeni in Greece and forced them back to North Macedonia,
Frontex told BIRN its officers stopped four Italian citizens near the border with North Macedonia to check their ID and right to be in the area.
"As there was a suspicion that the group had crossed the border illegally, Frontex officers checked their identification documents and then handed them over to Greek officers for further checks. Afterwards the Italian citizens expressed their wish to go back to North Macedonia, where they were accommodated," it said.
"All the actions were in line with procedures and were performed in a calm and respectful manner," Frontex told BIRN, adding that Greek authorities should be asked for any further information.
This version contrasts with what one Italian legal expert, part of the team, told BIRN on November 26, right after ASGI reported the incident to EU institutions.
He said they were forced out of Greece and denied an explanation.
"We received no documents explaining why were we told to exit the country. Everything was done in an informal way. Obviously they did not allow us to get in touch with any lawyers and any people who could provide us with legal assistance," the Italian expert told BIRN, adding that they had crossed the border in a legal way at the nearby crossing, which could have been checked by the patrol that intercepted them.
"Since the situation was very tense, we did not feel OK to make phone calls, or do something that would be considered unacceptable in their view," he added.
Meanwhile, ASGI has sent a request for clarification to the European Parliament, the European Commission, the Ministry of Foreign Affairs and International Cooperation, the Ministry of the Interior, the Italian embassy in Athens, the European Border and Coast Guard Agency (Frontex) and the Minister for European Affairs.
"We have sent Frontex an official letter with specific requests and didn't get any reply. We are expecting a formal answer by the agency. We consider it important to keep the dialogue in an institutional way. It is already described in the letters how the event took place," an ASGI representative told BIRN.
Greek media have not reported on this incident and the Greek Ministry of Civil Protection did not respond to a request from BIRN for a comment.
This part of the border, located along the so-called "Balkan migrant route", was in the spotlight in 2016 when a wave of mainly Middle Eastern refugees and migrants was stopped by North Macedonian police from entering the country, which resulted in violent clashes between the police and the migrants and refugees.
Idomeni hosted one of Greece's largest makeshift camps, holding more than 13,000 migrants and refugees.
In May 2016, Greek authorities evacuated the camp and relocated the people to alternative accommodation in Greece, but this stretch of the border has remained a hot zone ever since, with a heavy security presence from both sides, helped by Frontex, to prevent still frequent attempts at illegal crossings.