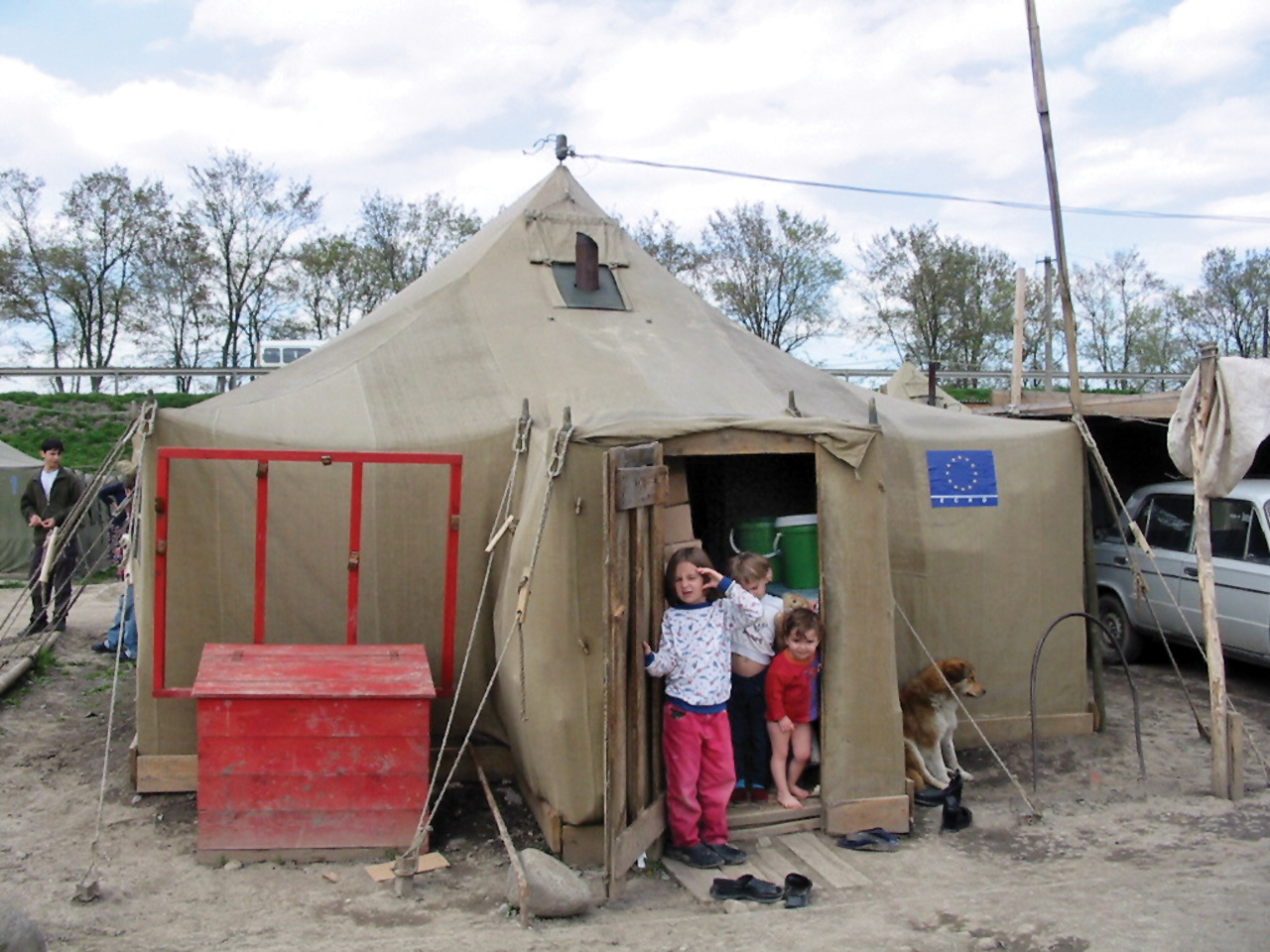 There are young people in Chechnya who live in prosperity and rapidly pursue their careers. If they sing the praises of Putin and Kadyrov, that is. For all the others, life can be very difficult
Only a few years ago, today's Chechen youth was all in the same boat, or rather in the same refugee camp. Literally and figuratively. Crowded into tents and trains, stranded in the refugee camps of Chechnya's neighbouring republics, the young were united in sympathy and hatred. Just teenagers, they prayed for Chechen rebels and dreamt of growing up as quickly as possible to join them and take revenge on the Russians. The hatred for Russia united them more than anything else.
Years have passed. The former residents of refugee camps have grown up, their paths have separated. Some have jumped on the bandwagon of new pro-Russian authorities, in pursuit of fabulous wealth and incredible careers. Others have followed their ancient dreams and joined the rebels. Those who have not chosen either path live on the margins of politics and history, trying to survive and feed their family. The camps where they hated and loved together were demolished long ago.
The "wild Chechen"
Radjap Musaev is among those who have quickly become accustomed to the new authorities. As a teenager, like tens of thousands of Chechen refugees, he lived with his family in Ingushetia. What remains of those days is an interesting video-interview, released in broken English to a foreign journalist. In the darkness of the tent, with the few meagre belongings and tin plates donated by some charitable organisation, young Radjap tells the story of his dream of becoming a lawyer and defending the victims of Russia's war in the region, as well as to sue Russia for what it did to his country.
A few years later, Radjap has become one of Russia's most passionate supporters. In his blog, under the name of "wild Chechen", he speaks of "foreign mercenaries" and denounces the United States' plans to weaken Russia in order to rule the world unchallenged. In his passionate invectives, he accuses the Russian opposition of receiving money from the U.S. State Department and NATO, that also dreams of Russia's downfall. Such propaganda, in the best style of Soviet news agencies, sounds strange and incongruous from the same boy, just a bit more grown up, who from a dark, damp camp dreamed of condemning Russia for crimes against humanity. It is hard to imagine how, in just a few years, he managed to make a career in the pro-Russian organisation Nashi, where he became chief coordinator for Chechnya. Having become a darling of the authorities, he was then appointed head of "Grozny Inform", the main Chechen news agency.
But there is more. As it turned out a couple of months ago, Musaev had access to millions of roubles allocated by Nashi to the online fight against dissidents. The hacker group Anonymous got into the mailbox of the head of Nashi press office and spread its content online, including correspondence with Musaev. The amount of money spent by Moscow to fund Internet trolling and create fake blogs with the "Caucasian Bloggers" project is stunning. For every letter, every minute spent online, any provocation on blogs disliked by the authorities, Musaev and his fellows received tons of money. Musaev himself, the correspondence shows, received 18 million roubles per year – 2,4 were his salary and the rest was paid in order for him to build a positive image of Russia in the blogosphere and attract more and more young people into the "Caucasian bloggers'" network. Not for free, of course. So, the boy from the refugee camp in Ingushetia has become a millionaire.
The other youth
Arbi Sagaipov, who lived in a "humanitarian" tent camp in Ingushetia more or less in the same years as Radjap did, has not become a millionaire. In 2004, once war was declared to be over and the Chechen government began to fight for the return of refugees, Arbi was 16. He did not return to Chechnya, but moved to Moscow with his family. Two years later, he was admitted to the university and later, together with his father, he opened a small business in the Russian capital. Even living in the heart of this country has not allowed him to forgive Russia, let alone love it.
In 2010, unbeknownst to his family, Arbi returned to Chechnya to join the rebels. By then, nobody called them with the noble name of "resistance fighters" any longer – just terrorists. Since then, his mother Tamara has been looking for him all over Chechnya, hoping to dissuade him from an apparently meaningless fight. Once, she managed to get in touch with a group of rebels in a forest near the Chechen village of Shatoi. "They seemed almost like children", she says. "None of them was older than my Arbi". There were about twenty rebels in the group. They called themselves mujahideen and their fight against the Russian occupation a jihad – a holy war against the invading enemy, the duty of every Muslim. "I watched them and could not hold back the tears. They are children, they are 17-18. What have they seen of their lives, and what do they know of life? Why should they wander in the woods, half-starved, and die so young, when their peers get to live the big life? They should not have to die just because they can't or won't submit to power". Tamara has not managed to find her son. The rebels told her there were three or four Arbis in that group. And rebels in the woods do not use their real names. However, Tamara returns to Chechnya a few times a year and wanders through villages and towns, looking for information about her son who left for a confused, incomprehensible war that swallows more and more young lives.
A matter of dignity
The young Chechens who go "into the woods" to join the rebels are generally considered misfits. Many experts of Chechnya and Northern Caucasus see unemployment and social problems as the main reasons pushing young men to join the rebels. It would certainly be foolish to deny the influence of unemployment and lack of prospects on young Chechens' radical and even religious fanaticism. Probably, however, the main reason why, despite over a decade of cruel persecution, the Chechen resistance cannot be crushed lies in the patriarchal tradition of Chechen society, where the man is not only the breadwinner, but first and foremost the head of the family. Now, the position of men has changed dramatically. They cannot protect or provide for the family if they do not collaborate with the regime and become part of it.
The phenomenon, completely new in Chechnya, of men singing the praises of authorities from the TV screens, rivalling in servility and flattery, sickens the younger generation. Moreover, with thousands of armed men from various security agencies around day and night, violence against unarmed people, or at best verbal humiliation, is routine. Going to court is useless, because the court – as all other state institutions – is a party to power.
Thus, part of Chechen society, educated according to a tradition of equality and justice, has no place in the new system of rules that has suddenly engulfed the country: rights are on the side of those with weapons and money, and in order to get weapons and money Putin and his lieutenants must be worshipped. Hence the growing gap between the young people who drink with pleasure at the Kremlin's springs and those who consider them poisonous.
The injustices and humiliations suffered by young Chechens at the hands of their pro-Russian peers fuel the resistance. In this sense, the Chechen government – and the Kremlin, which put it there – are indeed tirelessly working in favour of the resistance movement, by multiplying with each passing day the injustices in the country and thus driving young people to armed struggle as the only means for protecting their dignity.
I commenti, nel limite del possibile, vengono vagliati dal nostro staff prima di essere resi pubblici. Il tempo necessario per questa operazione può essere variabile. Vai alla nostra policy