7 October 2022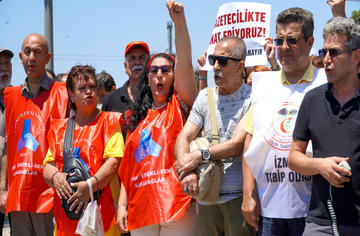 Twenty five international organisations call on Members of Parliament to vote against the bill on "disinformation and fake news", which was submitted to parliament's General Assembly on October 4 by the governing alliance of the Justice and Development Party (AKP) and the Nationalist Movement Party (MHP)
The disinformation bill was submitted to parliament's General Assembly on October 4 by the governing alliance of the Justice and Development Party (AKP) and the Nationalist Movement Party (MHP).
Strongly criticised by civil society and the journalistic community, the bill had already been submitted to parliament in June but it was postponed after the commission stages due to alleged differences between the two governing parties. It has been resubmitted this week without any amendments.
What international organisations denounced in a recent statement is the fact that the bill actually provides a framework for extensive censorship of online information and the criminalisation of journalism, allowing the government to further control public debate ahead of Turkey's general elections of 2023.
The proposed bill provides for:
Up to three years imprisonment for those found guilty of deliberately publishing "disinformation and fake news" intended to instigate fear or panic, endanger the country's internal or external security, public order and general health of Turkey's society.
An increase of any sentence by 50 percent where the information has been published from anonymous accounts, by someone concealing their identity, or as part of an organisation's activities.
The expansion of the press law to include online news sites. This will enable the government to use the expanded role of the Press Advertising Agency, Basin Ilan Kurumu (BIK), to fund online propaganda while excluding critical outlets as has been applied in the print media.
The bill, with its vaguely formulated definition of disinformation and 'intent', overseen by Turkey's highly politicised judiciary, will put millions of internet users at risk of criminal sanction and could lead to blanket censorship and self-censorship in the run up to the 2023 elections.
A consortium of media freedom and human rights organisations will be visiting Turkey 12 to 14 October to discuss the consequences of the disinformation bill with politicians and media stakeholders.
| | |
| --- | --- |
| | This publication was produced within the Media Freedom Rapid Response (MFRR), co-funded by the European Commission. The contents of this publication are the sole responsibility of Osservatorio Balcani Caucaso Transeuropa and its partners and can in no way be taken to reflect the views of the European Union. |