22 April 2022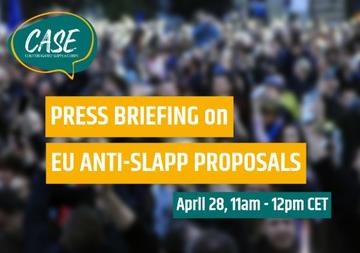 At a press briefing on Thursday 28 April, representatives from the Coalition Against SLAPPs in Europe (CASE) will respond to the European Commission's proposed measures (due to be announced on 27 April) to tackle the growing problem of SLAPPs in Europe
After years of advocacy and international cooperation among ngos and civil society organisations, this will be a very important step marking the presentation of UE proposals to tackle SLAPPs, abusive lawsuits that endanger public participation.
This press briefing on Thursday 28 April will feature a presentation of the European Commission's proposed measures to tackle the growing problem of Strategic Lawsuits Against Public Participation (SLAPPs) and a response by representatives of the Coalition Against SLAPPs in Europe (CASE), with a deeper dive into the measures' core components and their likely impact on civil society.
Participants will be able to join the session in person or online. Information about online participation will be made available upon completion of registration.
In-person participants will be asked to provide additional information during the registration process which will be used for security purposes and the creation of name badges.
OBCT, which is among the founders of the CASE coalition and has participated in dozens of meetings, events and common initiatives on the topic, will be represented in Brussels by Chiara Sighele and online by Paola Rosà.
11:00 - 11:30 CEST: Vice President of the European Commission for Values and Transparency Věra Jourová presents the Commission proposals, in conversation with Matthew Caruana Galizia, Director of the Daphne Caruana Galizia Foundation.
11:30 - 11:45 CEST: Panel discussion with representatives of CASE: Flutura Kusari (Senior Legal Adviser, ECPMF), Linda Ravo (Senior Advocacy Consultant, Civil Liberties Union For Europe), and Charlie Holt (UK Campaigns Manager, Greenpeace International).
11:45 - 12:00 CEST: Q&A
A full agenda is available here .