15 October 2014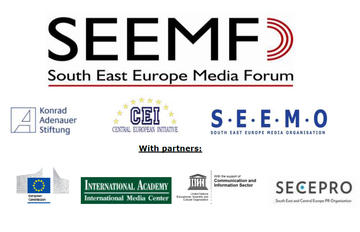 The SEEMF it's an international annual meeting that gathers european journalists and media workers. At the 2014 edition, Osservatorio Balcani e Caucaso will present the interim results of its research and the activities carried out in the framework of the "Safety Net for European Journalists" project
OBC and its partners, SEEMO , Ossigeno Informazione , Professor Eugenia Siapera (Dublin City University) will present the interim results of research and activities under the Safety Net for European Journalists project, an EU-supported initiative aimed at supporting threatened journalists in 11 countries in Southeast Europe. The results will be made available at the VIII South East Europe Media Forum 2014 (SEEMF 2014) in Skopje, Macedonia on 16-18 October 2014.
"We are carrying out an information campaign on media freedom in Italy, South East Europe and Turkey, by monitoring and documenting violations against journalists," Luisa Chiodi, OBC's director, said. "Our initiative is aimed at offering concrete support for threatened journalists and raising awareness among policy makers and public opinion about a problem that has and European-wide dimension and threatens the right to information and democracy in Europe."
On the second day of the SEEMF 2014 Friday (October 17th), Professor Eugenia Siapera will offer participants an overview of the press freedom situation in Italy, Southeast Europe, and Turkey. "Our findings indicate that there is a direct relationship between the state of the field of journalism and threats to media freedom," Professor Siapera said. "The more the concentration of media ownership, the more the 'infiltration' of the media field by other interests, the more the threats received by journalists and the more vulnerable they are to such threats and pressures," she added.
According to Siapera, a second highlight of the findings includes what is perceived by journalists as lack of solidarity by other journalists. "A large number of those who had experienced threats and intimidation reported feeling isolated and even marginalized by other journalists. While some received formal support, in terms of financial or legal aid, all said that they could use some moral support coming from their colleagues," she pointed out.
On Friday (October 17th), OBC will also take part in a panel dedicated to censorship disguised in free countries.
SEEMF brings together media CEOs, leading journalists, editors-in-chief, business professionals, CEOs from companies active in South East and Central Europe, representatives of marketing and public relations agencies, civil society representatives, academics and representatives of state institutions from South, East and Central Europe.
The topic of the VIII SEEMF is Media in South East Europe: Not enough or too much information? The discussions will include the right to access information, data journalism, privacy and the protection of journalists' sources, self-regulation and standards of quality reporting. A session will also be dedicated to opinion making in times of conflict and will discuss the lessons of the media war on Ukraine.
For further information about the conference:
Seemo - South East Europe Media Organisation
e-mail: info@seemo.org