15 June 2017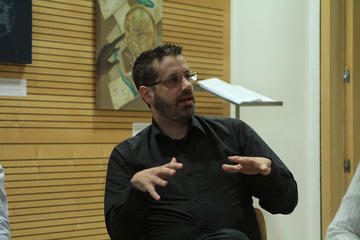 Last Tuesday, Greece lost a brave journalist and citizen. The Greek journalist Costas Efimeros died, following a heart attack, at the age of 42
Founder and tireless animator of ThePressProject 's information portal, Costas had collaborated with OBC on the project on media freedom.
A collaboration during which we had one only opportunity to meet him personally: in that context, Costas had proved himself an unmatched animator of the spirit of collaboration. Pugnacious, he incited all of us to pursue with tenacity the task we had given ourselves: to inform the public about the situation of media in Europe. To this and many other crucial debates for his country and for Europe, Costas has contributed professionally and passionately.
We remind him by sharing the result of one of his many efforts: the documentary Debtocracy , that he contributed to as a producer in 2011.
Goodbye Costas!
This publication has been produced within the project European Centre for Press and Media Freedom, co-funded by the European Commission. The contents of this publication are the sole responsibility of Osservatorio Balcani e Caucaso and its partners and can in no way be taken to reflect the views of the European Union. The project's page