3 March 2022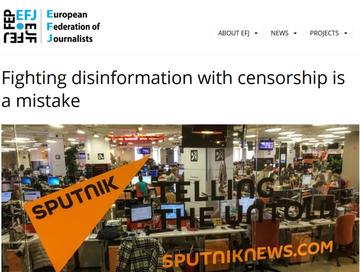 While UE Member States are officially invited to ban Russian state televisions RT and Sputnik, the European Federation of Journalists, our partner in the Media Freedom Rapid Response, fears the effects of this spiral of censorship on freedom of expression in Europe
When the European Federation of Journalists published its statement, on Tuesday, no further details were official: EFJ reacted to the words of the President of the EU Commission Ursula von der Leyen, who said on Sunday: "We will ban the Kremlin's media machine in the EU. The state-owned Russia Today and Sputnik, and their subsidiaries, will no longer be able to spread their lies to justify Putin's war".
These words caused deep concern and convinced the General Secretary of the European Federation of Journalists to issue a statement.
And this statement is more important than ever, considering that now the ban is official, and published in the Official Journal .
Here some abstracts from the statement published by EFJ on Tuesday 1 March:
The EFJ General Secretary Ricardo Gutiérrez expressed surprise: "First of all, it should be remembered that media regulation does not fall within the competence of the European Union. We believe the EU has no right to grant or withdraw broadcasting licences. This is an exclusive competence of the states."
"Secondly, the total closure of a media outlet does not seem to me to be the best way to combat disinformation or propaganda," added Gutiérrez. "This act of censorship can have a totally counterproductive effect on the citizens who follow the banned media. In our opinion, it is always better to counteract the disinformation of propagandist or allegedly propagandist media by exposing their factual errors or bad journalism, by demonstrating their lack of financial or operational independence, by highlighting their loyalty to government interests and their disregard for the public interest."
The EFJ recalls the case law of the European Court of Human Rights, which states that banning of a media outlet is a serious act, which must be based on solid legal grounds and objective elements, to avoid arbitrariness. "The challenge for democracies is to fight disinformation while preserving freedom of expression," said Gutiérrez.
For the EFJ, other strategies should be favoured: increasing support for independent journalism, strengthening the independence of editorial offices, reinforcing the social status of journalists, promoting professional ethics through independent press councils, encouraging media pluralism, promoting media literacy for all, increasing the transparency of those in power (which they never propose!)…
"The real antidote to disinformation is not the banning of the media, but the promotion of a vibrant, pluralistic, professional, ethical and viable media ecosystem, totally independent of those in power," said Gutiérrez.