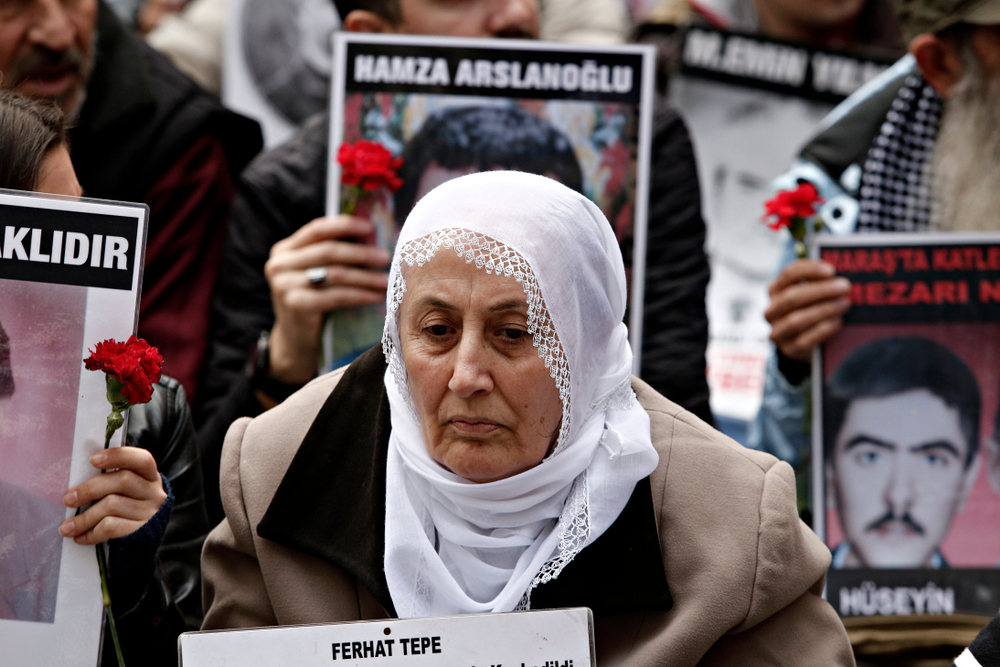 Since 1995, the relatives of numerous "desaparecidos", who disappeared during the Kurdish conflict in Turkey, ask for justice and truth in Galatasaray Square. Last summer sit-ins were banned, but their struggle continues
"We were born and raised in Galatasaray Square. We will die here. When we first started gathering here, we would say, 'We want our forcibly disappeared ones back alive'. 'We want their bones back', is what we say now".
İrfan Bilgin, brother of Kenan Bilgin – who disappeared under Turkish police custody in 1994 – has been seeking justice for 25 years now. Bilgin is one of the people who started the weekly sit-in at Galatasaray Square in Taksim, İstanbul. The group known as "Saturday Mothers", relatives of people who were forcibly disappeared during the 1990s when the Kurdish conflict was at its peak, have gathered in Galatasaray since May 27th, 1995.
"Back then, we told ourselves 'Let's start a weekly sit-in here and see what happens'", he says. That is how everything started in 1995. There were only a couple of families then. Without any slogans, they started sitting in silence, holding the photos of their missing loved ones and red carnations. The police began a crackdown as soon as the protests started growing stronger. Popular support, however, was rising as the pressure of security forces intensified. Police attacks and detention periods began against the "Saturday Mothers".
Vigil banned by the police last August
Over the years, the group never gave up on its peaceful vigil. In 2015, the families started a campaign called "Justice Ends Impunity". The Human Rights Association (İHD) prepared a law proposal, demanding that Turkish authorities ratify the UN International Convention for the Protection of All Persons from Enforced Disappearance. Every Saturday, they continued to sit there and ask for justice in front a big placard reading, "We know where the perpetrators are. So where are the disappeared people?".
Even during the state of emergency, they did not stop gathering. "The day after the coup attempt of July 15th, 2016, we were in Galatasaray Square for our weekly sit-in. Once again we repeated that the 'Saturday Mothers' are against all coup d'etats", says Maside Ocak, sister of Hasan Ocak, whose tortured body was found in an unmarked grave two months later after going missing in 1995.
In August 2018, though, the vigil was banned by the police. "We didn't witness any disrespectful behaviour from the police officers until the 700th gathering", she told OBC Transeuropa. On the 700th gathering, the police forcefully dispersed the group in Galatasaray Square. 47 people were arrested after the police attacked using tear gas against the elderly mothers and relatives of disappeared people.
Meeting with prime minister Erdoğan in 2011
Turkey's Interior minister Süleyman Soylu made a statement shortly after the police attacked the group of "Saturday Mothers" in İstanbul's Galatasaray Square. "We banned their weekly sit-in, it is true. Because we wanted to put an end to this exploitation and cheating. This is terrorism under the mask of victims. Should we turn a blind eye to the exploitation of motherhood by terrorist organisations?", Soylu said. Human rights defenders and organisations reacted to Minister Soylu's statement declaring that the ban on their right to peacefully protest is unacceptable.
In Turkey's current political conjuncture, Süleyman Soylu's statement is not surprising. On February 5th, 2011, however, president Recep Tayyip Erdoğan, then prime minister, had welcomed the "Saturday Mothers" in his office during the Kurdish peace process. Handing over a file of 50 pages, the families asked Erdoğan to establish an independent commission which would carry out effective investigations for people disappeared under police custody in the 1990s. They also repeated their demand for Turkey to sign the International Convention for the Protection of All Persons from Enforced Disappearance and the implementation of an "anti-disappearance policy".
"They don't want any peaceful protest on the streets"
Turkey's "Saturday Mothers" are not allowed to gather in Galatasaray Square since August 2018. They read their weekly press statement in front of the Human Rights Association's İstanbul office in Taksim. "Families don't feel comfortable here in expressing themselves. We read our press statement under psychological pressure", Ocak says.
Maside Ocak thinks that, despite the lifting of the state of emergency in Turkey in 2018, the government created a permanent state of emergency by adopting rights-restricting laws. "They do not want any peaceful protest on the streets. Even the tiniest legal demand for rights is suppressed. Free speech is not tolerated. The state of emergency has been lifted, but we are still going through hard times", Ocak says. In the weekly gatherings of "Saturday Mothers", the group reads aloud the names of those officials and security forces who were in charge during the disappearances.
"We miss gathering in Galatasaray Square. It is more than a public space to us. It is where we keep our collective memory. Not being allowed to be sitting there is a heavy burden on our shoulders. We are all psychologically devastated. I feel like I have lost a child of mine… As if I have lost now everything I had…".
"We will pay any price but we will not give up"
Like Maside Ocak's brother Hasan Ocak, Fehmi Tosun also forcibly disappeared in 1995. His daughter, Besna Tosun, started seeking justice when she was just a little child. On her first visit to Galatasaray Square, she was only 12. "These days some people ask me if I am afraid", she says. "What does it even mean to be afraid? We are not committing a crime, we are pursuing a legitimate struggle. Why should I be afraid then? There is nothing to fear".
Besna Tosun says they will never give up on their search of truth and justice. Her bright angry eyes are shining during our conversation: "People lost their beloved ones. I lost my father. How can I give up?".
The young woman keeps repeating that "Saturday Mothers" will continue to gather in Taksim and demand justice in public space until the families' demands are met.
"We will not leave the streets. We will pay any price but we will not give up because we are right in our search of justice".
I commenti, nel limite del possibile, vengono vagliati dal nostro staff prima di essere resi pubblici. Il tempo necessario per questa operazione può essere variabile. Vai alla nostra policy
blog comments powered by