18 August 2014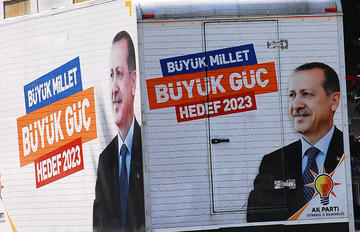 According to international election observers, Turkish Prime minister Recep Tayyip Erdoğan's use of his official position, coupled with biased media coverage, gave him a distinct advantage in the country's first direct presidential election
Turkish Prime Minister Recep Tayyip Erdoğan's use of his official position, coupled with biased media coverage, gave him a distinct advantage over the other candidates in the country's first direct presidential election, international election observers said on August 11th.
"This first direct presidential election demonstrated that there is a vibrant political life in Turkey, and the preliminary results show the potential for a healthy balance in political forces," said Vilija Aleknaitė-Abramikienė, Special Co-ordinator who led the short-term OSCE observer mission. "However, the challenges we have noted, particularly the imbalanced media coverage, must be overcome to fully live up to the democratic aspirations of the people."
Erdoğan, the leader of the ruling Justice and Development Party (AKP), who has been serving as Prime minister since 2003, won the August 10th election with 52% of the vote. His main rival, Ekmeleddin Ihsanoglu, the joint candidate of the Republican People's Party, Nationalist Movement Party, and several smaller parties, came in second with about 38%, ahead of Selahattin Demirtas of the Peoples' Democracy Party, who took nearly 10% of the vote.
The international election observation mission included representatives of the OSCE's Office for Democratic Institutions and Human Rights (OSCE/ODIHR) and its Parliamentary Assembly (OSCE PA), as well as of the Parliamentary Assembly of the Council of Europe (PACE). According to their statement of preliminary findings and conclusions on the presidential election in Turkey, "media monitoring results showed that three out of five monitored TV stations, including the public broadcaster, TRT1, displayed a significant bias towards the Prime Minister."
Meanwhile, the other two contenders received only "limited" media coverage, it said, noting that, as a result, voters were not able to get ample pluralistic information on political alternatives.
"In addition, Mr. Erdogan dominated in paid political advertising," the observer found and went on to criticise the state institutions' failure to "redress, in a timely manner" certain loopholes in the framework that made possible the unbalanced media coverage.