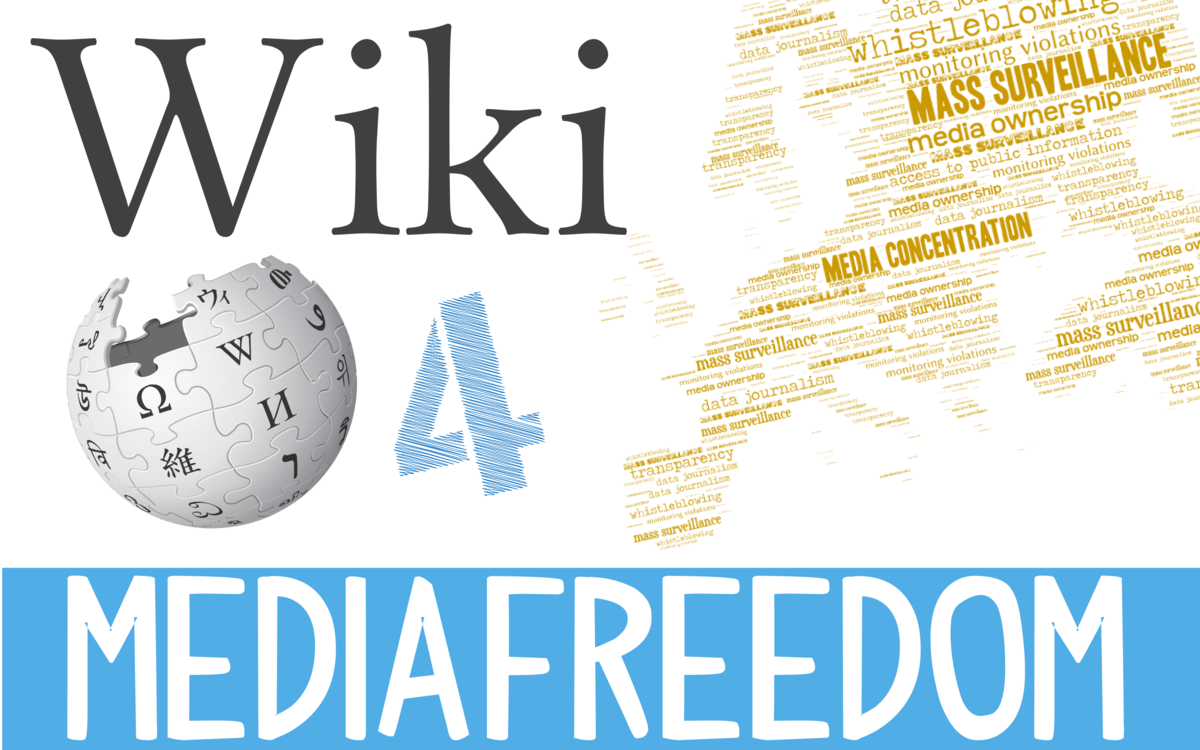 On November 21st, OBC Transeuropa organises in Belgrade a writing marathon of Wikipedia entries on press freedom. The initiative is part of a larger project – here it is, in 10 points
A year ago, OBCT launched the project Wiki4MediaFreedom – an initiative to systematise, expand, and update Wikipedia entries on freedom of information and threatened journalism in Europe. The experiment has grown day by day, helping to improve the quality of contents on the world's largest free encyclopedia on a crucial issue for democracies and European citizens. Now that the project lands offline with an event in Belgrade, it is the right time to tell you why it is important that also journalists and media freedom activists become "wikipedians" and contribute to the most visited open encyclopedia worldwide.
1 - Edit-a-thon Wiki4MediaFreedom. Next November 21st, an "edit-a-thon", namely a writing marathon in Wikipedia will be held in Belgrade. It will be focussed on entries on issues of great importance for the freedom of the press and media pluralism in Europe, with particular focus on concentration and transparency of media ownership, access to public information, censorship, and self-censorship in Serbia and Southeast Europe.
2 - New alliances. The edit-a-thon, which will gather experts, journalists, activists, and "Wikipedians", will be a unique opportunity to stimulate new alliances between journalists and activists – two communities that share a battle for freedom of information and the need for quality information and pluralism of sources together with the broader campaign for freedom of expression and Internet freedom.
3 - Freedom of the press on Wikipedia. The Wiki4MediaFreedom initiative was created within the framework of the European Centre for Press and Media Freedom (ECPMF), based in Leipzig, of which OBCT is a founding member. The aim is to provide a wider audience with accurate, quality, and free content that can be used for other projects and applications, in a virtuous circle of building knowledge through a participatory, grassroots process. Wiki4MediaFreedom intends to raise awareness, and stimulate demand for quality information on complex issues, often already present on Wikipedia, but in a fragmented, inconsistent, and incomplete fashion.
4 - The fifth most visited site in the world. Multilingual, collaborative, open, and free, Wikipedia is the largest existing encyclopedia, among the five most visited portals in the world, and among the largest generalist reference sites with about 400 million unique visitors per month. Wikipedia features 35 million entries in 280 languages. Inspired by and committed to the ideal of free, open access knowledge, Wikipedia is only the best-known of the Wiki collaborative projects, which include archives of images, sounds, multimedia contents, educational resources, guides, news, data, etc. (Wikimedia Commons, Wikiversity, WikiVoyage, Wikisource, Wikinews, Wikidata...), uploaded daily by millions of volunteer users around the world.
5 - A Wikipedian in residence. The collaboration between OBC Transeuropa and Wikipedia began in Autumn 2015 with the residence of a Wikipedian expert, who initiated the transfer and editing of information about press freedom on Wikipedia and trained the OBCT staff to contribute themselves. Among the first experiences of its kind in Italy, Wiki4MediaFreedom helped to expand the GLAM project (Galleries, Libraries, Archives, Museums) promoted by the Wikimedia Foundation, the non-profit foundation that maintains the technical platform hosting Wikipedia and its collaborative sibling projects. Thus the GLAM project, successfully tested by authoritative cultural organisations around the world (such as the British Museum and the Picasso Museum of Barcelona, to name a few), opened up to collaboration with civil society organisations, research centres, and human rights organisations. These organisations have much to gain from the meeting with the free encyclopedia where research, publications, and years of work experience can be made accessible to all. In turn, Wikipedia itself, and with it the whole Internet, is enriched by this relationship in terms of content, quality, and added value.
6 - A picture taking form. Within the framework of Wiki4MediaFreedom, dozens of Wikipedia entries, both in English and Italian, were created and improved. To date, if they became a book, it would be a volume of over 250 pages, and the work is not yet complete. The foundations were laid by a series of articles on the media system in several countries in South-East Europe (Slovenia, Croatia, Bulgaria and Romania, Serbia, Bosnia and Herzegovina, Montenegro, Albania, Kosovo, Macedonia, and Turkey), but also in the Eastern Neighbourhood (Ukraine, Belarus, Azerbaijan, Moldova, Georgia, and Armenia) and Russia.
These articles provide an overview of the media system in these countries in terms of the legislative framework, the transformations underway, the main actors, the status of public service, the level of pluralism, the conditions of journalists, and the main issues of the system. Specific articles have been created or updated on the state of press freedom in countries like Turkey, Serbia, Russia, Belarus, Ukraine, and Azerbaijan that cover defamation laws, political interference, concentration of property, documented attacks against journalists, etc. using authoritative sources such as reports of international institutions and organisations and local media articles. Four specific themes have now been added – access to public information, concentration of media ownership, transparency of ownership, censorship and self-censorship. Each of these entries feature a general thematic article with a more European outlook as well as many country-specific items on 22 Eastern European countries: 8 member states, 7 applicants, 6 Eastern Partnership countries, and Russia. Particular attention is paid to systematising information by linking articles to existing entries on related issues, to facilitate the fruition and expanding of knowledge. For example, the new general heading on the right of access to public information has been associated with the existing entry on national laws regulating access to state information (FOIA) in several countries to connect different, but related information.
7 - The Resource Centre on press freedom. The Wikipedia action is constantly in dialogue with the Resource Centre (RC) on media freedom, the first European online platform that collects, systematises, and disseminates materials on media freedom in Europe, developed by OBC Transeuropa with the ECPMF. The RC is an essential tool for creating content on Wikipedia, as it provides through a simple search – by subject, country, and type of source – a contextualised overview of resources to be used as sources for editing. Furthermore, the added value of the synergy RC-Wikipedia is that it keeps open and feeds the communication channel between research and specialist information and dissemination to the wider public on a complex issue of major impact on the lives and choices of European citizens.
8 - Knowledge is power. Because knowledge is power and the best ally of human rights, Wiki4MediaFreedom can help strengthen and encourage the actors who defend freedom of the press, transparency, and pluralism. Actions to foster activism from below, support free journalism, and raise public awareness include the translation into Italian of entries on journalists who lost their lives because of their work, like Ivo Pukanić , Slavko Ćuruvija , Natalya Estemirova , Georgiy Gongadze , Ihor Kostenko , whose stories are now accessible to the Italian public, or the call for the community of Wikipedians to translate into other languages the biographical entry on the imprisoned Azerbaijani journalist Khadija Ismayilova , now also available in Italian, Serbian, Armenian, and Belorussian, or more recently the entry on Turkish writer and journalist Asli Erdogan , arrested on charges of terrorist propaganda for having collaborated with a pro-Kurdish outlet and now risking life imprisonment.
9 - Turning red into blue. In Wikipedia red links, unlike the blue ones that are classic hyperlinks, point to entries not yet written, but that deserve to exist. This is an important signal that prompts other users to expand existing information, entry after entry. This is the beauty of crowdsourcing applied to the body of knowledge – in the case of Wiki4MediaFreedom, for example, users added to the biographical entry just translated a recent photo of Khadija Ismayilova, taken a few days after her liberation. And there are many red links to the names of brave journalists who lost their lives, or actors for press freedom and transparency, that have sent their message and wait to turn blue at last.
10 – Working on the entire chain of knowledge. Following the work on Wikipedia, some OBCT articles on freedom of the press have started featuring links to the newly created pages, in order to enrich news reports from the field by OBCT correspondents and local media partners with materials that provide the reader with all relevant information for context and depth. In this sense, journalism, specialist study, dissemination to the wider public, and contextualisation well summarise the work of OBC Transeuropa on the entire chain of knowledge. The ultimate goal is to nurture an informed public debate about the risks and pressures that limit the independence and pluralism of the media in Europe and to re-establish trust between the media and citizens – an alliance more necessary than ever.
This publication has been produced within the project European Centre for Press and Media Freedom, co-funded by the European Commission. The contents of this publication are the sole responsibility of Osservatorio Balcani e Caucaso and its partners and can in no way be taken to reflect the views of the European Union. The project's page
I commenti, nel limite del possibile, vengono vagliati dal nostro staff prima di essere resi pubblici. Il tempo necessario per questa operazione può essere variabile. Vai alla nostra policy
blog comments powered by