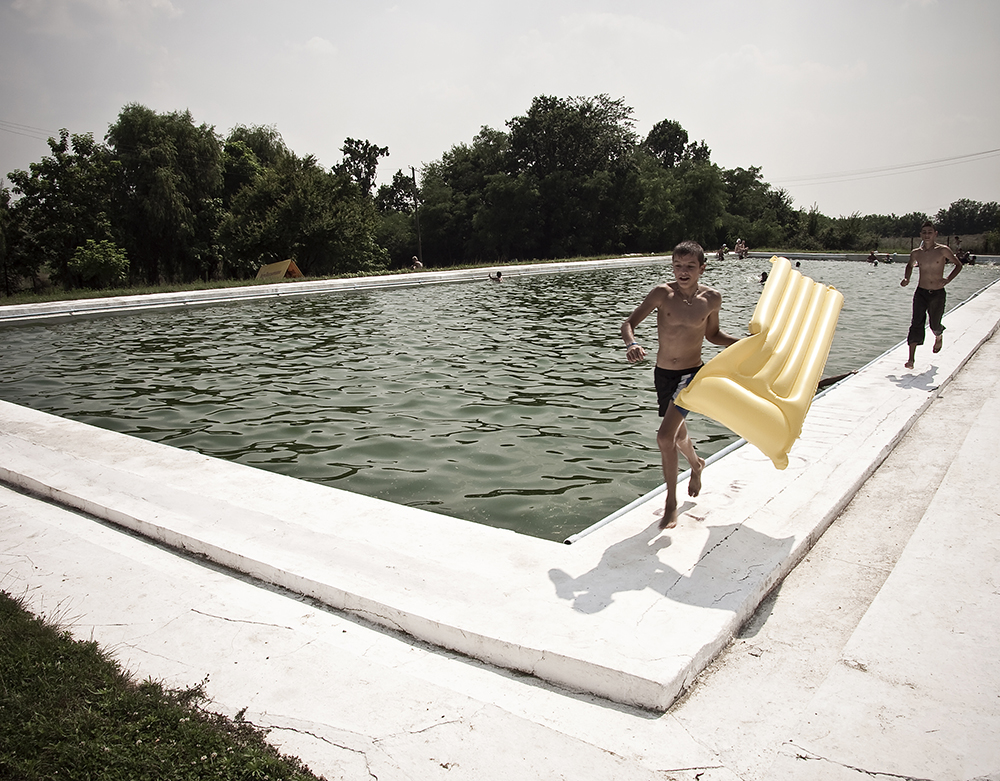 A group of students setting out to discover Italy first and then Romania: Timisoara, Baile Herculane, Orsova, Bucarest: a journey to overcome prejudice through curiosity and learning. Our collaborator Amanda Wilson's travel book
Before my trip to Romania this summer – an epic journey from Bologna to Bucharest crossing 21 days and six different Romanian cities - an Italian friend, who lived and did research in Romania, said something I remembered often during my trip: "Salutami la mia Romania." Say hello to my Romania for me.
My friend's greeting to her Romania reminded me of the nostalgic longing of the Romanian word dor, a word Romanian-American novelist Domenica Radulescu evokes frequently in her debut novel Train to Trieste (which I carried with me on my journey), a coming of age and homeland exodus story set in the time of Ceausescu.
The word dor describes the feeling the main character, a young Romanian woman forced into exile, feels when she thinks of her childhood in the Carpathians from the distance of her new-found home in the United States. My friend's dor, bittersweet longing, for Romania was that of an Italian who is fond of Romania, a country so many Italians mythologize, romanticize, and even fear.
When my friend sent her heartfelt salutations to Romania, it was also an example of a more nuanced Italian perspective of a country where Italians are sometimes cast as the exploiters of natural resources, the industrialists, and businessmen.
With the goal of deconstructing these stereotypes, a group of young students at the University of Bologna conducted a social survey in 2008. They asked 200 Italians between the ages of 18 to 31 to answer questions about their stereotypes of Romanians and Romanian culture. What they discovered wasn't necessarily surprising.
Their research showed that Italians held many negative stereotypes of Romanians that were based mainly on how Romanians are depicted in the Italian media: for the most part, as either home health aides or prostitutes. But the researchers found that those who had personally met Romanians - and especially those who had traveled to Romania - were less likely to hold these stereotypes.
This was the beginning of Turisti non a caso, a cross-cultural education tourism group, in order to take Italians on trips to Romania to help them see another Romanian reality. Turisti non a caso's goal was to facilitate a dynamic travel experience in which stereotypes are confronted and participants are introduced to new experiences of Romanian culture that lead to cross-cultural knowledge with greater nuance.
Though the group led two previous journeys to Romania, the 2010 project was envisioned as a cultural exchange in which Romanian youth would visit Italy and then lead the Italians on a journey back to Romania.
To actualize this phase of the tourism project, the group Turisti invited six Romanians, many who had never visited Italy before, to Italy in July for tours of Marzabotto, site of a World War II memorial, Bologna, Florence, and Venice. The Romanians' visit coincided with a round table discussion held in Bologna focusing on several key themes including rural tourism in Romania, women in Romanian society before and after Communism, and prostitution and human trafficking.
After a full week in Italy, our group of 15 Italians and six Romanians traveled in two vans to Timisoara. Our three-day stay in there was organized by Generatie Tanara, a Romanian non-profit working in the area of refugee and asylum-seeker assistance, providing support for victims of human trafficking, and social work. After touring Timisoara, the group visited with some of the people Generatie Tanara is assisting.
From Timisoara, we traveled to Baile Herculane, a Hapsburg spa town skirted by Communist era high rise hotels located in a river valley in the mountains of the Banat region. First the destination of Hapsburg royalty, later the rest and recuperation destination for Communist workers, the town is steeped in cultural heritage. But although Baile Herculane is working to restore some of its Hapsburg-era architecture, much of the historic spa complex and hotel infrastructure has suffered in the hands of post-Communist era investment schemes that went sour. Read an article about it on my blog.
After visiting Baile Herculane, we traveled onward to Orsova, Ramnicu Valcea and, at last, the storied capital of Bucharest. Here, the group enjoyed several meals at the classic Romanian eatery, Caru cu Bere at Strada Stavropoleos 5. While the Ceausescu regime razed parts of historic Bucharest, Caru Cu Bere's grandiose ballroom-style dining hall, affordable yet excellent food, and live music on week nights combine as reminders that a uniquely Romanian locale dating back to the 19th century has survived.
In all its tradition and evocation of the 19th century, Caru cu Bere persists as a popular destination in a neighborhood that is changing quickly. A spate of urban makeovers have been undertaken in Bucharest in the last few years such as the replacement of street paving stones, a shift to emphasizing pedestrian-only shopping and dining streets, metro station renovations, etc.
Before leaving the ever-changing streets of Bucharest and heading back to Italy, our group talked with several Roma rights activists about the state of Roma in Romania before and after Communism. I also go the chance to interview the organizer of Romania's first Reggae Festival.
After my three-week long journey from Italy to Romania, I came home feeling tired, but more than a little dor for the land I had left behind.
Amanda Wilson's journey, and her blog Bologna to Bucharest, were sponsored by a cultural journalism grant from the Institute of Romanian Culture / Institutul Cultural Roman.
I commenti, nel limite del possibile, vengono vagliati dal nostro staff prima di essere resi pubblici. Il tempo necessario per questa operazione può essere variabile. Vai alla nostra policy