14 June 2018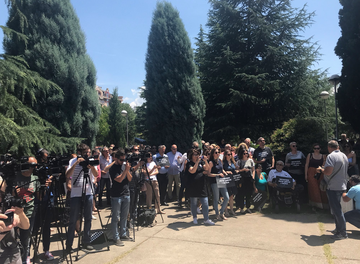 A new alarm has been raised about the politicization of public service media in Montenegro (Radiotelevizija Crne Gore, RTCG), following the dismissal of director general, Andrijana Kadija
Kadija was removed from office by a decision adopted on June 7th by the Public Service Council, the body in charge of supervising the public broadcaster.


The provision was based on accusations concerning a contract between the RTCG and the NGO Center for civic education , approved by the former director-general in the framework of the European project Činjenice su važne (The facts are important). The project aims to stimulate objectivity and innovation in the world of journalism. According to Mimo Drašković, member of the Public Service Council and initiator of the action against Kadija, the contract compromised the independence of the RTCG.


In the statements of the former director-general, reported by Al Jazeera Balkans , Kadija qualifies this decision as politically motivated: "My fault is to be apolitical. I am not affiliated with any centre of power and I have always opposed any attempt to transform the public broadcaster into a mouthpiece for political parties or their representatives. This has turned out to be unacceptable in Montenegro" said the outgoing director-general. 

The decision sparked protests from press associations, the NGO world and opposition political parties, who consider the measure to be unjust and politically motivated.

 The same Mimo Drašković whose accusationresulted in the sacking of Kadija has recently been the target of criticism from press freedom organizations : they were asking for his resignation from the Public Service Council as his independence would be compromised by the fact that he openly supported the candidacy of Milo Đukanović to the presidency of Montenegro.

The European Delegation in the country expressed strong criticism against the decision to replace Kadija: "[The] dismissal of the Director General of the national public broadcaster in Montenegro (RTCG), Ms Andrijana Kadija goes against freedom of expression and media which is a fundamental value of the European Union, a crucial element of Montenegro's EU accession process and an important interim benchmark to be fulfilled under chapter 23. The Montenegro authorities are bound by their commitments to European values and standards. It is also completely unacceptable that an EU-funded grant which supports the professionalism of RTCG has been misused as an argument to dismiss RTCG's management."
This publication has been produced within the project European Centre for Press and Media Freedom, co-funded by the European Commission. The contents of this publication are the sole responsibility of Osservatorio Balcani e Caucaso and its partners and can in no way be taken to reflect the views of the European Union. The project's page