7 December 2018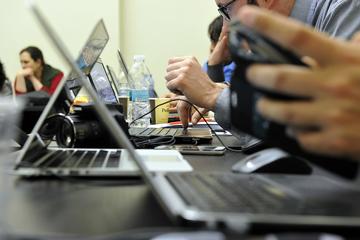 An edit-a-thon will take place in Berlin on January 26th to boost the availability of accurate knowledge on media freedom in the largest open encyclopedia worldwide
As part of its action within the European Centre for Press and Media Freedom , OBC Transeuropa is organising on 26th January in Berlin a Wiki4MediaFreedom edit-a-thon in in cooperation with Wikimedia Deutschland, the Berlin wiki group WikiBär, and with the support of the European Centre for Press and Media Freedom and the Wikimedia Foundation.
A portmanteau word of "edit" and "marathon", edit-a-thon is an organised editing event featuring a bottom-up collaborative experience of knowledge production, where editors work together to improve specific contents on Wikipedia. The edit-a-thon is a pre-event of the conference Uncovered - Investigative Journalism for Europe Conference , that will take place on January 31st and February 1st 2019 in Berlin. Uncovered is organized by the European Centre for Press and Media Freedom.
The Wiki4MediaFreedom event aims at fostering new alliances between media freedom activists, journalists and the Wikipedia and open knowledge communities to boost the availability of accurate knowledge on media freedom and pluralism-related issues in the largest open enciclopedia worldwide.
To this aim, the Wiki4MediaFreedom edit-a-thon - now at its forth editions, after the Belgrade (2016), Sofia (2017) and Madrid (2019) ones - gathers media freedom activists, journalists, media experts and a group of experienced Wikipedia volunteers. For half-a-day they will work together editing articles related to some of the most concerning issues affecting the media systems in Europe today, namely: transparency of media ownership, media concentration, access to public information and self-censorship, investigative journalism, and so forth.
The Wiki4MediaFreedom edit-a-thon will take place at the WikiBär in Berlin-Mitte on Saturday 26th January 2019, from from 10.00 AM to 6.00 PM. After a short introduction and a tutorial on Wikipedia editing processes, 4-5 hours of collaborative editing will follow, with experienced Wikipedia editors working side by side with participants to edit entries, verify sources and references, and fill missing information. A light lunch will be offered to the participants. Furthermore, for those who wish to stay after the event, a dinner will be offered by Wikimedia Germany
The edit-a-thon is a follow up to a GLAM project ("Galleries, Libraries, Archives and Museums"), a global Wikipedia initiative which helps cultural institutions to share their contents with Wikipedia and its many collaborative projects, implemented in 2015 by OBC Transeuropa in cooperation with Wikimedia Italia. Ultimately, it will contribute to the Wiki4MediaFreedom component of the Resource Centre on Media Freedom in Europe, adding to the work of the Resource Centre curators that regularly engage in Wikipedia to further disseminate its contents.
Registration is mandatory through this form .
More information are available here .
For more info, please contact vignola@balcanicaucaso.org or caranti@balcanicaucaso.org
This publication has been produced within the project European Centre for Press and Media Freedom, co-funded by the European Commission. The contents of this publication are the sole responsibility of Osservatorio Balcani e Caucaso and its partners and can in no way be taken to reflect the views of the European Union. The project's page