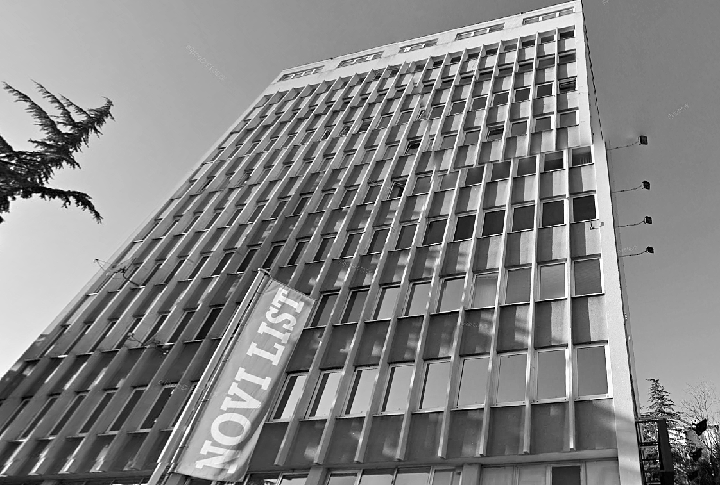 Once the bastion of the left-wing press, Novi List this last year made an abrupt turnabout in its editorial orientation, with the dismissal and downgrading of its most well-known columnists
Within the mainstream media in Croatia, Novi List daily newspaper is a symbol of the left and the only daily national paper to occupy this position, especially since Jutarnji List has become influenced by the multinationals and turned to the right. However, this could soon no longer be the case. At the end of March Novi List and Glas Istre (Voice of Istria) were taken over by a J&T investment fund, with capital coming from the Czech Republic and Slovakia.
A sign of the possible change in orientation was already seen at the beginning of May, when the famous writer and journalist Tatjana Gromača said at a press conference that Novi List decided to interrupt the working relationship with her after nine years of collaboration.
Relocation and dismissal
Not only is Tatjana Gromača an excellent writer, she is also a symbol of independent journalism. She became known in the Nineties when she was writing for Feral Tribune.
She was a journalist and columnist for Novi List and was both original and competent in her reporting on cultural questions. The dismissal was announced by the daily newspaper's secretary and a few days later the editor of the newspaper, Nenad Hlača, announced during a press conference that the paper no longer needed a journalist in Pola, because they now could count on journalists from Glas Istre.
"The reason for my dismissal, that they no longer need a correspondent from Istria, is ridiculous. In my 16 years as journalist I have never worked as a correspondent. I have never been at a press conference or similar. I'm not a correspondent, but a reporter, an analyst and columnist. My job description at Novi List says: reporter, columnist. Now I'm dismissed as a correspondent, which I have never been. Even when I write about a local subject, I give it a universal importance", explains Tatjana Gromača.
"The truth is that my critical positions towards the nationalist clichés and other meanness in the Croatian society has become inconvenient. My work consists of warning people about the attempts to limit their conscience as with the exploitation of hatred, the disregard of others and so on. This is obvious in much of my writing, whatever the subject. Because of my conscientious approach to my work, I recently increased my polemical energy. In fact, lately a dangerous tendency has appeared stemming from the new political culture in Croatia which I think shouldn't be ignored", said Tatjana Gromača.
Tatjana Gromača feels that what happened to her is a pressure being brought against journalists in general. "This sort of thing increases fear already present per se in the collective conscience, creating an ideal situation for blackmail and manipulation. With my writing, I try to uncover and dispel this fear by demonstrating that it is a sort of fiction. However this represents the most dangerous aspect of the entire system. This is why I'm considered a dangerous journalist, even though at first sight this does not appear to be so. Yet I'm proud of this, the same as I'm proud of this dismissal", concluded Tatjana Gromača.
From columnist to web editor
At the same time, the media reported that another journalist from Novi List, Maja Hrgovič, could be dismissed for not accepting a new assignment within the newspaper. In fact, Novi List offered Maja Hrgovič, who is an important journalist for culture, the position as editor of the newspaper's online portal. This is in fact a professional downgrading as she would be managing other people's texts and not writing her own.
In the same way, a few months ago, the writer Ladislav Tomičič, was forced under threat of dismissal to accept a job as editor of the online portal instead of his position as a columnist.
"Our editor, who is well-known and well-considered and whose competence is above discussion, thinks that those of us who did not distinguish themselves for style, originality and political detachment from social movements should be given other assignments. He considers that with these jobs we would best contribute to a greater success and increased growth of Novi List. This said, I must thank the editor for this opportunity and invite my colleagues to do as I have and accept the offer of the new contracts. These should not be considered as blackmail, but rather as a an important gesture from one of the greatest editors in the long, fertile history of Novi List," ironically said Tomičič reacting to the pressure put on himself and his colleague Hrgovič.
One year
For a year now, the management of Novi List has shown willingness to adapt to the new political and social situation in Croatia. In January, for example, the editorial written by the columnist Sanja Modnič entitled "Banana Premier", in which she criticized Prime Minister Tihomir Oreškovič has been refused and was never published by Novi List.
Last June an article by journalist Boris Pavelič was also removed from the online portal a few hours after its publication. The article dealt with an interview given to the weekly Nacional by Josip Manolič, a former secret service officer of Yugoslavia and then of Croatia who accused the leader of the HDZ, Tomislav Karamarko, of having been a spy for the Yugoslav secret service. Pavelič not only had his article removed, he was also threatened with dismissal. The threat was later withdrawn but the warning remained with the result that a legal dispute is still ongoing with the newspaper.
The escalation of pressure on the staff of Novi List started at the beginning of May last year, when journalist Dražen Ciglenečki was told he would no longer cover the events of the HDZ. The most likely reason was that he had upset and angered Karamarko at a press conference.
After a year of "cleansing" within their ranks, downgrading and disciplinary action against their journalists, we ask what is left of the well-known Novi List. How many readers the newspaper will be able to retain, and above all what will be the permanent damage to freedom of the press and general freedom in Croatia.
This publication has been produced within the project European Centre for Press and Media Freedom, co-funded by the European Commission. The contents of this publication are the sole responsibility of Osservatorio Balcani e Caucaso and its partners and can in no way be taken to reflect the views of the European Union. The project's page
I commenti, nel limite del possibile, vengono vagliati dal nostro staff prima di essere resi pubblici. Il tempo necessario per questa operazione può essere variabile. Vai alla nostra policy
blog comments powered by