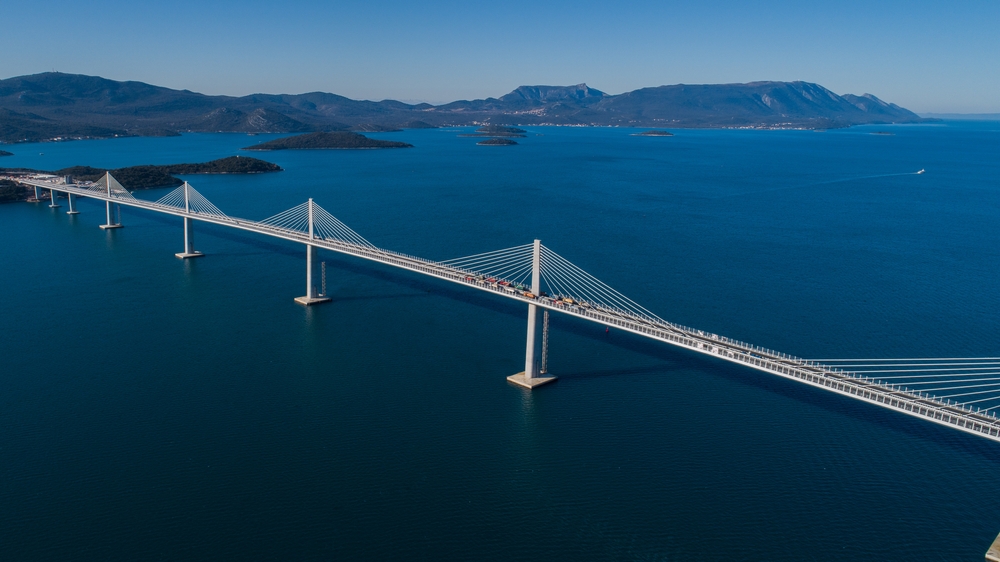 Since Tuesday 26 July, the Peljesac bridge is officially open to traffic. The impressive infrastructure connects Croatia without passing through the coastal border of Bosnia and Herzegovina, along the Neum corridor
With its 2.4 kilometres in length and 50 metres height, the Peljesac bridge is the largest and most expensive infrastructure project funded by the European Union, with a grant that covers 85% of the cost of the project. The funds come from the EU cohesion policy.
Elisa Ferreira, Commissioner for Cohesion and Reforms, said: "The Peljesac Bridge will improve the economic development and territorial cohesion of southern Dalmatia and Croatia as a whole. It is a project of great importance for both Croatia. and for the EU. The bridge is a symbol of European solidarity and support for Croatia in financial and political terms. It will improve the lives of citizens in the area and will be part of Croatia's development history".
Work on the impressive infrastructure began in 2007, then stopped due to budget constraints. Only in 2017, four years after Croatia's entry into the European Union, did the latter approve the allocation of 357 million Euros for the construction of the bridge. In 2018, Chinese consortium CRBC won the tender for the construction of Peljeski most, according to the official name.
According to the technicians, this new connection will earn two hours of travel time on the Zagreb-Dubrovnik route, which will now be entirely accessible on the motorway while remaining in Croatian territory for its entire duration.
However, in order to allow lorries and heavy vehicles to transit, it will be necessary to finish the works on the connection on the Peljesac peninsula, the so-called Ston ring road. In fact, 7.5 kilometres of road connection are still missing to avoid entry into the city of Ston. This stretch of road is entrusted to the Greek Avax and will be completed by the end of the year. The trucks, therefore, will still have to cross the Neum corridor in Bosnia and Herzegovina for these months.
This content is published in the context of the "Work4Future" project co-financed by the European Union (EU). The EU is in no way responsible for the information or views expressed within the framework of the project. The responsibility for the contents lies solely with OBC Transeuropa. Go to the "Work4Future"
I commenti, nel limite del possibile, vengono vagliati dal nostro staff prima di essere resi pubblici. Il tempo necessario per questa operazione può essere variabile. Vai alla nostra policy
blog comments powered by