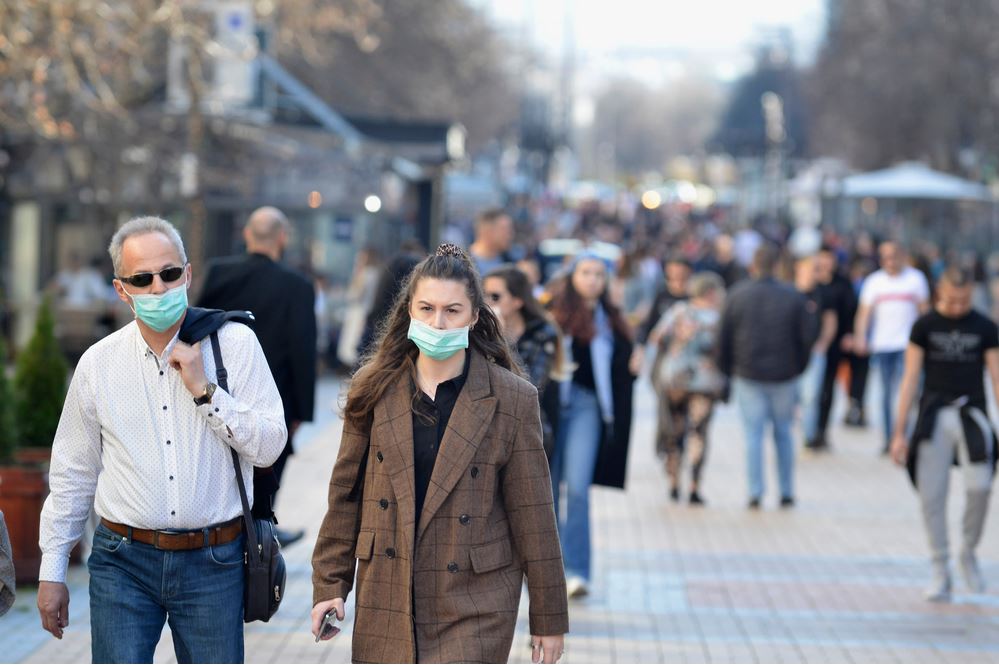 After a relatively calm first phase, Bulgaria is now facing a surge in COVID-19 cases, to such an extent that the country now tops both the European and global rankings for covid-related deaths. After controversies and indecision, the government is now set to introduce new measures
Through winter and spring Bulgaria remained largely unscathed by the first wave of COVID-19: a strict lockdown was introduced in the very early stages, and until late June only a few dozen cases were recorded per day.
On the streets and social media, a whole host of disparate and often fanciful theories circulated on why the virus, which was bringing even neighbouring countries like Serbia and North Macedonia to their knees, hadn't made a noticeable impact on Bulgaria. The most popular theories posited that a compulsory tuberculosis vaccination had created corona-proof antibodies, or that the Bulgarian people had inherited a "special" genetic peculiarity.
In early May anti-covid measures were loosened and summer passed somewhat calmly, swinging between the lower tens and 300 cases per day until early October, with no further lockdown. Since then, however, the situation has changed, and the epidemic curve has risen rapidly.
This time, however, virtually no new preventive measures were introduced. Behind the government's decisions – often announced or adopted only to be withdrawn a day or two later – there are clear concerns about keeping the economy afloat. But this new reluctance to take action also has political roots: shaken by months of protests which have traversed and divided the country, the Borisov government – accused by protestors of corruption and nepotism, and all too conscious of its diminished authority and credibility – has not found enough courage to take decisions they know would prove unpopular.
This surge has been unrelenting: at the end of October, daily cases reached 3000, while in November they stabilised between 3000 and 4000 confirmed cases per day, reaching a peak of 4828 on November 18. The number of deaths has grown rapidly too: on the weekly charts, the number of covid-related deaths rose from 49 (10-17 October) to 353 (1-7 November), before eventually reaching 729 (14-21 November). Positive PCR tests are constantly rising too, passing from around 10 percent at the start of October to a worrying 40.1 percent in the week of 14-21 November.
According to data from the National Statistics Institute, the second week of November saw the highest total mortality rate in the last five years, with 3852 deaths (almost double the average). For many, this is not just due to the effects of COVID-19, but also the consequent collapse of the medical system.
Stories quickly multiplied in the Bulgarian media of patients neglected by doctors, hospitals repeatedly refusing new patients, ambulances taking hours if not days to arrive, ICUs reaching full capacity and ill equipped for the crisis, especially in smaller, outlying towns. Currently the number of positive cases in hospitals is 6655, while 430 patients have been admitted to ICUs.
A bleak picture, made worse by pitiful leadership. In recent weeks Bulgaria even topped the European and global COVID-19 mortality rate. From 20-26 November an average of 120 covid-related deaths were recorded per day, equal to 1.7 deaths per 100,000 inhabitants. Among the five countries where the pandemic has been hitting hardest in recent weeks are Bosnia-Herzegovina, North Macedonia and Slovenia.
Severely compromised, the government had no choice but to act: on November 25 a series of new measures were announced which might be summarised as "short term, soft lockdown". Among the more serious measures are closing all schools, halting sports and tourism, and closing all commercial centres except those offering essential products and services.
The latest lockdown has not managed to quell dissent: not just the political world and the general public, the scientific community too has been on the attack. According to some immunologists, such as professor Andrei Chobanov from the Bulgarian Academy of Science, the latest lockdown, in the best case scenario, "will only lighten the case load on the health service by 15-20 percent". According to mathematician and crisis expert Peter Velkov, interviewed by bTV, the measures come too late, such that in the coming weeks he predicts "an increase in mortality between 50 and 100 percent". Velkov also argues that at least 50 percent of coronavirus deaths could have been avoided by adopting more cautious policies during the summer.
Minister of health Kostadin Angelov rejects such theses, blaming instead the irresponsible behaviour of citizens. "Since the beginning of the epidemic we have asked everyone to respect the measures adopted", declared Angelov. "What is happening today is the result of a lack of discipline and underestimation of the virus. Distrust in the system, growing year on year, has brought us to this point".
Besides the Borisov administration's political responsibilities, which are obvious enough, Bulgarian society at large remains prone to disinformation and conspiracy theories. According to a recent survey, more than 40 percent of respondents claim that the coronavirus was created in a laboratory for the economic interests of the pharmaceutical industry, or as a biological weapon to reduce the global populationm; 25 percent claim that a vaccine already exists, but has been suppressed in order to allow the virus to spread further; 17 percent claim that the coronavirus does not exist; and 33 percent claim that it is no more dangerous than the seasonal flu.
I commenti, nel limite del possibile, vengono vagliati dal nostro staff prima di essere resi pubblici. Il tempo necessario per questa operazione può essere variabile. Vai alla nostra policy
blog comments powered by